Blog
The writer's year: August, Sam Byers

It's been over a year since Sam Byers' Costa Book Award shortlisted debut novel, Idiopathy, was published. In that time, what has he learned? Well, for one thing, published authors need to wear trousers...
When people ask me what it's like to publish a book, I tell them straight: you have to get dressed a lot.
I'm not a nudist. I own clothes. It's just that getting dressed has always been rather low on my list of priorities. I get it done eventually, but I do all sorts of other things first.
During the decade in which I wrote books but didn't actually publish them, I imagined being published as a kind of mythical existence, where I would spend 23 hours a day in my pants and 1 hour having a bath. As soon as I signed a book contract I rushed straight out to buy lots of robust new pants, for living in.
It turns out that once you're dressed, a whole world of opportunities presents itself.
So imagine my shock when it became clear that, in the life of a published author, pants alone are insufficient. You are required to go places. And those places require clothes.
One of the first things I had to get dressed for was a photograph. Waterstones, being the lovely and discerning people that they are, had selected me for the Waterstones 11, their annual list of exciting debut novels. I was thrilled, and extremely grateful. I wanted to get dressed for them better than I'd ever got dressed for anybody. I wore a tie, thereby literally getting dressed too much.
Since then, thanks to Idiopathy rather miraculously being published in several languages, I've been getting dressed all over the place, with varying degrees of success. In August, I will mainly be getting dressed for the Edinburgh Festival, where writers from all over the world gather to exchange insider tips on advanced sartorial arcana.
And you know what? I'm very much looking forward to it. Because it turns out that once you're dressed, a whole world of opportunities presents itself. Where before, in my unclad state, people were best avoided, now they are there to be met. There are new places to see; new languages to wrestle with. In that sense, I suppose, I have a lot in common with my book. Before, it was just a naked scrap of a thing that never left the house. Now, thanks to my publisher, Fourth Estate, it has a fabulous black outfit, and it's out there, swanning about; posing on shelves and cosying up to other books. Sometimes (purely by chance, I swear), I pass it in a shop window and give it the eye. It is, I think, far better dressed than I will ever be. It is also more eloquent, more sure of itself, and less likely to spill its drink down someone's dress at a party.
These days, if I'm really honest, my book looks a bit embarrassed to be seen with me, meaning the day is coming, surely, when it takes me aside, calmly but firmly relieves me of my drink, and says, "Off you go now, mate. Back to your pants where you belong."
Sam Byers, for Waterstones.com/blog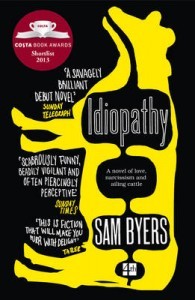 You can Click & Collect Idiopathy from your local Waterstones bookshop, buy it online at Waterstones.com or download it in ePub format