We regret that due to the technical limitations of our site, we are unable to offer eBooks or Audio Downloads to customers outside of the UK.
For further details please read our eBooks help.
Blog
The Worst Witch and the Wishing Star - extract
Mildred is back in The Worst Witch and the Wishing Star - and she is still the worst witch at Miss Cackle's Academy for Witches...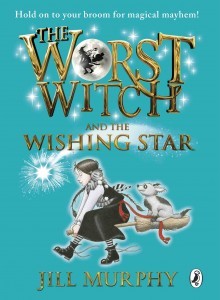 The light was failing by the time Mildred reached the playground and the pine trees were beginning to look inky black and sinister outside the high prison-like walls.
'At least it's not raining,' she thought, trying not to be unnerved by the darkness.
Mildred lit the lanterns on the outside of the huge oak doors, which lit the way across the playground gates. Then she saw something move – something lurking outside the gates, half-hidden in the gloom. Mildred could sense a presence out there, watching her.
'Don't be silly,' she scolded herself. 'It's just your imagination giving you the creeps.'
To reassure herself, Mildred held up the taper-lantern and to her horror she saw a pair of red glinting eyes staring back at her. Her heart began to hammer as she lowered the lantern and kept perfectly still.
For a few minutes there was no sound at all, except her own heartbeat thudding in her ears, then she heard a low whimper – then another, then more and more, getting faster and faster, until they joined together in a chain of high-pitched yelping. Mildred could tell that it was the sound of an animal in distress and she began to feel curious instead of petrified. Cautiously she approached the gates and held up the lantern again.
Are you a Worst Witch fan? Then we have some treats for you...
You can Reserve & Collect The Worst Witch and the Wishing Star from your local Waterstones bookshop (http://bit.ly/1gVk5ma), or buy it online at Waterstones.com (http://bit.ly/1gVk6Gy)
© Jill Murphy