Blog
The Waterstones Children's Book Prize Blog: Sharna Jackson
Congratulations to Sharna Jackson, whose pulsating whodunit High Rise Mystery has triumphed in the Younger Fiction category of this year's Waterstones Children's Book Prize. In this exclusive piece, Sharna reveals the one book that unlocked reading for her.
I never personally wanted to really run away – although I did once, for about six hours when I was thirteen – but, looking back, I always craved escape. Ruth Thomas's The Runaways was my personal portal to peril, to an adventure that was magical to me, but rooted in reality. I understood their motives and reasoning. I saw myself.
I would read The Runaways in my small room in Luton. My grandad, Cad-in-Chief and keen carpenter, crafted impressively-oppressive built-in wardrobes around my single bed, which took up at least a third of that room. I would curl up in my MDF-cave, that I'd covered in quotes on Post-it notes, and peeling Panini stickers. I'd smell the book, open the cover and dive in.
The story begins on a stiflingly hot summer day at school, where a fraught teacher with an increasingly-short temper, Mrs Henrey, is attempting to take her class to a nearby park to play rounders. I would close the book after the first chapter, lean out of my nook and look through my window. Our house backed directly on to my primary school fields, separated by a too-scalable metal fence. I could just see her class lining up in twos, leaning lethargically against the brick. Her class was my class.
My book is at least thirty years old now. That was many moons ago, of course, at the tail-end of the eighties. It looked like this, then: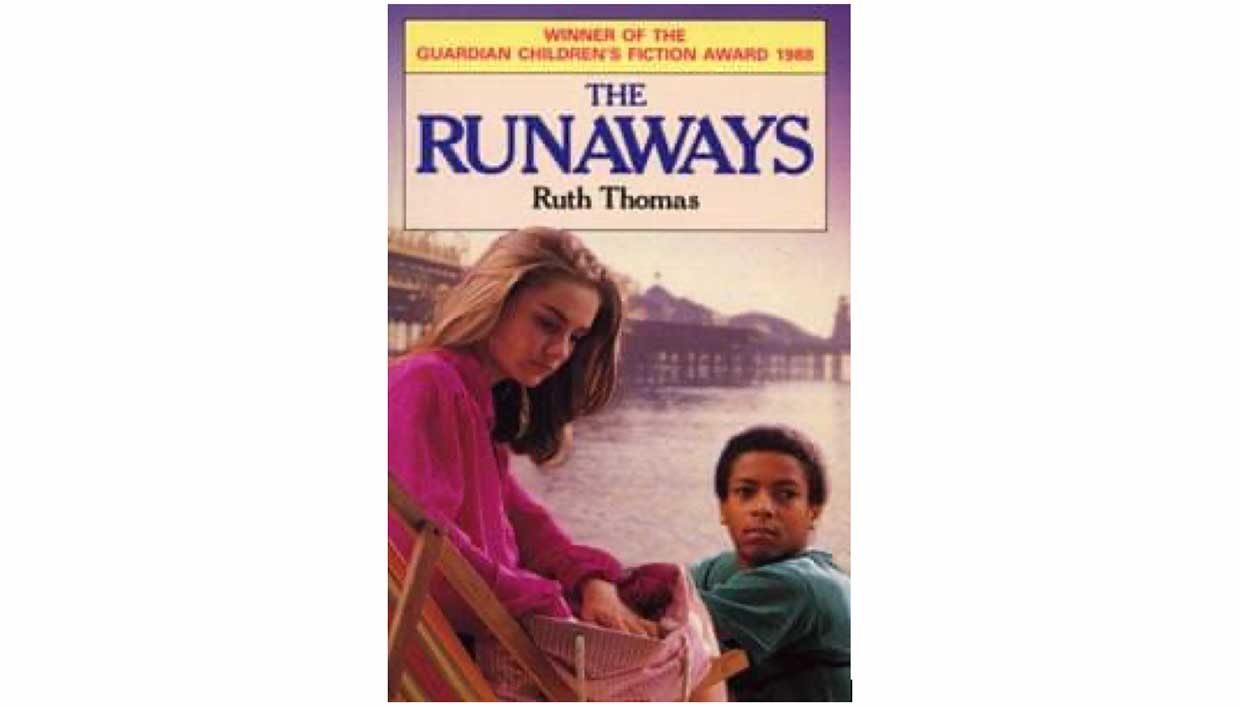 I loved everything about this cover – the contrast between the white girl and the Black boy, her pink, his green. The water, the pier, the deckchair. The bag that she loved so much.
After many years of rereading, my copies now look like this: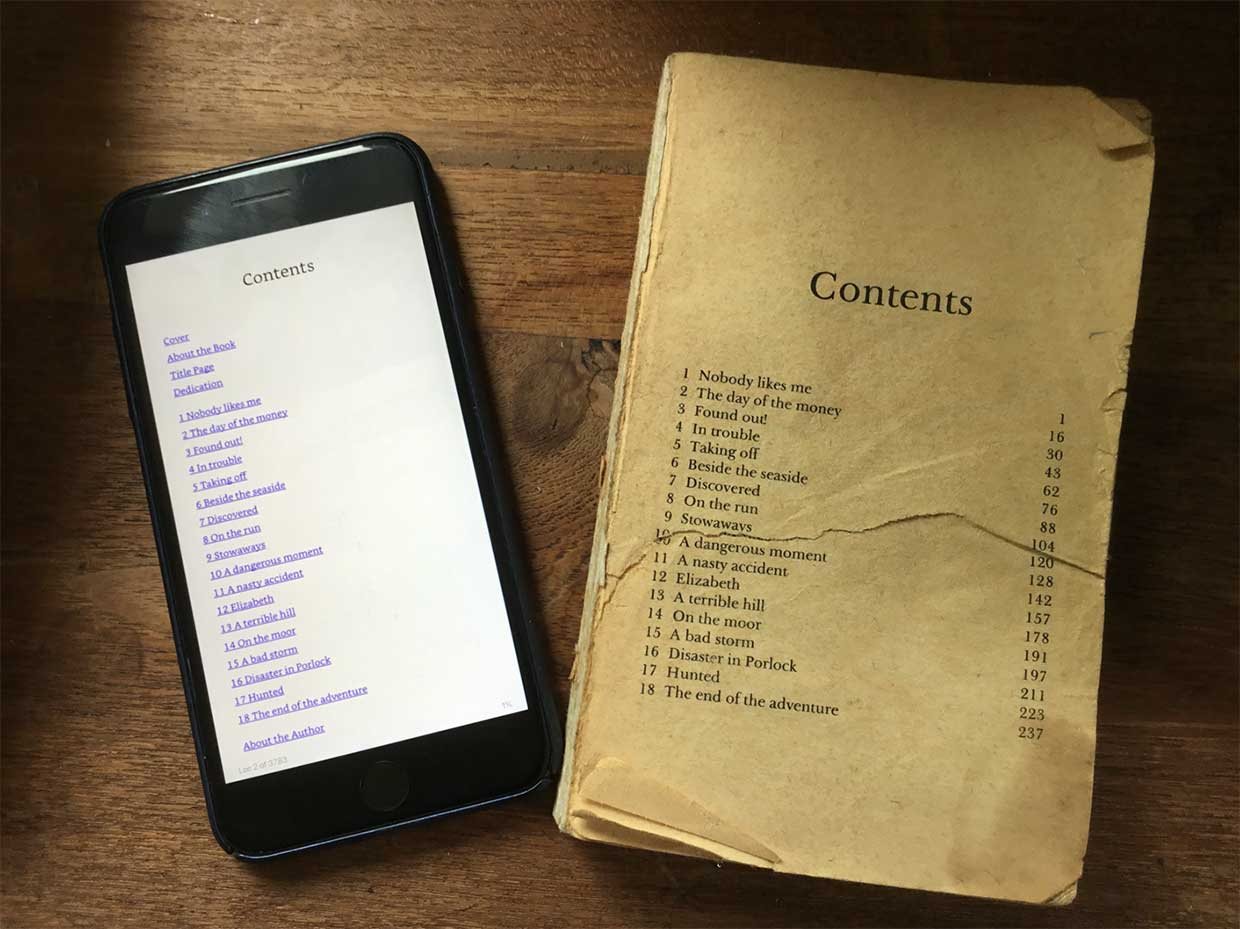 2020 vs 1990
For those of you who have yet to read The Runaways, but definitely should, this is what happens. The story follows two unpopular east London eleven-year-olds, Nathan Browne and Julia Winter. After finding A Lot of Money in an abandoned house – which raises suspicions as they buy their way into the good books of the other children in their class – the duo run away from their homes and venture to Brighton and beyond, escaping perceived threats from the police – and their parents. The hijinx and the characters they meet along the way are revealing and funny, but it's the growing begrudging respect, care and empathy that develops between Julia and Nathan, two very different children, that makes this book so special.
"'I ain't going to leave you, am I, stupid Rat-bag. I'm going with you, aren't I?'
He glowered at her, still furious, but the look she gave him back was one of pure, shining love."
I recently re-read The Runaways and the entire experience, the above closing lines in particular, transported me back to my bed on Beechwood Road. I noticed the parallels in our stories and considered the impact this book had on me and my life – in ways of varying magnitude.
For instance, Nathan and Julia ran away to Brighton – so did I, ten years later when I went to University of Sussex. I'm certain my decision to study there was partially inspired by a desire to eat chips on a beach like Nathan and Julia.
"Black people were really conspicuous, it seemed, in this country place. Apart from Nathan himself, they hadn't seen any so far."
This is something I definitely thought, verbatim no doubt, when my aunt moved to a town in Cambridgeshire named after a month not long after my first read. She'd make me wait for her, alone, outside quaint shops. I'd scream 'Take me back to Luton!' internally.
Also, Nathan harbours dreams of living on a ship and moving to Norway. Same. I live on a ship, but in the Netherlands. Close enough, I suppose.
Ruth Thomas was a primary school teacher before she took an early retirement and wrote The Runaways. Of the book, she said:
"I made my central characters a boy and a girl, one black and one white, not just because I was aware from my own experience of how great was the need for stories with which black children could identify, but also to start them off as different from each other as they could possibly be. Then they could discover for themselves their common humanity."
This really resonates with me, and I thank Ruth Thomas for her work. On reread, I was uncomfortable with descriptions of Nathan as a scowling, "ill-natured goblin", but I did love the fact that he broke stereotypes – he loved spelling, reading and wasn't great at sports. Julia's struggles with literacy were initially derided by Nathan, but he supports her in his surly way, and she consistently improves and takes initiative for her learning. Both children clearly come from working-class backgrounds and they are never mocked for this. It's just who they are.
I unquestionably believe that all children – regardless of race, class, gender and ability need to see themselves in stories, and other children need to see them too, understand their perspectives and empathise. This is important.
This is why it's such a privilege to be published by Knights Of. This is why I create books.
Unfortunately, The Runaways is currently out of print, so you'll have to borrow mine. The following books remind me of its spirit in different ways.
Look Both Ways by Jason Reynolds
Ten tales told on the way home from school.
New Kid by Jerry Craft
In this graphic novel, Jordan goes to a fancy private school where he is one of the few Black kids in his year.
Millions by Frank Cottrell Boyce
Two brothers have to spend A Lot of Money before it's worthless.
The Boy at the Back of the Class by Onjali Q. Rauf
A group of friends help the new boy find his family.

×
Download the Waterstones App
Would you like to proceed to the App store to download the Waterstones App?
Reserve online, pay on collection


Thank you for your reservation
Your order is now being processed and we have sent a confirmation email to you at
When will my order be ready to collect?
Following the initial email, you will be contacted by the shop to confirm that your item is available for collection.
Call us on or send us an email at
Unfortunately there has been a problem with your order
Please try again or alternatively you can contact your chosen shop on or send us an email at