Blog
The Waterstones Children's Book Prize Blog: Nathan Bryon
Congratulations to Nathan Bryon, author of the stunning picture book Look Up!, which has triumphed in the Illustrated Books category of the Waterstones Children's Book Prize 2020 and also been crowned as the Overall Winner. In this exclusive piece, Nathan reveals the book that unlocked reading for him.
My name is Nathan Bryon and I am the author of Look Up! And Now Clean Up!!! WOOOOOOOP!
A bit about me, I am super dyslexic (also who decided dyslexic should be spelt like that, I literally had to google how to spell it again) and have always had the attention span of a small fish. Anyway since I was a kid reading has been really difficult, at times something I have avoided, and lets not even get to when teachers asked you to read out loud in school. When I was in primary school I had extra classes to improve it, so to be honest when I was asked to write this article I put it off till literally the last minute (ask my publicist Chloe who has politely reminded me to do it plenty of times, ha!) I think it is just because I find it really hard to articulate what was the one book that unlocked reading for me, and to be honest I don't even know if as a 29 year old adult who is now a flipping author that I have unlocked reading yet.
I'm a proper scatty reader. I read everything, comics, picture books, twitter feed, lots of non-fiction. I often read, like, three books at a time. After I lose interest in one I pick up another and I do that with three books until I have finished them and then I buy more. Books with too many pages still intimidate me, books with tiny writing and no pictures freak me out and intimidate me.
After thinking loads and loads about that book that I could get lost in when I was younger, It had to be hands down the Unfortunate Events series by Lemony Snicket. Firstly simple tings; when people say don't judge a book by the cover, younger Nathan was judging every book by its cover, and every Unfortunate Events book had a cool mysterious cover that drew me in. Secondly, the books weren't too long so when I would speed through them I felt like I had achieved something.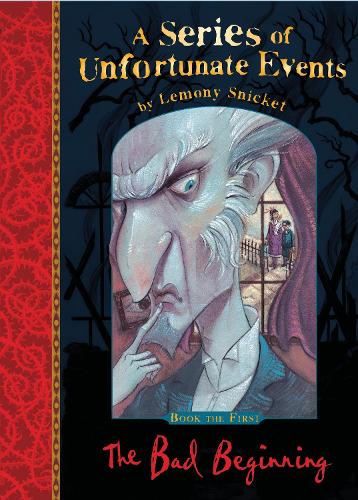 Paperback
Usually dispatched within 48 hours
The first grisly, gruesome and gothic instalment in A Series of Unfortunate Events introduces the tragic Baudelaire orphans and the despicable Count Olaf, not to mention a host of miserable moments and descriptions of despair that you couldn't possibly want to read about – could you?
Beyond that, I love how Lemony wrote. As someone who struggled to read I could really hear his words out loud, I dunno why, I just could. I loved how he wrote sentences, they were at times complex but simple enough for me to understand. I dunno if that makes sense but yeaaaah I loved how he described places the Baudelaires visited, I really could visualise it like the person with the serpent in their house. And the characters man. Yo, when Jim Carey was Count Olaf in the movie that was exactly how I saw Count Olaf. I loved that movie so hard. I know they have made the Netflix series; I am yet to binge it, I'm sure it's lit.
I really enjoy how Lemony deals with drama, and death, and pain, and disappointment, and dreaming of more - especially for that age group. I felt grown up reading those books which was a rare feeling to have, considering my level of reading. I grew up in an amazing family, and was super privileged that I never had to deal with anything like that, so it was probably one of the first times I really felt empathy. I wanted to invite the Baudelaires over for dinner, I wanted my parents to adopt them. It made me think of how lucky I was. But at the same time, whilst the Baudelaire's were having a nightmare the one thing that they always had was each other, so they were never truly alone and the adventures they were going on were out of this world. My favourite character out of all the siblings was probably Sunny; so cheeky, so mischievous, so inventive, and whilst I don't even think he spoke he was such a big part of the gang with his razor sharp teeth. Also, I know he was the villain but Count Olaf was an amazing character who I loved; funny and wicked, and I really enjoyed when he was around even though I wanted to kick him in the shins.
I encourage any young / old readers to tuck into the Unfortunate Events book series. It's a ride, a world, you will love it. There is no rush to read; take your time, read a chapter a week, feel no pressure, a page a day whatever works for you. I also encourage readers who struggle to read to think of reading picture books (seriously); great stories are in picture books and even great images that tell massive stories. Lemony Snicket has an incredible picture book called The Dark which is wicked with creepy as hell illustrations. So basically don't worry if you are 29 now and are still working out how to unlock reading. Just try and read as much stuff as you can in different forms, and whatever is right for you is the right way.

×
Download the Waterstones App
Would you like to proceed to the App store to download the Waterstones App?
Reserve online, pay on collection


Thank you for your reservation
Your order is now being processed and we have sent a confirmation email to you at
When will my order be ready to collect?
Following the initial email, you will be contacted by the shop to confirm that your item is available for collection.
Call us on or send us an email at
Unfortunately there has been a problem with your order
Please try again or alternatively you can contact your chosen shop on or send us an email at