Blog
The Waterstones Children's Book Prize Blog: Darren Charlton
Congratulations to Darren Charlton whose mesmeric zombie thriller Wranglestone has triumphed in the Older Readers' category of this year's Waterstones Children's Book Prize. In this exclusive piece, Darren discusses the book that fostered a love of books in him and inspired his writing journey.
When trying to think back to a single moment in my life when one book fostered a love of all books, I can't recall anything before Mrs Frisby and the Rats of NIMH. I had other books before that, but as a kid who loved movies more than books, I mainly loved them for their illustrations not stories. The illustration of Mr Tumnus walking Lucy back through the snowy forest in The Lion, The Witch and The Wardrobe by Pauline Baynes, is burned into the DNA of my childhood.The fact that both characters have their backs to you and are walking away deeper into the forest, deeper inside the story like an invitation to follow them, is still so powerful to me. The same was true for Jill Bennet's original illustrations for Dahl's Danny the Champion of the World. Like Baynes, her illustrations are formed inside a circular iris creating a window you can almost step through. I was, and still am, enchanted by her woodlands and this edition remains the only version of the book I'll read. That Danny is my favourite children's book was first established by Bennet's pictures, because when I was a lot younger, it was always the illustrations that made a book accessible to me. And I suppose it's no surprise then, that the editions we remain most connected to as adults, are those we had as children. Only that particular copy acts as a portal to another time, connecting you directly to you at that age. I say this so as not to diminish the vital role illustrators play in creating whole dream worlds for children to lose themselves in and by doing so, open doors to the reluctant reader.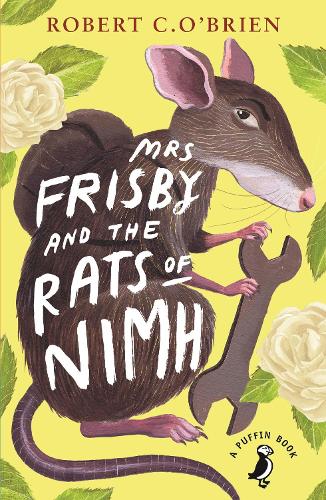 Paperback
Usually dispatched within 2-3 working days
A seminal children's tale of home-moving mice and hyper-intelligent rats, O'Brien's deftly constructed adventure has important points to make about animal rights and mental health in amongst the wildly imaginative storytelling.
But Mrs Frisby and the Rats of NIMH by Robert C. O'Brien was the first book I can recall that gripped me as a story and did something I hadn't experienced before by expanding the possibilities of what a novel could be. That said, the version I still treasure most is the one I stole from school, the hardback with the still of Mrs Frisby rescuing Jeremy the crow from a ball of string from Don Bluth's animated film The Secret of NIMH (1982). Anyway, we read NIMH out loud in class over several weeks during my first year in secondary school when I was twelve. What was so formative about NIMH was that it was the first time I can recall reading a story that pivots half way through and turns into something else other than the book you started out reading. Talking animals in fiction were a typical go-to for parents back then and mine was filled with the usual; The Wind in The Willows, Winnie the Pooh and Beatrix Potter. But the journey this took me on, as a field mouse seeks help moving home before a tractor destroys it from a clan of rats who've managed to escape a laboratory by using the human skills of literacy and increased intelligence they've acquired as a result of the tests performed on them, blew my mind. NIMH had big things to say about vivisection all smuggled up inside a cosy adventure with talking mice. And it took me to a brave new world of political allegory in genre and became a stepping stone to the kind of fiction I'd grow to love as a teenager, like Ray Bradbury's Fahrenheit 451 and Richard Matheson's I Am Legend. The fact that the book's secret was also wrapped up in its own title, National Institute of Mental Health, was also so delicious to me. And whilst I never once recalled NIMH whilst writing Wranglestone, its influence is so obvious to me now I look back. The idea of a story pivoting into something else and taking the reader into political territories but through the accessible prism of genre, was right there in NIMH. That this book was on the school curriculum and relayed to me in a way that was exciting, read out loud in class, is a testament to the power of well curated books in schools that help expand our worlds beyond our parent's choices for us, as much as it is a testament to the power of communal storytelling. This one book has gone onto influence the kind of reading I enjoyed as well as the book I went on to write. With the exception of toys perhaps, there are fewer things in life with greater power to reach back in time to our younger selves (and by doing so make sure we don't leave them behind) than those formative books. NIMH is mine.



×
Download the Waterstones App
Would you like to proceed to the App store to download the Waterstones App?
Reserve online, pay on collection


Thank you for your reservation
Your order is now being processed and we have sent a confirmation email to you at
When will my order be ready to collect?
Following the initial email, you will be contacted by the shop to confirm that your item is available for collection.
Call us on or send us an email at
Unfortunately there has been a problem with your order
Please try again or alternatively you can contact your chosen shop on or send us an email at