Blog
The Unvarnished Truth
The much-missed Anita Brookner was the author behind our Rediscovered Classic for June, the enigmatic Hotel du Lac. For Waterstones, editor and Publishing Director Juliet Annan looks back on her years working alongside this most distinguished and highly individual of authors  
At 53, Anita Brookner arrived relatively late to writing, but over the course of the following twenty four novels she built a precise narrative universe, lit by a certain clear-eyed truth. Famously, her 1984 novel Hotel du Lac triumphed over favourite Empire of the Sun to clinch the Booker Prize of that year.
At the tale's centre is Edith Hope, a middle-aged woman despatched in apparent disgrace to the eponymous European hotel of the title. She has been sent to atone, shadowed by a trying affair and a subsequent abortive attempt at marriage, but instead discovers what she perhaps always was.
Writing for The Guardian, Rachel Cooke noted, 'In this, the age of the selfie, [Brookner's] characters' dignity and stoicism feel like a life raft into which this reader, at least, is happy to leap.'

Anita Brookner wrote against the tide, and she wrote about the things that mattered to her. In her fiction, she wrote about alienation, about loneliness and about fear of dying. To write an entire novel (as she did not once but twice) about the fear of being alone at the moment of death, at a time when you could write about violence, sex, drugs and rock and roll but no one wrote about death and loneliness, was brave.
Anita started writing novels as I was just beginning to work in publishing. After I moved to New York, Pantheon Books published her Booker Prize winning Hotel Du Lac (now Waterstones Rediscovered Classic of the Month) and I was her publicist. We brought her over to New York, and she dutifully did the rounds, but oh! how she hated it. Not least because she never thought that anyone would come to hear her speak or listen to her on the radio, and was always dismally surprised when they did.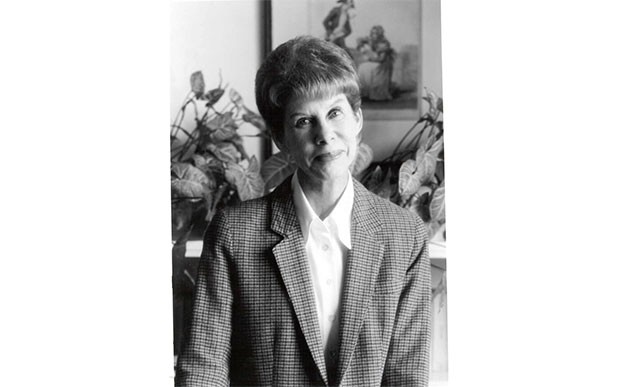 Photo: Anita Brookner

Back in England, I became her publisher and editor after she left Jonathan Cape, and worked on her last seven novels and her last book of art history, a book on romanticism. Because she was so rigorously intelligent, so erudite, so morally upright, so particular in her choice of words on the page and in person, you desperately wanted her approval, and you strove in her presence not to show your ignorance. The editing process wasn't the difficult part – particularly as she had every sentence in her head for months before she wrote it down: the actual writing and revisions were very quick.
But when I was with her, or writing to her, I was always aware of being a lumbering, noisy publisher – far too interested in commerce, far too much like one of her villains – venal, showy, bullying. I would cycle over to her Chelsea flat and show her jacket roughs, but she hated almost any jacket that I showed her ("No, it won't do. It won't do at all"): only black and white photos, no human figures allowed on the jackets, no colour on the type (in the end she relented). She hated being reviewed, hated publicity, wouldn't do readings and thought that interviews by women journalists were the work of the devil. (Thank goodness, she agreed when her last novel Strangers was published to be interviewed by Mick Brown for the Telegraph Magazine, and as she never varnished any truth, or wriggled out of any question, the result was frankly amazing.)
People sometimes got the impression that in person Anita was just like one of her heroines or heroes – lonely, downtrodden, timid, slow to understand the rules of engagement, a person who viewed the vulgar and the loud with great interest and knew that there is no truth in the adage that the meek shall inherit the earth. But she was far too self-aware and hawk-like: all the same, once when I was protesting to her about a snide review that implied that her heroine and she were one and the same, she simply answered "But I am like that, darling, I am."
What I can't convey here is how warm and affectionate she was, she was loyal, she was enthusiastic about other writers' work and never a literary snob (she loved crime fiction). To see her across the restaurant floor: an elegant bird of prey with a burning fag end – well, I loved her. And she was funny in person, as she is in her novels: note funny, not fun – for being with her wasn't fun, she was too exacting and ill at ease.
Her extraordinary art historical scholarship and her 24 novels will live on: of that I am absolutely sure. Hotel Du Lac is Waterstones Rediscovered Classic of the Month and we are reissuing her backlist with beautiful, classic mostly black and white photographic covers (although they have people on them. Sorry Anita).
Juliet Annan, Publishing Director Fig Tree/Penguin
×
Download the Waterstones App
Would you like to proceed to the App store to download the Waterstones App?
Reserve online, pay on collection


Thank you for your reservation
Your order is now being processed and we have sent a confirmation email to you at
When will my order be ready to collect?
Following the initial email, you will be contacted by the shop to confirm that your item is available for collection.
Call us on or send us an email at
Unfortunately there has been a problem with your order
Please try again or alternatively you can contact your chosen shop on or send us an email at