Blog
The Saffron Tales: An Introduction to Persian Cooking
Yasmin Khan's debut was a highlight of 2016's cookery publishing and firmly establishes her as a truly special and exciting new voice in food writing. The book is a love-letter to Iran, its food, and its people
,
infused with the scents and flavours of the country's rich, diverse cuisine. It is also one of the most beautiful cookbooks we have seen in a long time. But what really makes
The Saffron Tales
stand out is Yasmin's passion
,
and her depth of knowledge which she has sharpened through her extensive travels around Iran. Here, we present an introduction to Iranian food from Yasmin, in which she describes how we could all benefit from adopting some Persian culture into our own lives.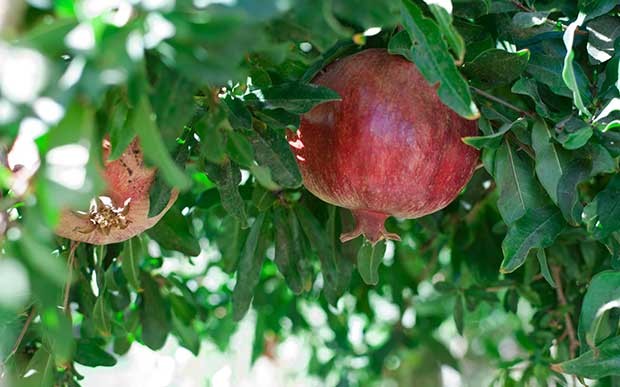 Introducing Persian Food

The food of Iran is as diverse as its landscapes – a dazzling mosaic of scents, textures and colours. Commonly known as Persian food in the West, it is the cuisine of fairy tales: velvety pistachio soups, saffron-infused rice dishes and sumptuous slow-cooked stews using fruits such as pomegranates, plums and quinces with meat or legumes.

Signature dishes include:
· Fesenjoon – A hearty chicken stew poached in a rich and creamy sauce of ground walnuts and pomegranate molasses.
· Mirzeh Ghasemi – Smokey roasted aubergines gently fried with tomatoes, young garlic and eggs.
· Shirin Polo – A colourful layered rice dish, dotted with glistening jewels of candied carrots, orange peel, pistachios and saffron.

Slow-cooked stews known as khoresht and rice dishes layered with herbs, vegetables, beans, nuts and fruit known as polo, are the bedrocks of the Persian cuisine and each morning, across the country, the preparation for the day's feasting begins. Iranians eat their mail meal of the day at lunchtime and we're not talking about simply scoffing a simple sandwich at their desk. In Iranian culture, food is seen as something to be savoured and eaten in company so time is always taken for a hearty, freshly prepared lunch, which is more often than not a leisurely affair, shared with co-workers, family or friends. It is likely to include a type of khoresht, polo or some grilled meat or fish, alongside smaller plates of salads, yoghurts, pickles and platters of fresh herbs.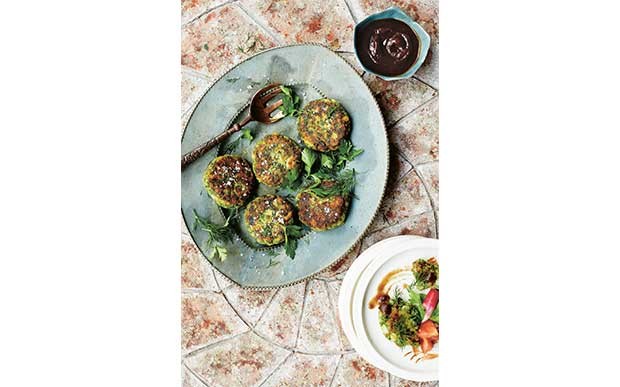 There are innumerable different types of khoresht, with regional and seasonal specialities, but each will be sure to have a balance of sour and sweet – Iran's most dominant taste. An abundant use of fresh herbs is another major theme of Persian cooking, as is the use of delicate, fragrant, spices such as saffron, dried limes and orange blossom.
Kebabs are probably the national dish of Iran and on every street corner across the country you will find succulent cuts of lamb or chicken, threaded onto skewers and barbecued over hot coals. Kebabs are served sprinkled with sumac (a tart crimson spice made from the dried berries of the sumac bush) and are either piled high on buttery, saffron rice or tucked into flatbreads alongside with some strained yoghurt, grilled tomatoes and crunchy pickles.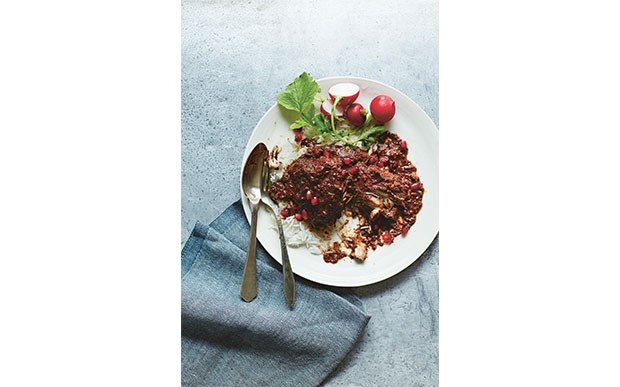 Iran is a vast country and the regional differences are striking not only in culture and climate but also in cuisine. Depending on which part of the country you are in the dishes will vary: hot yoghurt and chickpea soups might feature in the Turkish influenced north-east of the country; mixed herb stews made with massive handfuls of dill, coriander and chives might appear by the lush, green, coast of the Caspian Sea; sweet pastries layered with walnuts and dates can be found in central Iran; and spicy tamarind and prawn curries in the south. In each region, the local cuisine celebrates the best local and seasonal produce in dishes that have been perfected over centuries.
As in many ancient cultures, food plays an important role in social customs, festivals and ceremonies in Iran. Each year for Nowruz (the Iranian new year), the first meal of the year always incorporates lots of spring greens and fresh herbs, said to symbolise new life. Sabzi Polo baa Mahi – a fragrant layered herbed rice dish, topped with fried fish, is the traditional meal to start the year (the Iranian equivalent of Turkey and all the trimmings of Christmas day!) but other green foods are also enjoyed at Nowruz such as Kuku Sabzi, an emerald green frittata made with a cacophony of fresh herbs including parsley, coriander, dill, chives and fenugreek.


There is a national holiday in Iran for the two weeks immediately after Nowruz during which time days are spent visiting family members and friends with boxes of sweets and pastries to sweeten the start to everyone's year. If you are lucky you might be treated to a box of gaz, a soft chewy nougat flavoured with pistachios and rosewater, or perhaps some light-as-air choux buns filled with thick slabs of cream known as naan e khamiee. More commonly you might be greeted with some shirini-eh khoshk, an assortment of delicate small dry biscuits or pastries, often made with chickpea flour or rice flour.


At the heart of all of Persian feasting is the concept of sharing food, which is central to the Iranian way of eating. In Iran, one would never simply reach into the fruit bowl and take a bite of an apple; instead, one would cut the apple into slices and offer it around the whole group, even if that meant there was only one slice left for you at the end. If that happened, you simply start again with another apple from the bowl. This practice, of sharing what you have, even if you have very little, goes to the heart of Persian culture and is one of Iran's most charming practices and one that could be greatly received everywhere.
Yasmin Khan, author of The Saffron Tales
×
Download the Waterstones App
Would you like to proceed to the App store to download the Waterstones App?
Reserve online, pay on collection


Thank you for your reservation
Your order is now being processed and we have sent a confirmation email to you at
When will my order be ready to collect?
Following the initial email, you will be contacted by the shop to confirm that your item is available for collection.
Call us on or send us an email at
Unfortunately there has been a problem with your order
Please try again or alternatively you can contact your chosen shop on or send us an email at