We regret that due to the technical limitations of our site, we are unable to offer eBooks or Audio Downloads to customers outside of the UK.
For further details please read our eBooks help.
Blog
The other 1920s?
Suzanne Rindell, author of Waterstones Book Club title The Other Typist, tells us about her passion for the roaring 20s, and ponders if - for better or worse - they might be back...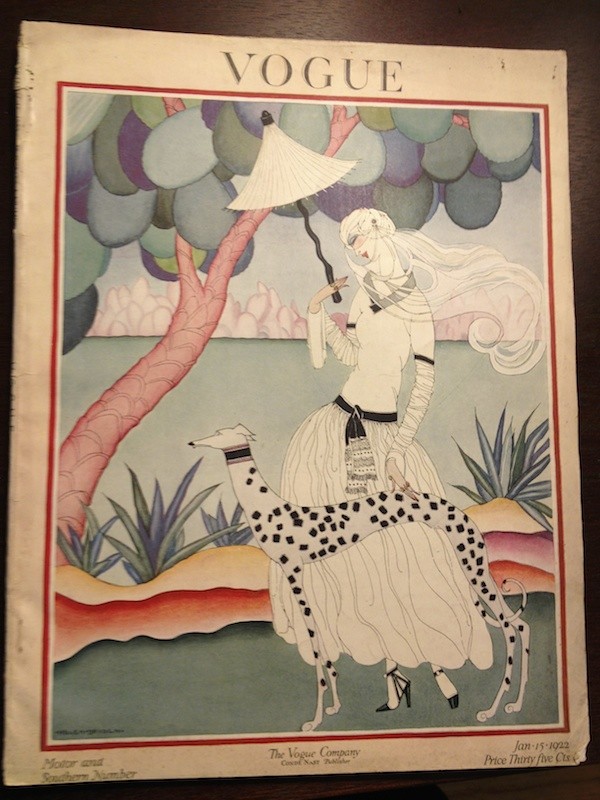 Curiously enough, 2013 was a year that belonged to the 1920s.  Blame it on the 2013 fashion season, which sent a seemingly endless row of models marching down the runways in drop-waist dresses and Jazz Age make-up.  Blame Baz Luhrmann, and the giant media machine behind the release of his version of The Great Gatsby.  Blame what you will, but the bottom line is the '20s were everywhere last year, especially in New York, where women toted around vintage accessories, men got friendly again with old-timey mustaches and bowties, and bars broke out their old-fashioned coupe glasses to revive Prohibition era cocktail recipes.
My novel – a story that happens to be set in the '20s – was published in the early summer of 2013, right in the thick of this '20s mania.  I wish I could take credit for the apropos timing, but alas, I'm not nearly that savvy.  For me, writing a novel-length work of fiction takes at least a year.  And for publishers, getting a book into print and onto bookshelves typically takes at least another year.  When I began writing The Other Typist, the most recent wave of 1920's fever hadn't quite hit yet, and Baz Luhrman's version of The Great Gatsby was merely another Hollywood-centric rumor to hit the Variety pages.
At the time I started to write the book, I was interested in – well, okay, let's call it obsessed with – the 1920s for a different reason: I was meant to be completing an academic dissertation on 1920s literature and culture.  Doing a degree on this particular subject had been a natural fit, as there had always been something enchanting and otherworldly about the 1920s for me.  I had admired authors like Fitzgerald and Hemingway since I was a child, and in the name of "research" I began to expand my studies by collecting pop culture items from the era.  One of my favorite pieces is the January 15, 1922 copy of Vogue magazine, above.  The cover is illustrated with a wonderful drawing by Helen Dryden, and it epitomizes everything I love about the aesthetic of the '20s: wonderful, lithe, sinuous lines, a chicness that straddles the line between art nouveau and art deco, and a hint of class-driven absurdity.  As I gaze at it now, it makes me ponder the reasons why it speaks to me.
In one recent Q&A, I was asked a question I found very compelling.  I was asked what music I had listened to while writing The Other Typist.  My answer was I'd created an Al Jolson station on Pandora, with the aim of getting into a 1920s mindset.  And it's true; I listened to music from the era while writing about the era, figuring it would help me get into the spirit of things.  But, if you've ever chatted with someone who's written historical fiction, they will tell you there's a slippery slope between getting into the spirit of things and getting caught up in a futile notion of authenticity.  You want to tap into the former, but steer clear of the latter – lest you reduce your artistic vision to a pedantic rendering of an historical moment you never witnessed.
About a month or two after my book came out here in the U.S., I was invited to a party being thrown by a couple I knew.  These friends liked to throw lavish dinner parties and go all out.  This time, they'd rented out a private room in a trendy Soho restaurant and decided upon a theme of 1920s decadence.  Costumed attire was mandatory.  I dithered over whether to RSVP and complained to my boyfriend that, while it was totally coincidental they'd picked a '20s theme, I felt funny about the prospect of dressing up in flapper attire.  I didn't want to be one of THOSE authors, who seemed as though they might be hung up on some kind of fantasy fetish.  It was one thing to write a novel set in the 1920's, but it was quite another to dress up like one of my own characters and go to a party.  But in the end, my boyfriend convinced me to get over it and go.  We got dressed up and it was fun (pre-party iPhone snap below).  It was lavish; there was a champagne fountain and a 1925 vintage wine.  And as I looked around the room that night with its eclectic list of attendees that ranged from artists to investment bankers, it was clear we were all enjoying the 1920's theme and that it seemed to strike a chord with all of us.  But why?  It was truly a curiosity to me.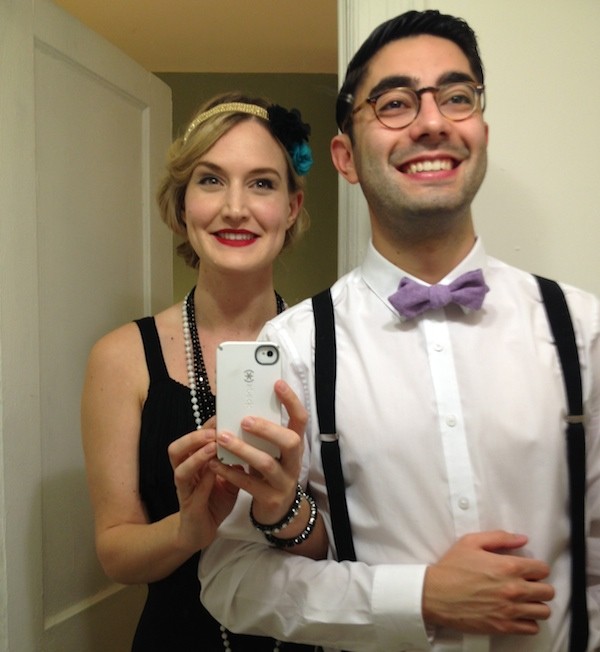 In the months since, I've come up with a lot of hypothetical answers.  Perhaps, sensing our own financial decline is looming on the horizon, there's something familiar about a moment in history wherein the economy famously dangled on the precipice of collapse.  Perhaps we envy those Jazz Age flappers and industry tycoons their blissful ignorance as they enjoyed the decadence that surrounded them.
As I gaze at the 1922 Vogue cover now, it still puts me in a trance.  I think of my two main characters, Rose and Odalie, single girls working by day as typists in a police precinct and champagne-swilling flappers by night.  I picture them drifting into dark speakeasies and motoring out to bright Long Island shores.  And like that generation of young people on the eve of Black Tuesday, my narrator, Rose, willfully ignores the foreshadowing of dark events about to befall her, happy to be seduced by the party around her for the time being.  As I wrote The Other Typist, I felt less like Rose's author and more like her audience.  I was intrigued – much like I hope my reader will be – to watch her gravitate towards Odalie's glamor and thus into her own undoing.
That's the funny thing about inevitable demises: We might know the party is destined to end eventually, but by no means does that fact make the fever pitch the party reaches just before it comes crashing down any less enticing.  In fact, it might be the very thing that intensifies our fascination.
Suzanne Rindell, for Waterstones.com/blog
Find out more about The Other Typist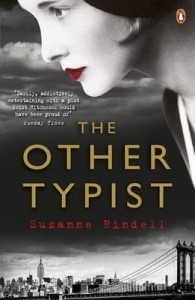 You can Reserve & Collect The Other Typist from your local Waterstones bookshop (http://bit.ly/1jUxgEP), buy it online at Waterstones.com (http://bit.ly/Nhf4ae) or download it in ePub format (http://bit.ly/1jUxoEg)