Blog
The Lost Olympian of the Somme
Fredrick Kelly was an Olympic gold-medal rower, a skilled pianist and an aspiring composer, who fought at Gallipoli and The Somme. A good friend of the poet Rupert Brooke, he ensured the safe return of Brooke's notebooks to England. Kelly's recollections of war, which are published for the first time as The Lost Olympian of The Somme, are full of stark honesty and lyricism. We are delighted to present editor Jon Cooksey's introduction to the book.
There were many ways in which men sought to escape the grim realities of the First World War, but few did it as spectacularly as Frederick Septimus Kelly – Olympic gold medal rower, pianist, composer and leader of men in the Royal Naval Division during the First World War - whose war diary from 1914 until his death on the Somme in 1916 is now published in paperback as The Lost Olympian of the Somme.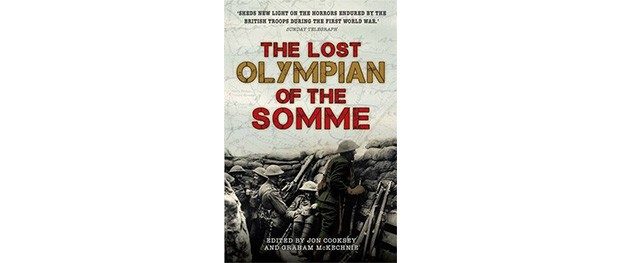 In the autumn of 1916 Kelly staged a performance of Tchaikovsky's 1812 Overture by the battalion band in a wood not far from the front line in France. The audience of soldiers heard the famous climax to the stirring music as Tchaikovsky intended it with: 'all guns firing like hell'.
The roar of the cannon was real, provided by the 18-pounders of a British artillery battery, raining down a deadly bombardment on the nearby German trenches. The military band performed with gusto rather than expertise but at its centre the conductor, in full military uniform complete with gloved hands and sporting a thick, black beard was fulfilling a long-held ambition. And what a spectacle it must have been for those who saw and heard this extraordinary concert.
The roar of the guns was a defiant proclamation of the victory of art over reality; of one man's spirit that refused to be crushed despite all that he had suffered in the Gallipoli campaign against the Turks during the previous 18 months. That conductor was Frederick Kelly, a man who was not going to be beaten.
Who else would have the audacity to stage such a concert? Kelly was the sort of man who would also use the songs of Wagner to entice German soldiers to surrender; who could sit in a trench and find the inspiration to compose beautiful melodies and phrases; who could be harsh to the men in those trenches, while taking excessive care of stray cats found on the battlefield. And he was the sort of man who inspired the respect of those who served with him and the love and devotion of his many friends. Eccentric, defiant, rebellious, haughty and brilliant: there are many words which spring to mind when you read the diary of Frederick Kelly, and you cannot help but like him.
Born in Australia on 29 May 1881, Frederick Kelly was the seventh child and fourth son of an Irish immigrant, Thomas Hussey Kelly, who had made his fortune in wool and in mining gold and copper. Sydney was his home for the early years of his life but the Kelly family were, in their outlook and attitude, impeccably of the British Empire and in1893 they sailed back to the mother country for Kelly – known as Sep to his family – to be educated in the ancient halls of Eton College.
Kelly's musical education continued at Eton but sport - and particularly rowing - also became a dominant force in his life.
From Eton Kelly took the well-trodden path to Oxford University, winning a musical scholarship to Balliol College. There he gained his rowing 'Blue' but it was in the solitary discipline of sculling that he particularly excelled. Kelly won the prestigious Diamond Challenge Sculls at the Regatta three times, in 1902, 1903 and in 1905 with a course-record time that stood for 33 years.
In 1908 Kelly accepted an invitation to row in a veteran Leander Club crew (known as 'The Old Crocks') who were representing Great Britain in the Olympic Regatta of 1908. He won gold but that 1908 Olympic Final proved to be Kelly's last competitive race and he turned to his music once more. But the events of the summer of 1914 and the outbreak of war with Germany brought his professional musical career to an abrupt halt. Not content to sit idly by while others enlisted, he joined the Royal Naval Volunteer Reserve as an officer and became part of the Hood Battalion of the Royal Naval Division. It is the friendships which form, develop and die which are some of the great features of Kelly's diary. Within the Royal Naval Division, and in particular in the Hood Battalion, there was a very unusual collection of brilliant men – intellectuals, artists, sportsmen – all thrown together to take part in what seemed to them in 1914 as a tremendously exciting adventure. Kelly and his friends within the Hood became known as the 'Latin Club' – a reflection of the 'high-mindedness' that they were not ashamed to flaunt. Of the group, the three of greatest interest to Kelly's story are Arthur Asquith, the third son of the British Prime Minister; a remarkable fellow-colonial Bernard Freyberg from New Zealand and Rupert Brooke, the emerging superstar of English poetry, loved and adored by many, including Kelly. Kelly's diary is punctuated by reference to these intense friendships and others which Kelly made during the war, and when they are broken Kelly's reserve gives way to moments of great emotional lucidity and outpourings of grief.
Kelly's is a war diary then, but not one written by a professional soldier. It is the work of a man who had already achieved a great deal by the time he came to conduct the 1812 Overture in the wood In France and it is Kelly as an observer of some of the twentieth century's most significant events and the characters who shaped them which makes his diary such an illuminating read. Kelly fought in two of the twentieth century's most appalling military campaigns: Gallipoli and the Somme. He is a reliable witness – factual, accurate, critical and sensitive. He rarely shows us his feelings. When he does and the emotional straightjacket is cast aside, you feel privileged to have been allowed to see the depth of his emotion. At other times he cuts a rather comic figure; out of time and baffled by the world around him.
The diary also reveals Kelly's enormous sense of fun. It was perhaps something he felt the need to conceal to maintain the image of a serious intellectual and musician, but be it go- kart racing or blowing up unexploded shells for the unadulterated fun and sheer excitement of it all, there is an endearing boyishness to Kelly even when his surroundings in the trenches of Gallipolli and the Western front were bleak.
Throughout his time in the trenches Kelly is able to cling on to elements of his past life to help him endure the misery. Above all else though, it is his music that continually frees him from the drudgery and the misery and despite the deep sorrow and unimagined horror around him, he is inspired to compose his greatest work, the Elegy for Strings, 'In Memoriam Rupert Brooke'. In one of the most evocative entries in October 1916 Kelly visits Thiepval Wood on the Somme, walking through the appalling desolation of 'mangled' corpses and 'glazed eyes' in an effort to study the ground over which his battalion will attack on 13 November 1916 during the final few days of the grinding attrition that was the Battle of the Somme.
He muses on the conflict between art and reality and despite describing himself as callous, is haunted by the tragic scene. Yet the next day he is writing the ethereal harp part for his Elegy for Rupert Brooke, partly to escape the war, partly because it was his uncomfortable inspiration. Whichever is the case, it is an astonishing achievement.
But that final battle on the River Ancre was to claim the life of this most endlessly fascinating of characters. Kelly was a brilliant man who would surely have gone on to reach the heights to which he aspired as a composer - perhaps even surpassing the achievements of other Great War soldier/composers like George Butterworth, who has received posthumous critical acclaim. Unlike so many of his contemporaries, however, it is his all-round achievements which make him such a singular man – Olympic champion, composer, pianist, intellectual, leader of men and diarist. His story is a tale of daring, courage, tragedy and lost potential. 'He was a man of extraordinary vitality and physique, and of great powers which had only begun to mature and to find their unison and harmony', according to his great friend Arthur Asquith: 'Time alone was wanting.'

×
Download the Waterstones App
Would you like to proceed to the App store to download the Waterstones App?
During lockdown in England and parts of Scotland: reserve online, pay by phone. Collection available in most shops.
Or,
add to basket
, pay online, collect in as little as 2 hours, subject to availability.
For shops outside of these areas: reserve online, pay on collection.
Thank you for your reservation
Your order is now being processed and we have sent a confirmation email to you at
When will my order be ready to collect?
Following the initial email, you will be contacted by the shop to confirm that your item is available for collection.
Call us on or send us an email at
Unfortunately there has been a problem with your order
Please try again or alternatively you can contact your chosen shop on or send us an email at