Blog
The Life of Elves
The Lives of Elves, Muriel Barbery's much anticipated follow-up to The Elegance of The Hedgehog, is out now.
Muriel Barbery created a worldwide publishing sensation when she penned The Elegance of The Hedgehog in 2006, a subtly crafted novel narrated by a troubled and precocious 12-year-old; the book brimmed with intelligence beneath its seemingly-innocent exterior and was an instant, runaway success. Fans have been tempering their anticipation over the years, but now, the wait is over and her new novel, The Life of Elves, has been released. The Life of Elves, which is a stand-alone piece and can be read without any knowledge of the author's previous two novels, is inspired both by magical realism and the author's first-hand experiences living in Japan.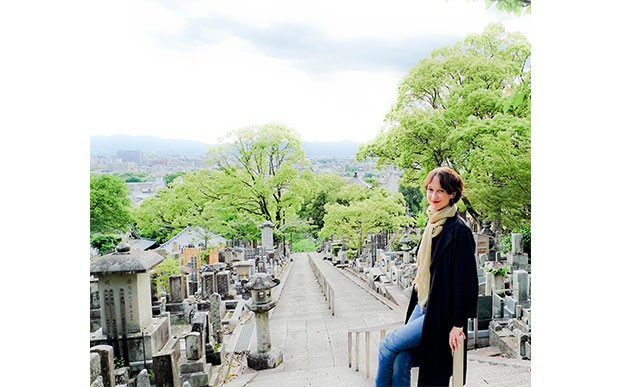 Muriel at the Kurodani temple (All rights reserved)
In a former life, I spent two years living in Kyoto – two life-changing years that left an indelible mark despite the fact that I never got to the bottom of this enigmatic city, to the extent that when I'm asked about Japan, I can do nothing but express my perplexity. But this sense of bewilderment, however complete, is also strangely fruitful, in that it provides a starting point for questioning as well as a source of aesthetic and literary inspiration. The Life of Elves was born out of a conversation I once had about Japanese gardens. I was trying – and failing – to describe the almost inhuman perfection of these gardens, their absolute beauty, which almost feels divine, yet at the same time is so quintessentially natural that it could hardly be called transcendental. In short, I was struggling to put my wonder and amazement into words when I said, 'It's as if these gardens were designed by elves.' And that's how the strange idea of putting elves into a classical novel came about. Elves unlike those usually found in fantasy books, who were symbols or incarnations of a kind of harmony I experienced in Japan; elves who were poets, guided by their feel for nature; sublime gardeners; artists enamoured of trees and mist-covered landscapes.
The strange thing is that I barely scratched the surface of Japan – I only spent two years there, I don't speak the language, I've never researched Japanese culture – and yet Kyoto, to which I return as often as possible, has left deep impressions which connect to even earlier ones: memories of a childhood spent among trees, exploring the countryside, experiencing the natural beauty that was to become the root of all my aesthetic delight. So when I first set foot in a Kyoto temple, it was as if the child in me was gaining a higher level of understanding of a truth I had long sensed. Our churches are made of stone; we pray with our eyes closed, cutting ourselves off from the outside world. Japanese temples are made of wood and their galleries are open to the trees and gardens; you can go there to reflect while watching the wind shake the maple branches, and you intuitively taste the self dissolving magically into the breath of the world. You feel the oneness of living things, the deep connection between all natural beings, the harmony between mind and matter. This was what I wanted my elves to embody, this bond between conscience and universe, this profound sense of aesthetic and spiritual solidarity between beauty and nature, this collusion of the body and soul, united in yearning for natural perfection.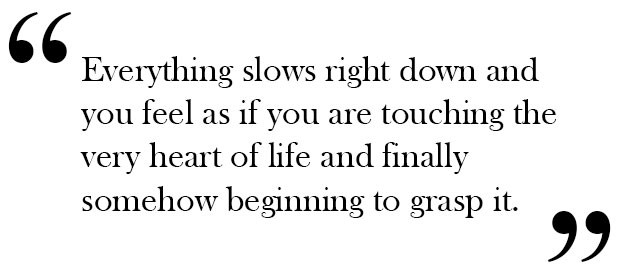 Similarly, what my Kyoto years reinforced in me, and what The Life of Elves tries to explore from a very different angle than that of my previous novels, is an appetite for meditation, contemplation and, by extension, poetry. One of the greatest things I gained from my Japanese experience was the life-affirming thrill of returning to a slower pace of life. I remember cycling along country roads as a child and revelling in that sense of time passing more slowly, feeling that sense of almost blissful fulfilment that I now know to be the fruit of contemplation, of the kind of trance-like state that allows you to forget yourself and give in to the world's sensations. Everything slows right down and you feel as if you are touching the very heart of life and finally somehow beginning to grasp it. To live in Kyoto is to return to that privileged relationship to time as if in a floating world, rid of all its usual reference points, in which you really feel as if you are living fully. I have never entirely understood why this is – perhaps it's because, in spite of all the tragedies and contradictions of modern life, the Japanese are able to hold on to a kind of spirit of childlike innocence; perhaps it's the uplifting and improving effect of being permanently surrounded by beauty elevated to its highest form; or maybe it's the passion the Japanese have for contemplating nature, and its extraordinary ability to make you forget yourself. People walk beneath the cherry trees in April and beneath the maples in November, laughing and giving thanks for the seasons' offerings, happy to be in harmony with the kingdom of living things ... I knew I wanted the first part of The Life of Elves to be steeped in this slowness, this simplicity, this meditative atmosphere, this attentiveness to landscape, flowers and trees, because it is in this element, in childhood as in my Kyoto years, that I have had the sense of living in the poetry of the world, and of becoming a better person than I was before.
The Life of Elves is available now in paperback.
×
Download the Waterstones App
Would you like to proceed to the App store to download the Waterstones App?
Reserve online, pay on collection


Thank you for your reservation
Your order is now being processed and we have sent a confirmation email to you at
When will my order be ready to collect?
Following the initial email, you will be contacted by the shop to confirm that your item is available for collection.
Call us on or send us an email at
Unfortunately there has been a problem with your order
Please try again or alternatively you can contact your chosen shop on or send us an email at