Blog
The Swimming Pool
Author Louise Candlish talks us through the dark, noiresque alleyways and bright sun-bleached streets of Old Hollywood that inspired her latest novel, The Swimming Pool.
Louise Candlish, the bestselling author of novels such as The Sudden Departure of The Frasers and The Day You Saved My Life, explores dark and complicated dilemmas in the lives of her protagonists. In her newest book, The Swimming Pool, Natalie Steele is seduced away from her ordinary life as a mother and wife by a captivating former actress, Lara Channing. Soon however, Natalie begins to wonder if this new extravagant and bohemian lifestyle comes at a cost.


There is a moment in The Swimming Pool when Lara Channing, the charismatic new best friend of middle-aged teacher Natalie, surveys the view from her parkside London house and complains that she'd rather be in Palm Springs. This yearning is at the heart of what I was hoping to achieve with the atmosphere of the novel. Though the setting is a leafy London suburb, complete with all the farmers' markets, wine bars and artisan bakeries you'd expect to find, the characters are in pursuit of something altogether more glamorous, more bohemian. Something from California or the South of France – and not just those places, but those places at a particular time in history.
I had in mind the sunsoaked Californian suburbs of the 1950s and 60s, and the noirish vibe of Old Hollywood, where the surface dazzle of the day darkens into something seamier at night. A time of freedom and hedonism long before the twenty-first century gave us property-price obsession and Snapchat. So when Natalie first sets eyes on her neighbourhood's new pool, 'the transforming, sun-spangled glamour of it', and remarks that it could be Miami Beach or the Côte d'Azur – anywhere but dull old Elm Hill – the reader is warned that a change in mood might well bring a change in behaviour. Especially when combined with the great fictional heatwave (there is no drought, though, this isn't 1976; in The Swimming Pool, water is never far away.)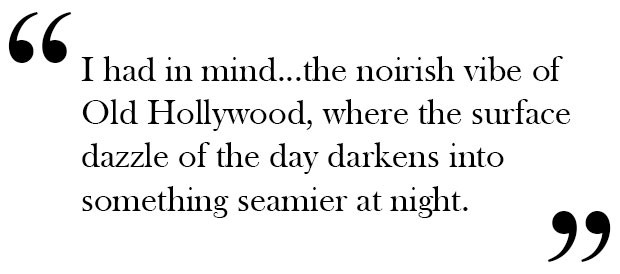 Lara Channing is obsessed with the work of the photographer Slim Aarons, whose depictions of the moneyed class at leisure epitomize a long-lost era of jetset self-indulgence. His book Poolside with Slim Aarons, was a well-thumbed reference for me when I was writing (and my working title for the novel was Poolside with the Channings). In his colour-drenched photos, beautiful and very possibly damned men and women idle their lives away drinking and smoking and bronzing, as if sun and cigarettes were health tools back then, not killers. The only technological distraction is a landline ringing (unanswered) in the house on the hill.
The other important influence was the French cinema of the 1960s. Natalie and Ed are invited to a screening of the seminal 1969 film La Piscine in the Channings' deluxe new home cinema. La Piscine, for those who might not have seen it, is a stylish and disturbing study of sexual jealousy directed by Jacques Deray, with a cast of four: Alain Delon as Jean-Paul, Romy Schneider as his lover Marianne, Maurice Ronet as her former lover Harry, and Jane Birkin as Harry's teenage daughter who Jean-Paul seduces. (The presence of a sexually awakening teenager is always unsettling: in my novel, the psychological warfare of mother/daughter relationships brings its own fallout.)
Not mentioned, but often on my mind, was that other Delon-Ronet film, Plein Soleil, René Clément's masterly 1960 adaptation of The Talented Mr Ripley, reportedly admired by Highsmith herself.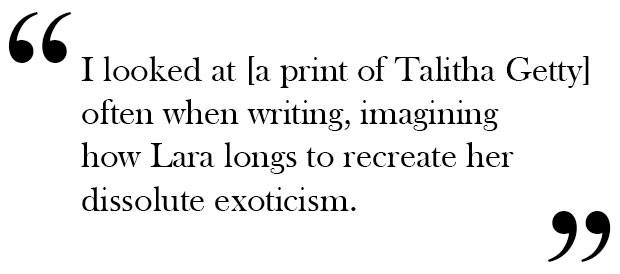 'Who references Alain Delon in the year 2015? In Elm Hill?' asks Natalie's no-nonsense friend Gayle, who is as unimpressed by the cultural pretensions of the Channings and their friends as she is their physical attractiveness. Lara's personal style – and lifestyle – is inspired by the femmes fatales of this era: the Bardots and Birkins and Pallenbergs, survivors all, unlike the tragic Romy Schneider, who died in 1982 at just 43.
Another Sixties muse to burn bright and die young was Talitha Getty. I have a print of the famous 1969 Patrick Lichfield photograph of her on the rooftop of her Marrakech palace and I looked at it often when writing, imagining how Lara longs to recreate her dissolute exoticism. Even though Lara is a parent, she is all too eager to romanticize the addictions and personal tragedies that come with such lifestyles. Of course, as Ed, our dependable voice of reason points out, it's all funded by City money. Lara's husband Miles does something 'indescribably dull' in insurance, while Lara's own acting career has long fizzled out and her pet projects, like the restoration of the lido, bring local prestige rather than actual income.
Lara's sister Iona offers her own commentary on the unfolding drama of The Swimming Pool. Visiting La Madrague, the Channing house named after Brigitte Bardot's Saint-Tropez residence, she can barely contain her disbelief that her sister should have chosen to shine her light on someone as unremarkable as Natalie. Why Natalie should be attracted to Lara is more obvious. 'It's the Land of Do as You Please here, isn't it?' Iona tells Natalie. Later, Natalie looks up the reference and discovers it is from Enid Blyton's The Faraway Tree, an apparently desirable land where the friends please themselves by driving a runaway train.
Natalie correctly gathers from the story that 'breakneck was exciting for only so long', but by the time she has applied the moral to her own behaviour, it is much too late.
×
Download the Waterstones App
Would you like to proceed to the App store to download the Waterstones App?
Reserve online, pay on collection


Thank you for your reservation
Your order is now being processed and we have sent a confirmation email to you at
When will my order be ready to collect?
Following the initial email, you will be contacted by the shop to confirm that your item is available for collection.
Call us on or send us an email at
Unfortunately there has been a problem with your order
Please try again or alternatively you can contact your chosen shop on or send us an email at