Blog
The Illustrated Harry Potter and the Philosopher's Stone
Take a look at some of Jim Kay's beautiful illustrations as one of our booksellers, Stevie Connor, explains why the new Harry Potter book is such a delight for fans new and old.
"This boy will be famous, a legend. I wouldn't be surprised if today was known as Harry Potter day in the future. There will be books written about Harry, every child in our world will know his name!"
When J.K. Rowling wrote those words, she couldn't have known how true they would become. A small book, published by a then unknown author nearly 20 years ago, is still taking the world by storm.
Last year saw the first official Harry Potter Book Night (the next one will be the 4th of February 2016), there's a Harry Potter theme park, a film studio tour, a play to come, and the Potter companion book Fantastic Beasts and Where to Find Them is set to become a film trilogy. Who hasn't heard of Harry Potter? I, like almost every other twenty-something, have been an enormous Harry Potter fan for the majority of my life. My bookcase has two dedicated Harry Potter shelves, I've read the series through at least once a year since I was nine, and I even listen to the audiobooks while I do the washing up. My dream job is a Bookseller in Flourish and Blotts (I've accepted that Waterstones is as close as I'm going to get).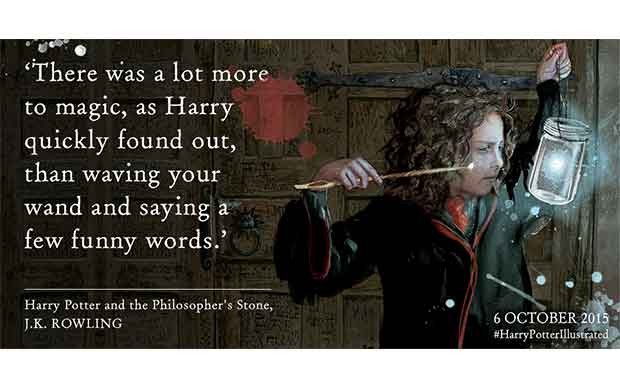 And despite having as much Potter paraphernalia as my small flat can hold, Potter related goodies still top my Christmas list each year. So, as you can imagine, the recent release of this beautiful edition of Harry Potter and the Philosopher's Stone, fully illustrated by Jim Kay (of well-deserved A Monster Calls fame) was pretty much the best day of my life (hopefully this is a reflection on the quality of the book, not the quality of my life...).
Over the fifteen years that I've been reading the series, I've built up a pretty detailed picture in my head of Harry and his world. Having managed to keep that picture intact through eight films and several YouTube puppet plays, I opened this edition to find those pictures had fallen out of my head and onto the page. Jim Kay has done an incredible job.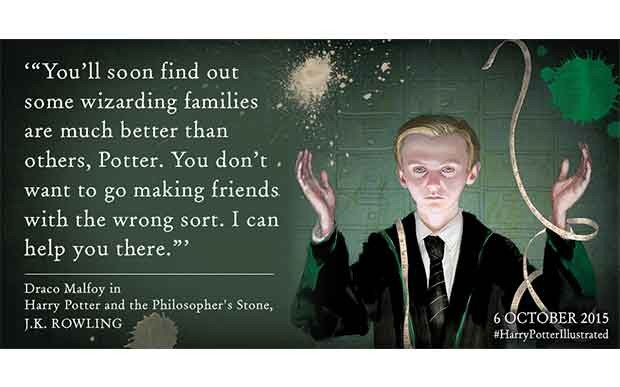 Barely a page goes by without some form of spellbinding illustration - there are four before Chapter One even begins. Some are small, and some are glorious double page spreads. All amazing.
It's almost impossible to think of a single illustration that is less brilliant than the rest. My favourite has got to be Kay's rendering of Dumbledore. This (finally!) is a Dumbledore that is completely right - strong and kindly with a slightly crooked nose. I can just as easily imagine him bestowing a twinkly-eyed smile on Harry as I can see him fiercely defeating a swarm of Inferi.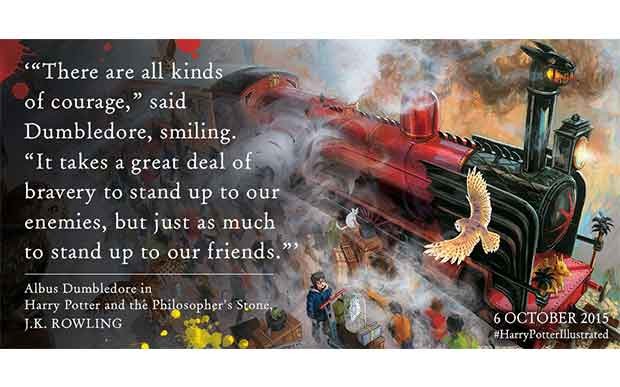 Another particularly striking image shows the Quidditch pitch silhouetted against a setting sun, and I've never wanted anything as much as I've wanted to live in this version of Hagrid's Hut. If you loved the illustrations on Pottermore but found yourself screaming "but I want to see their FACES!" at the screen, this is for you.
As Rowling's magical story unfolds, we're introduced to Jim Kay's version of her iconic characters, faces and all! As well as capturing the many classic moments throughout the book, Jim Kay has gone one step further by including a bonus double page "Guide to Trolls", and a page on Dragon Eggs.
The fantastic attention to detail in the illustrations is mirrored in the production of the book itself: the dust jacket has a matte finish which means it feels as good as it looks (very good indeed), there's a place holder ribbon, and the endpapers both contain beautiful black and white images of Hogwarts.
This is a coffee table version of everyone's favourite story, just as good to flick through as to read end to end. With each new look I noticed another little detail, another imagining made real.
It's simply perfect for anyone, regardless of age or level of fandom – a brilliant place to start for those out there who haven't yet experienced Harry Potter, and those that have will be instantly transported back to their first encounter with The Boy Who Lived, as if by magic.
Cleverly, the plan to release each illustrated edition a year apart also brings back the sense of anticipation I felt as a child, meaning that a new generation has a chance to grow up with Harry. I for one can't wait to see what Jim Kay does with the remainder of the series. What will a Dementor look like? How will the style change as the story becomes darker? I'm so excited to see the scenes that weren't included in the films brought to life for the first time. Unfortunately, yearly releases mean we won't be gasping with adoration at a beautifully illustrated "Harry Potter and the Deathly Hallows" until 2021... but I think it's worth waiting for.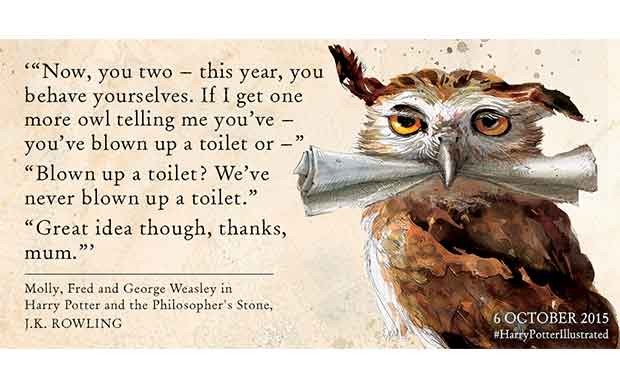 ×
Download the Waterstones App
Would you like to proceed to the App store to download the Waterstones App?
Reserve online, pay on collection


Thank you for your reservation
Your order is now being processed and we have sent a confirmation email to you at
When will my order be ready to collect?
Following the initial email, you will be contacted by the shop to confirm that your item is available for collection.
Call us on or send us an email at
Unfortunately there has been a problem with your order
Please try again or alternatively you can contact your chosen shop on or send us an email at