We regret that due to the technical limitations of our site, we are unable to offer eBooks or Audio Downloads to customers outside of the UK.
For further details please read our eBooks help.
Blog
The Highland Clearances - Peter May
Having brought his Lewis Trilogy to a close this time last year, Peter May has turned to the story of the Highland Clearances as the inspiration for his next novel Entry Island...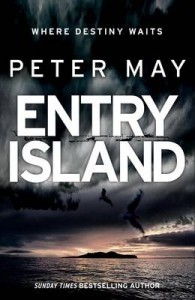 Picture this – the entire populations of villages being evicted from their homes, which were often set alight to prevent them returning.  People being driven to the coastal fringes where there were no settlements and they starved or froze without shelter.  Others being forced, sometimes in chains, aboard boats bound for unknown destinations thousands of miles away.  They had no possessions and no money, and faced the most appalling conditions as human ballast aboard sailing ships designed to carry cargo, not people.  Many of them did not survive the voyages.
This was the fate of hundreds of thousands of people in the Highlands and Islands of Scotland during the 18th and 19th centuries.
It became known as The Clearances and it followed the defeat of the Jacobites at Culloden in 1746.  Most of those who fought in the Jacobite rebellion were Highland crofters and farmers called to arms by their clan chiefs and were mostly Gaelic speakers.
The British government was determined to dismantle the clan system and banned all things Highland - the playing of the bagpipes, the wearing of the kilt - and they began a persecution of Gaelic speakers.
Many clan chiefs were dispossessed of their land and a new generation of landowner took over their vast Highland estates.  The land, which had been worked by crofters for centuries, provided subsistence only, and tenants were unable to pay rent.  So, with financial incentives from the government, the new breed of landowner systematically began to replace people with sheep, which were regarded as more economically viable.
Fuelled by the injustice of The Clearances, I decided to make this the focus of the book that would follow The Lewis Trilogy.  But I didn't want to write a historical novel, and as a crime writer I obviously had to find a way of bringing the criminal, the contemporary and the historical, all together in one story.
I decided to set the historical element of the story on the Isle of Lewis and Harris, creating a fictitious estate and township that would serve as a typical example of some of the more violent clearances.
But for the contemporary element of the story, I went to Canada where many Highlanders ended up - specifically the Eastern Townships of Quebec where large communities of "cleared" Hebrideans had established themselves.
My story also required an island setting, and I chose the the Magdalen Islands (Les Îles de la Madeleine), which are situated in the middle of the Gulf of St. Lawrence and totally isolated from the North American mainland.
These islands, which comprise part of the province of Quebec, are French speaking.  One tiny island, however, is resolutely English-speaking.  It is called Entry Island, and many of its inhabitants are of Scots origin, descended from emigrants who were shipwrecked on their way to Quebec City.
During my research in Canada, I also visited the quarantine island of Grosse Île, where thousands died in the 19th century, suffering from the diseases they had brought with them from the old world.
My central character, Sime Mackenzie, is a homicide detective with the Montreal police.  His family, too, were of Hebridean descent, and he grew up in an English-speaking household in the Eastern Townships at a time when only French was spoken at school.  Fluently bilingual, he is chosen to travel with the French-speaking investigation team to Entry Island when a brutal murder is committed there.
But when Sime arrives, it is only to discover that the wife of the victim, and prime suspect in his murder, is unaccountably familiar to him, even although they have never met...
Peter May, for Waterstones.com/blog
Peter is touring Waterstones bookshops across the country this month - find out if he's coming to a town near you on our events page. 
You can Reserve & Collect Entry Island from your local Waterstones bookshop (http://bit.ly/1eiiXmO), buy it online at Waterstones.com (http://bit.ly/1eii39N) or download it in ePub format (http://bit.ly/1eij41N)
Win a signed set of The Lewis Trilogy
We have three signed sets of Peter May's Lewis Trilogy and a copy of Entry Island to give away - all you have to do is answer the question below.
THIS COMPETITION HAS NOW CLOSED
Competition terms and conditions
1. No purchase necessary. Please enter your name and email address. Only one entry per person allowed. Proof of entering is not proof of receipt of entry.
2. To be eligible, entries must be received on or before the closing date of 15/01/14 at 11:59 PM. All entries shall become the property of Waterstones.com, and their directors, officers, representatives, advertising and promotional agencies are not responsible for contacting or forwarding prizes to entrants who provide unclear or incomplete information or for entries lost, misdirected, delayed or destroyed.
3. Entrants must be over 16 years old and residents of the UK or Ireland.
4. There will be 3 winners of a signed set of the Lewis Trilogy by Peter May in paperback.
5. The promoter reserves the right to amend the specification of the prize or offer an alternative prize of equal or greater value.
6. Subject to availability.
7. No cash alternative will be offered. Travel and other expenses are not included. The prize is non-transferable.
8. A random draw will take place on the morning of 17/01/14 to select the winners. The prize winner will be notified by email, and will need to respond by midnight 19/01/14 as to whether they are willing to accept the prize. If a selected entrant does not meet all of the contract conditions, another entrant will be selected from the remaining eligible entries.
9. This competition is not open to employees of Waterstones, the publisher or their immediate families.
10. By entering the contest, entrants, consent to the use of their names, city of residence, photograph and/or image for publicity purposes in all media carried out by Waterstones, without payment or compensation.
11. The decisions of the contest judges are final. The prize must be accepted as awarded.
12. The right is reserved to terminate or withdraw this contest at any time.
13. a) All entries become the property of Waterstones, who assume no responsibility for lost, stolen, delayed, damaged or misdirected entries or for any failure of the website during the promotional period, for any problems or technical malfunction of any telephone network or lines, computer online systems, servers, access providers, computer equipment, software, failure of any email or entry to be received by Waterstones on account of technical problems or traffic congestion on the internet or any website, or any combination thereof including any injury or damage to an entrant's or any other person's computer related to or resulting from playing or downloading any material in the promotion. Waterstones reserve the right, in its sole discretion to cancel or suspend the email portion of this contest should a virus or bug or other cause beyond the reasonable control of Waterstones corrupt the security or proper administration of the contest. Any attempt to deliberately damage any website or undermine the legitimate operation of this promotion is a violation of criminal and civil laws, and should such an attempt be made, Waterstones reserve the right to seek remedies and damages to the fullest extent permitted by law, including criminal prosecution. Entries are subject to verification and will be declared invalid if they are illegible, mechanically MV reproduced, mutilated, forged, falsified, altered or tampered with in any way. Entrants agree to abide by the contest rules and the decisions of the independent judging panel, which are final.
13. b) Entries must be submitted by the named entrant and will be invalid if found to come from a third party. Multiple entries from a single source (eg 'competition entry' website/company) will be disqualified. Only one entry will be accepted per email address used.
14. For name/county of prize winner, please send a stamped addressed envelope marked Peter May Competition to Waterstones Blog, Waterstones Booksellers, 203-106 Piccadilly, W1J 9HD after 17/01/14. No entries should be sent to this address.
15. Entry to the competition is conditional on acceptance of these terms and conditions. By entering your comment, you are deemed to have read and accepted these terms.
16. The email address you provide to enter the competition will be used by us to contact you if necessary, and will not be shared with other companies. Waterstones will only use your email address in compliance with the provisions of the Data Protection Act 1998 and in accordance with our privacy policy.
17. Waterstones and the publisher have organised this prize draw in good faith and do not accept liability relating to the prize.