Blog
Music to read by: The songs behind Ruth Galloway
With the publication of the latest Ruth Galloway novel, The Ghost Fields, author Elly Griffiths details the music behind the character.
When I'm writing I have to have complete silence – no radio, no music, ideally no-one in the house but me and the cat. But when I'm thinking about the books, or editing them, then music helps a great deal. This is my 'Ruth' playlist. I play these tracks in the car when I'm driving across Norfolk thinking about her…
Thunder Road by Bruce Springsteen
Bruce is Ruth's favourite singer. A taste which she shares with her creator. And this is the ultimate Bruce song – the screen-door slamming, the car out back, the lonely road ahead. It's playing when Ruth has her car crash in The Outcast Dead.
Norfolk Rhapsody Number 1 by Vaughan Williams
This conjures up Norfolk for me in an instant: the beauty, the loneliness, the sense of space and possibility. This music was often in my head when I thought about the abandoned RAF airfields in The Ghost Fields, places that were once full of men and machines, now silent except for the birdsong.
Summertime Sadness by Lana del Ray
My children have introduced me to Lana del Ray and she reminds me a bit of Bruce Springsteen. I wanted this song to be playing in the background in The Outcast Dead but it hadn't been released when the book was set so I had to settle for Video Games instead.
The Crow on the Cradle by Show of Hands
A reader wrote to suggest that this song would be the perfect soundtrack to the books and they were absolutely right. There are lots of versions but this is my favourite.
Every Day is like Sunday by Morrissey
This song sums up the particular desolation of a seaside town on a grey, out-of-season afternoon. Perfect for thinking about the Norfolk coast…
As Tears Go By by Marianne Faithfull
Another one for those long journeys across the Norfolk countryside, haunting and sad and full of longing for the past
Chopin Nocturne in C Sharp Minor
I love piano music, the swooping romantic stuff especially. My son is a very good pianist and plays this beautifully. It was also my mum's favourite nocturne and it reminds me of her.
I Will Survive by Gloria Gaynor
Every woman who was at university in the 80s loves this song. I'm no exception. Sometimes I even do the accompanying dance….
These Foolish Things by Bryan Ferry
I love Bryan Ferry. I saw him in concert in the 80s and thought he was the coolest thing alive. Nelson looks a little like him, I think…
Listen to the tracks below:

Related books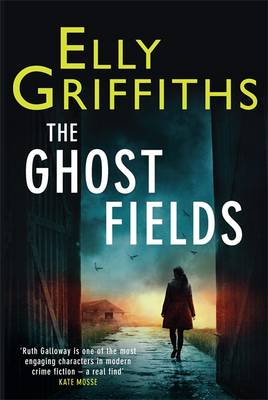 Elly Griffiths' next gripping instalment of the bestselling Ruth Galloway series