Blog
The Even The Dead Blog Tour: John Banville on Benjamin Black
We are delighted to host a stop of the Even The Dead Blog Tour: here is our interview with John Banville on writing as Benjamin Black.
The Quirke novels can get very dark – tackling themes like substance addiction, cruelty, obsessive sexual habits – are there any topics you would be unwilling or uncomfortable tackling within your fiction?
I think contemporary crime fiction—especially on television—is much too violent, especially so in the case of women characters, or victims, as they usually are. So I would not write about serial killers, or rapists. Is this squeamishness or a moral stance? Frankly, I'm not sure. But I have two daughters, and when I watch something like the first series of The Killing—and yes, I confess I watched it to the bitter end—with that repeated credit sequence of the half-naked young woman being hunted through the night forest, my flesh crawl.

Your novels were made into standalone films by RTÉ and the BBC, whereas the current trend is for sprawling, multi-episode series focusing on one story (like Happy Valley or The Fall). Would you have preferred this approach, or do you feel your books fit nicely into the one-off format? Do you know if there will be any more adaptations of the books?
It really depends on how well the series is made. Many crime series sag badly in the middle—it's a problem known to all screen writers—and with some shows one feels it would have been better to have fewer episodes. But look at The Sopranos: dozens and dozens of episodes, and not a clunker among the lot. I would hope to see some more of the Black novels adapted, of course.
Now Gabriel Byrne has played him in the films, do you picture Byrne's face in your head when you are creating new cases for Quirke?
In the early books Quirke was enormously tall and broad, with blond hair—it was a sort of private joke, making him as unlike myself as possible. One day a woman reader wrote to me crossly to say I should stop saying he had blond hair when obviously it's brown. I realised she was right, and acted accordingly. Then Gabriel was cast in the part, so Quirke now has black hair, and is appreciably more compact, shall we say, than he was originally.
Writers who focus on forensic scientists as central characters are often accused of misleading the public as to what it is pathologists actually do (for example, Silent Witness regularly gets criticised for this). How important is it to be realistic in this area, or does the need for a good story override this concern?
I'm in the happy position of writing about a pathologist who was working in the infant days of the science. I suspect Quirke is about as good a pathologist as he is a detective, and anyone who has read any of the books will know how good that is—Quirke is a hopeless investigator, just as stupid and unobservant as the rest of us, which is why I like him. Perhaps I'm lazy, but I really don't think a lot of research is good for a novel. The technical details are only there to give a sense of authenticity, and I prefer to try to do that by way of good writing.

Does writing as Benjamin Black affect your life beyond your writing day at all? Do you stay in character?
Good Lord no! My characters are made out of words, words that I assembled, and are never more than linguistic constructs. And I like to keep them that way.

You state that Nabokov and James Joyce are influences – how do you think they have affected your writing?
I owe a debt to Joyce's Dubliners, which I read when I was very young and which made me determine to be a writer; Nabokov I admire as a stylist. If I have any real influences they would be Henry James and W.B. Yeats—and Emerson.
The books are set in 1950's coal-smoky Dublin, what is it like to walk the streets of modern day Dublin after writing the novels, do you begin to look for traces of Benjamin Black's Dublin everywhere you go?
The places portrayed in the Quirke books have changed very little since Quirke's day, I'm glad to say. I love dearly that part of Dublin, around Merrion Square and Upper Mount Street, where Quirke lives, and I delight to walk though those areas and by the canal—one of the loveliest parts of any city I know.
Which crime novelists do you enjoy reading yourself?
Georges Simenon, above all, especially his romans durs or 'hard novels', which are not really crime novels but are masterly studies in the criminal personality. Raymond Chandler, of course, James M. Cain—The Postman Always Rings Twice is a masterpiece, written, so I've heard, over a long weekend—and the great Richard Stark, whose Parker books are so wonderfully cool and clever and consistent.
You can catch more of John Banville/Benjamin Black on the other great stops on his Even The Dead Blog Tour: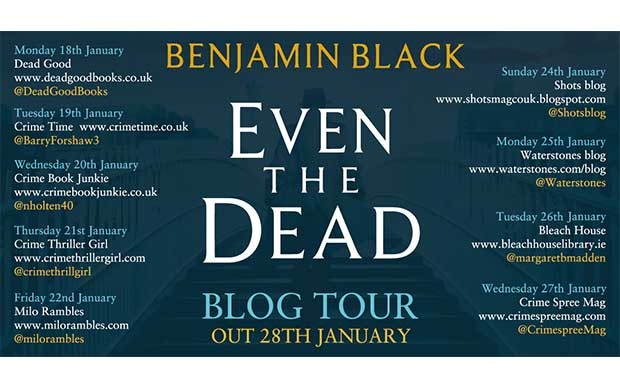 ×
Download the Waterstones App
Would you like to proceed to the App store to download the Waterstones App?
Reserve online, pay on collection


Thank you for your reservation
Your order is now being processed and we have sent a confirmation email to you at
When will my order be ready to collect?
Following the initial email, you will be contacted by the shop to confirm that your item is available for collection.
Call us on or send us an email at
Unfortunately there has been a problem with your order
Please try again or alternatively you can contact your chosen shop on or send us an email at