We regret that due to the technical limitations of our site, we are unable to offer eBooks or Audio Downloads to customers outside of the UK.
For further details please read our eBooks help.
Blog
The Dundee International Book Prize - Nicola White
In the space of 24 hours, Nicola White's book In The Rosary Garden went from unpublished manuscript to award-winning novel. Here's how it happened...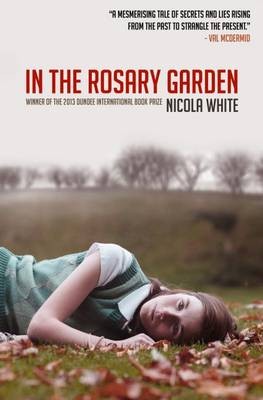 If you are lucky, your novel gets published. If you are very lucky, it might go on to win a prize. The Dundee International Book Prize manages to combine these two happy life events into one day – it's the UK's biggest prize for an unpublished manuscript, and not only does it bring the winner a gladdening £10,000, there's a publishing contract too. My novel, In the Rosary Garden has just won the 2013 prize.
This meant that, during one 24-hour period, I got to hold my first book – beautifully realised by Cargo Publishing – in my hands, be extensively interviewed about it, make a speech of thanks to a dining room full of beautifully-dressed people, and appear at a literary festival. It was exhilarating, but strange. There is such a disconnect between sitting alone at your desk day after day, pulling things out of your head, and the sudden, brightly-lit role of the writer in public.
There were things I was not prepared for – the first time someone came at me with a pen and a book, I mis-spelt my own name in it. Some journalists asked if I was married and had children, then apologised for asking. I also realised that I write better than I talk –a satisfactory summary of what my 300-page novel is about, eluded me again and again.
I can say where it starts – with the finding of a dead infant in the garden of a Dublin convent school. I can say where the idea came from – real-life events in 1980s Ireland, and I can talk about some of the themes that interested me - the suppression of difficult family memories and the secrecy that pervaded at the time, the surface-respectability. But a novel is a long-form art and perhaps all you can do in talking about it is to hint at it, sample it, never quite capture it.
In a recent article for The New Republic, the writer Lionel Shriver bemoaned the many promotional activities and appearances that writers were expected to fulfil in addition to their writing. Few can afford be reclusive. But here, at what feels like the start of things, these challenges can be filed under Good Problems to Have.
Nicola White, for Waterstones.com/blog
You can Reserve & Collect the book from our Scottish Waterstones bookshops (http://bit.ly/1f2kijf), or buy it online at Waterstones.com (http://bit.ly/1f2ktev)