Blog
The best Young Adult books for May
Isabel Popple takes a look at two of her favourite Young Adult books for May - We Were Liars by E. Lockhart and More Than This by Patrick Ness.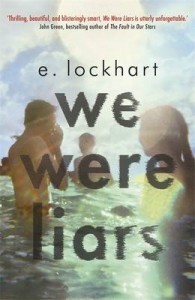 Welcome to the beautiful Sinclair family. A family of privilege and pride, wealth and beauty.
Cadence Sinclair has always spent her summers on the family's private island, running around with her band of cousins, swimming and sunbathing and indulging. But two years ago, in Summer Fifteen, something happened, and since then nothing has ever been the same. Summer Fifteen was the summer she fell in love with Gat, but it was also the summer of the accident.
Except Cadence doesn't remember anything about the accident. She only knows what she's been told by her mother. She only knows that something terrible must have been done to her, something that has left her with crippling headaches and stifling memory loss. Now, two years on, she's desperate to return to the island for Summer Seventeen, to see her cousins and Gat, and reclaim the sunshine.
Welcome to the beautiful Sinclair family. Privileged? Proud? Beautiful?
Perhaps all is not as it seems. Perhaps this is a family of secrets and denial. Why has Granddad completely remodeled the family home, tossing out the years of memories? Why does Aunt Carrie wander the island at night and little Will have such nightmares that Cadence can hear him crying half way across the island? Why do her cousins lie about what they've been doing? And why won't anyone tell her what happened that summer?
We Were Liars is astoundingly well told, Cadence's voice truthful and intriguing, making you turn the page and then the next page, and then the next page. It draws you in and reassures you, then rips the carpet away from under your feet and snatch the breath from your lungs. A shocking and compelling story; I loved it.
Gradually, piece by tiny piece, things start to come back to Cadence…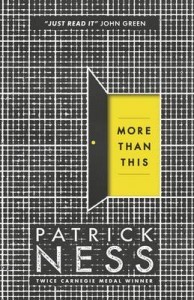 A boy is dying. He's drowning, spluttering, gasping; it's not an easy death. He dies. And then he wakes up. Is this heaven? Hell? Or somewhere else? He's all alone. Or is he?
When Seth dies, he wakes up in a place both familiar and fathomless. Where is he, why is he here, and what is he supposed to do now? Everything he thought he knew about the world, about himself, his parents, is about to be brought into focus and questioned.
More Than This is a book that cannot be explained without ruining it - I cannot précis the plot, or give you a run-down of the settings or the characters because in order to appreciate its sheer wonder and brilliance you must experience the unfolding story for yourself. What I can tell you is that it's a truly extraordinary book. Even when you think you know - when Seth thinks he knows - what is going on, you are still left wondering whether it's the whole truth or just another new layer as Patrick Ness plays with and bends our perception of reality in a multitude of ways, blurring the boundaries of time, of life and death, of the virtual and the real.
Is it a part of the human condition that we all feel, somehow, that there has to be more than this? More than what we have, more than what we know right now? But if there is more, what is it? Where is it? And what if it's not at all what we're expecting? What if a choice was made, years ago, that we can't undo?
More Than This is packed with action and conundrum, yet Ness's writing is quiet and steady - but instead of drawing away the intensity, this makes it feel as if we're viewing the story through a glass, darkly, adding texture and another subtle layer of the surreal to Seth's experiences. It is mind-bogglingly brilliant. Seth's new world is at once explained and unexplained, making me question everything I thought I knew about the world, myself, my family, ultimately stripping all speech from my brain. Because, what if what we think is real, isn't? Are you ready to step through the door and find out?
×
Download the Waterstones App
Would you like to proceed to the App store to download the Waterstones App?
Reserve online, pay on collection


Thank you for your reservation
Your order is now being processed and we have sent a confirmation email to you at
When will my order be ready to collect?
Following the initial email, you will be contacted by the shop to confirm that your item is available for collection.
Call us on or send us an email at
Unfortunately there has been a problem with your order
Please try again or alternatively you can contact your chosen shop on or send us an email at