Blog
The After You Die Blog Tour: Eva Dolan on Peterborough
We are delighted to be hosting a stop on the After You Die Blog Tour: After You Die is the latest in the Zigic and Ferreira series of crime novels. Here, author Eva Dolan explores a little of Peterborough's surprising criminal past...
Peterborough - that place you whip past on the East Coast Main Line - might not seem an obvious setting for a detective series. A post-industrial city occupying a nowhere space between the Midlands and East Anglia, standing at the edge of 1,500 square miles of eerily beautiful Fenland, with its rich black earth and lonely roads; perfect for losing dead bodies in. In recent years it has become the focus for media attention related to immigration, as its population grew with an influx of migrant workers drawn to plentiful work in agriculture and food processing. This made it the perfect location for a series based in a Hate Crimes Unit dedicated to investigating crimes of racial prejudice. The legislation governing Hate Crimes has only been in existence since 2001 but Peterborough, a settlement since Neolithic times, has a long and colourful criminal history...
On the eastern edge of the city, within sight of a sprawling industrial estate lies the original gravesite of what is believed to be England's oldest known murder victim. During excavations carried out in the 1970s a settlement dating back to 4000BC was unearthed - farmsteads, droves, field systems. And a grave which was unlike those typical of the period. It contained the body of a family of five, the woman and two small children had been thrown in haphazardly and without reverence, while the man lay in a more conventional foetal position, with the remains of his baby at his feet. Looking at the burial, now residing in Peterborough museum, you can see why archaeologists believe some catastrophe befell these people. Families generally do not die all at once and bodies are rarely dumped so unceremoniously within a grave. When you peer closer though, there between the man's ribs is the point of a flint arrowhead; a killing wound.
Stilton's greatest claim to fame is its pungent blue cheese - best eaten once the maggots have taken up residence apparently - but in the 18th century its position on the county boundary made it a magnet for all manner of illegal activities, the most entertaining being its bare-knuckle prize-fights. On May 6th 1789 a teaming crowd of three thousand gathered near The Bell Inn to watch the eagerly awaited bout between gentleman boxer Richard Humphries and Daniel Mendoza, an East End Jewish fighter who developed a more scientific style of pugilism to compensate for his slight build. On that May day baying fans witnessed a brutal and bloody twenty-five round match, which saw Mendoza crowned champion. The fight ushered in a golden age of British boxing and made Mendoza the first nationally famous sports star. Bare-knuckle fighting remains popular in the area to this day.
Normans Cross, on the side of A1 is the site of the world's first purpose-built prisoner of war camp. With five thousand inmates captured during the Napoleonic Wars, this was an insalubrious establishment. Escape attempts were common and the 700 daggers discovered during one search showed these men were prepared to cut their way out if necessary - the incomplete tunnels unearthed suggest that option was preferable to digging their way to freedom. One prisoner fatally stabbed a local man during a failed escape and was hanged in front of his fellow inmates as warning. Evidently it went unheeded as 500 members of the crowd mounted a more coordinated, but ultimately fruitless attempt afterwards. It wasn't all running and stabbing though, there was a thriving handicraft industry in the camp and some beautiful objects remain in the city museum. Although the artistic skills of camp forgers Nicholas Deschamps and Jean Roubilliard have been lost to the ages, their creators only narrowly escaping the noose.
I found out about Harry Kirk during a research trip to a pub on the outskirts of Peterborough. Kirk, the former landlord of The Black Horse in Elton during the 1940s, had been assistant to hangmen Stanley Cross and Albert Pierrepoint; present at the execution of Derek Bentley it had been Kirk's job to restrain the condemned man's legs. A former police officer he was initially turned down for the role as his interest was considered not entirely professional. An impression which proved accurate when, many years later he was finally allowed to conduct the execution of murderer Norman Goldthorpe as principal. Despite his apprenticeship Kirk failed to make the correct calculations and botched the execution so severely that he was never permitted to work as a hangman again.
The latest instalment in Peterborough's inglorious criminal history involves only the third woman in British legal history to be handed down a whole of life sentence; the serial killer Joanne Dennehy. In March 2013 Dennehy, along with two male accomplices, her boyfriend Gary Richards and friend Leslie Layton, murdered three men; property developer Kevin Lee and her housemates Lukasz Slaboszewski and John Chapman. After going on the run from Peterborough she then randomly attacked two men in Hereford in a spree which repulsed and fascinated the public in equal measure. In contrast to many serial killers Dennehy didn't attempt to cover her tracks, instead she appeared to revel in her actions and has shown no remorse for her crimes.


After You Die by Eva Dolan is out now.


Catch more of Eva on the other great stops in her After You Die Blog Tour: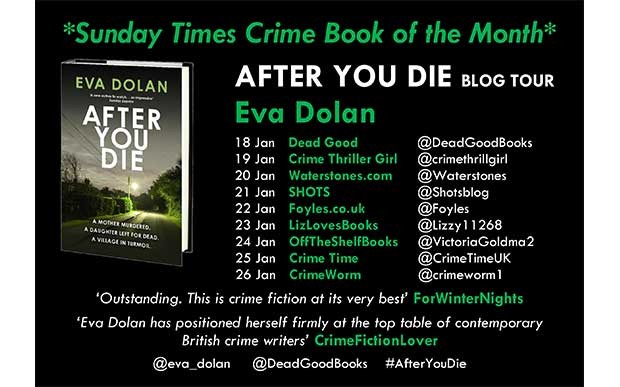 ×
Download the Waterstones App
Would you like to proceed to the App store to download the Waterstones App?
Reserve online, pay on collection


Thank you for your reservation
Your order is now being processed and we have sent a confirmation email to you at
When will my order be ready to collect?
Following the initial email, you will be contacted by the shop to confirm that your item is available for collection.
Call us on or send us an email at
Unfortunately there has been a problem with your order
Please try again or alternatively you can contact your chosen shop on or send us an email at