Blog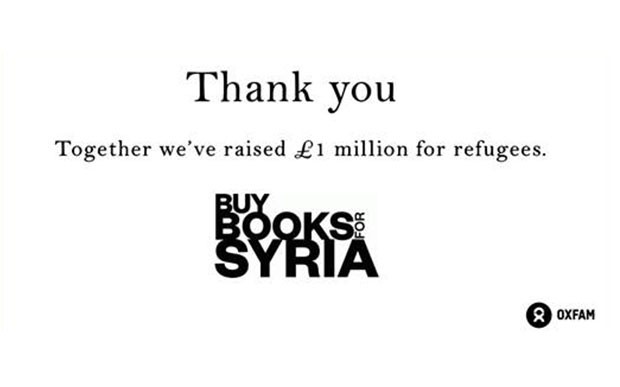 Thank you for helping us raise £1million
From readers to authors to publishers, we would like to thank all those who have helped us reach our £1million target for Oxfam's Syria Crisis Appeal.
We are thrilled to announce that our #buybooksforsyria campaign has now raised its target of £1million for Oxfam's Syria Crisis Appeal. This is enough money to deliver clean water and sanitation to thousands of people affected by the Syria conflict and we are hugely grateful to all authors and publishers who came together for such a good cause.
A huge thank you to everyone who bought a book for your generosity and support of this campaign.
"What a fantastic achievement this campaign is. Waterstones getting together with authors, publishers and readers to raise money to help the people of Syria, both those inside the country and those who have had to flee." Mark Haddon
"I'm so pleased to have been a part of this campaign to raise
£1 million for Syrian refugees. Reaching the target is a fantastic achievement and testament to the hard work of all involved." Victoria Hislop

"I couldn't be more pleased or impressed. It was a fantastically ambitious target and it is wonderful news that it has been achieved."Bill Bryson