We regret that due to the technical limitations of our site, we are unable to offer eBooks or Audio Downloads to customers outside of the UK.
For further details please read our eBooks help.
Blog
Spinning The Recipe Wheel
Rosie Ramsden introduces her innovative new cookbook, The Recipe Wheel, and shares a delicious Salted pistachio chocolate cake - and a playlist of music to listen to while you make it.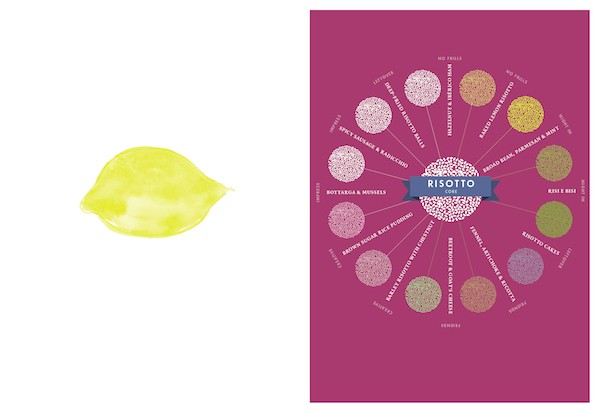 There are few things more satisfying or exciting as seeing a book come together. It never occurred to me how well a small, buzzy idea passed about in a café could evolve into a beautiful and tangible object. My brain, there, in a book.
For me it started in a visual way, and had to. Scratching ideas onto a mind map helped creative juices to flow.  Spinning out a concept and pouring out menus through sketches - which is how I set off when I write anything - was a way of working out how to plan the book. Trial and error, like how many recipes begin.
Scribbling wheels in pen and watercolour helped identify the structure (each chapter with its own recipe wheel), the recipes I wanted in there (they are the wheels' spokes) and ultimately the way I wanted it to look – an illustrated drawing that put the contents of the whole chapter on one page. It needed to be visual, inspiring and easy to follow.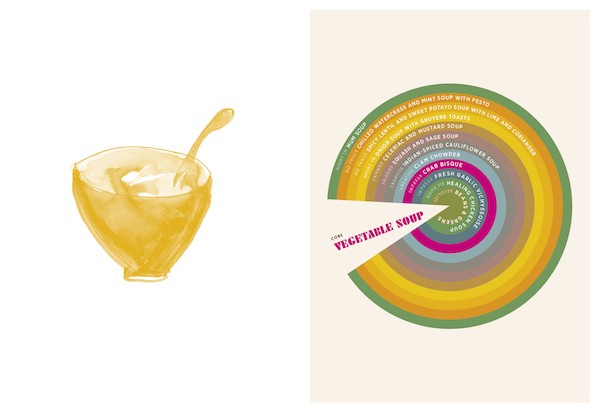 Given that it is something I do as a day job, writing the recipes and testing them proved to be a bigger challenge than expected. They had to work together, but also have balance; some recipes were to be instructive and others more imaginative. Testing involved development – nothing could be set in stone until all wheels were set out in front of me, and some things needed to be pulled out or played with. The central point was to keep the recipes flexible while having a clear and constant vision.
It helped hugely to have people around me who knew about publishing books – my husband was an essential ingredient in putting me back on the right path when I thought that all was lost, and my agent, too, with her unfailing enthusiasm (and very honest criticism). It also helped to have friends who had little clue – a mix of confident cooks and those not so confident – but who spotted gaps in recipes that needed a clearer explanation.
Now, seeing the book as a hardback with a beautiful cover, with sweated-over recipes on each page, and an amazing design that emerged from one simple idea, brings with it the most wonderful, yet daunting feelings. Ideas and musings that swirl around on secret notepads and locked in a box in your brain for months, are suddenly released into the world for others to see; an imprint of your thoughts stamped down on proper paper. It's a funny thing, watching friends and family flick through the (proper) pages, peering behind the (proper) cover as though it were a menu, to wink or smile. What are they thinking? Do they like it? There's a pinch of fear as I pretend to ignore them, but overall there's tingling excitement, reward and joy in seeing the actual, physical results of all that hard work in someone's hands.
Here's a Spotify playlist to cook the book to:
Salted pistachio chocolate cake
Sponge cake Wheel / Cook to Impress
Don't be fooled by the no-flour goodliness. This cake is not for the faint-hearted, nor for those with eyes bigger than stomachs - you'll only need a thin slice of this on a plate (and then you'll have room for seconds). Freeze what you have leftover, or keep it in the fridge for up to a week.
Serves 8-10
Takes 15 minutes to make, 45-55 minutes to cook
150g unsalted butter, chopped, plus extra to grease
250g caster sugar
200g plain and milk chocolate, chopped
100ml whole milk
4 medium free-range eggs, separated
1 tsp vanilla extract
100g shelled pistachios, crushed, plus extra (whole) to serve (optional)
1 1/2 tsp fine sea salt
250g ground almonds
1 tsp baking powder
10g cocoa powder, plus extra for dusting
Crème fraiche, to serve
1. Preheat the oven to 180C/fan160C/gas 4. Grease and line a 20cm loose-bottomed cake tin and lightly dust with cocoa powder. Gently melt the butter, sugar and chocolate together in a large saucepan over a medium heat until the sugar has dissolved and the chocolate completely melted. Remove from the heat, allow to cool slightly then stir in the milk and egg yolks, vanilla, pistachios and salt. Sift the ground almonds, cocoa powder, and baking powder into a large bowl, then gradually fold in the chocolate mixture until evenly combine.
2. In a very clean, dry bowl whisk the egg whites to stiff peaks. Fold the whites, little by little, into the chocolate mix with a metal spoon, being carefully not to knock the air out, until combined (this aerates the sponge where the butter does not).
3. Gently pour the batter into the cake tin and slide into the oven to bake for 45-55 minutes, or until a skewer inserted into the middle comes out clean.
4. Leave the cake to cool completely in its tin, before serving on a large plate with a dollop of creme fraiche and extra pistachios, if you like.
Rosie Ramsden, for Waterstones.com/blog
Follow Rosie Ramsden on Twitter @rosieramsden
Find more recipes from Rosie on her website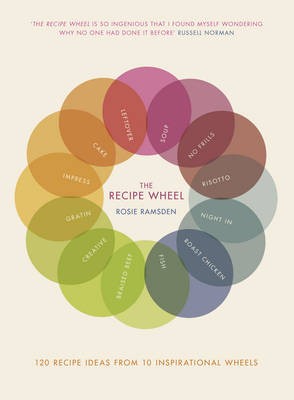 You can Click & Collect The Recipe Wheel from your local Waterstones bookshop or buy it online at Waterstones.com