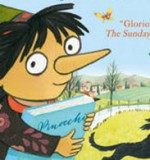 Posted on 1st Jan, 2015 by Michael Morpurgo & Emma Chichester Clark
Our January Children's Book of the Month is Michael Morpurgo's beloved re-imagining of Pinocchio, with illustrations by Emma Chichester Clark. Here's a special preview of the opening pages.
What books are your favourite authors buying their loved ones for Christmas? We've snaffled Robert Harris, Conn Iggulden, Veronica Henry, Ian Rankin and Jacqueline Wilson's shopping lists to find out... Do NOT read if you are expecting a present from any of them.