We regret that due to the technical limitations of our site, we are unable to offer eBooks or Audio Downloads to customers outside of the UK.
For further details please read our eBooks help.
Blog
Review: Rooftoppers
Isabel Popple reviews our Waterstones Children's Book Prize winner, Rooftoppers by Katherine Rundell...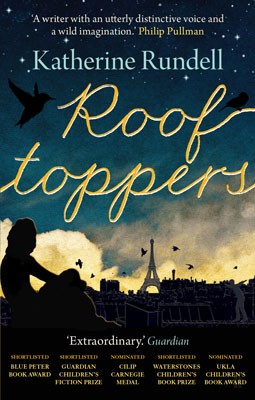 Rooftoppers is a charming story about never giving up no matter how hopeless a quest might seem, about believing in yourself even when others are telling you it's silly.
All that Sophie remembers of her mother is a flash of red hair, a glimpse of black trousers, cello music on the breeze. Shipwrecked in the English Channel when she was just one year old, Sophie has been looked after ever since by her kindly guardian Charles. She is sure her mother must still be alive somewhere though - so how can she convince Charles that she's right? But: "Never ignore a possible", Charles has always told Sophie, so when she finally uncovers a clue to who her mother might be, he agrees to take Sophie to Paris and investigate.
Yet when Sophie and Charles reach Paris, they are stone-walled by the authorities, so it's up to Sophie to follow the clues on her own – unless her new friend, homeless rooftopper Matteo, will help her. All she has to do is show him she can run across the roofs of the city as fast and as far as he can.
"It's wilder than you think," she says, as they run and jump, the city spread out below them, bejeweled in the twilight. As their friendship grows, they feed birds whilst standing on a homemade tightrope, and dive for coins in the river Seine, following the clues and the sound of cello music. Will they find Sophie's mum, the mysterious Vivienne Vert?
Rooftoppers rolls with the undulation of the rooftops that the characters patter across.
Rooftoppers is set before motorcars and mobile phones, and rolls with the undulation of the rooftops that the characters patter across. There are moments of calm and wonder, moments of fright and tension – just reading about Matteo and Sophie crossing a street between two rooftops by tightrope was enough to give me vertigo. And then there's the moment when he dangles her from the roof of the police headquarters so she can peer in the window of the records office, or when they cross into the territory of the gariers, who defend their part of the rooftop domain by tooth and nail. It's equally exciting and nail-biting.
But will they have a happy ending? Will the possibility of Sophie's mother become a reality? Plenty of people are going to stand in Sophie's way, but she's a determined young lady who does not take "no" for an answer.
Isabel Popple, for Waterstones.com/blog
You can Reserve & Collect Rooftoppers from your local Waterstones bookshop (http://bit.ly/1fWdmoR), buy it online at Waterstones.com (http://bit.ly/1dRcC6C) or download it in ePub format (http://bit.ly/1i2268m)