We regret that due to the technical limitations of our site, we are unable to offer eBooks or Audio Downloads to customers outside of the UK.
For further details please read our eBooks help.
Blog
Remaking history
Alex Preston explains how he went about fictionalising history in his latest novel In Love and War, and in particular his approach to the challenge of creating fictionalised versions of real life people - including the writer, Norman Douglas.
"We all liked you, and I suppose you liked us as well, but you were too busy gathering material to like anyone too much. You were charming of course, but you were like a young banker collecting our savings. Or a priest listening to our sins. I remember my aunt warning us not to tell you anything."
Colm Tóibín, The Master
The Master is one of a slew of novels from the past decade or so that bring to life figures from literary history, making art of the artists. From Tóibín's reimagining of Henry James to Kate Moses' tender portrait of Sylvia Plath in Wintering to J.M. Coetzee's dazzling depiction of Fyodor Dostoevsky in The Master of Petersburg, a whole new genre has sprung up, bridging the water between literary biography and the more established trope of fictional novelist as protagonist (see Philip Roth's Zuckerman, Paul Auster's various narrative vehicles, William Boyd's Logan Mountstuart).
In Love and War is the story of a budding novelist – Esmond Lowndes, who is sent to Mussolini's Italy just before the outbreak of war. The rather grandiose title, with its echoes of Tolstoy and Vasily Grossman, is also the name of Esmond's own terminally unfinished novel, which is itself a fictionalised life of a literary figure, the poet and philosopher T.E. Hulme. Confused? It makes sense in the book (I think).
I read Laurent Binet's brilliant HHhH just before I started writing In Love and War and was thrilled by its approach to historical fiction. I decided to try something along the same lines in my own novel, making Esmond Lowndes the only fictional figure – a vehicle for the reader, an envoy of the writer – in a world that was otherwise as true to historical fact as possible. Part of the appeal was the real-life cast of eccentric expats who made their home in Florence in the 1930's – "the paradise of exiles." Foremost amongst them was novelist, sex pest and bon vivant Norman Douglas.
I was in the dusty heaven of Flask Walk bookshop in Hampstead with my grandfather a decade or so ago, when he picked me out a hardback copy of Douglas's South Wind. I read the book in a gulp, loving its portrayal of a thinly-fictionalised Capri, the sense of northern prudishness melting under the Mediterranean sun. Above all, the novel chimed with my own experience of being in Italy, where everything seemed looser, freer, wilder. Douglas's island of Nepenthe is populated with pagan revellers, "queer types" and "ultra-sophisticated cosmopolitans." The novel is a carnival and a riot and still feels subversive and saucy (particularly when you know of the life that inspired it).
Douglas was born in Thüringen, Austria, in 1868, the son of a Scottish mill owner and an Austrian aristocrat. He was educated at Uppingham, where he was profoundly unhappy and warned his mother to withdraw him, lest he be expelled for "sexual malpractice." He returned to the Alps, where he developed a passion for walking and botany, contributing a series of articles to The Zoologist. After school, Douglas joined the British Foreign Office, rose swiftly through the ranks, and was posted to St Petersburg. He lasted five years before he was sent home in 1896, after getting one of his three mistresses – a Russian aristocrat related to the Romanovs – pregnant.
Another accidental pregnancy prompted his marriage to his cousin, Elsa Fitzgibbon, and two sons. They left England and set up together in a villa just outside of Naples (near where the heroine of Shirley Hazzard's The Bay of Noon lives). Two years later, they were divorced. Douglas moved to Capri and began to write in earnest. It was  also around this time that he underwent a dramatic reversal in his sexual tastes, moving from (young) girls to adolescent boys. In the early 1910s, he became friends with Joseph Conrad, who came to stay with him in Capri. Douglas made regular trips back to the UK, where he befriended Edward Thomas, Rupert Brooke and D.H. Lawrence. Later, Lawrence would portray Douglas as the drunken James Argyle in his novel of 1920's Florence, Aaron's Rod.
With the publication of Siren Land in 1911, Douglas announced himself as a major new literary voice. This erudite and affectionate portrait of Southern Italy was followed in 1915 by Old Calabria. "I'm not a travel writer," Douglas would say, "I'm an author who bustles about a great deal." As if to prove this, he published his first novel, South Wind, in 1917 to great fanfare and scandal. Douglas wasn't in England to enjoy his success, however. Shortly before publication, he was arrested for sexually assaulting a 16-year-old boy. He broke bail and Conrad helped to smuggle him out of the country.
In 1920, Douglas moved to Florence to live with the owner of the Davis and Orioli bookshop, Pino Orioli (whether they were lovers or merely predatory wing-men is unclear). Orioli was a chubby, genial fellow who worshipped Douglas, following him around like an eager puppy. Florence was to be Douglas's home for the next seventeen years, and he and Orioli became a feature of the ex-pat social scene, stumbling drunkenly from one party to the next. Esmond, the hero of my novel, falls in with Douglas early in 1937, paying court to the old roué (who by now was nearing 70) in Florence's restaurants and bars, finding in Douglas a mentor for his writing, a model for his voluptuous, pleasure-filled pre-war life.
In September 1937, Douglas had to flee Florence just as he once fled England, although this time – rather surprisingly given the parade of young boys who'd passed through his bed – it was a girl who brought about his downfall. He'd ensnared the daughter of a high-up member of the Fascist militia and was being hunted by the MVSN (the Italian version of the Gestapo). In the novel, Esmond fills the role of Joseph Conrad, helping to spirit Douglas out of Florence and over the border to France. It is the end of Esmond's carefree, Douglas-influenced days, a turning point in the book and in his life.
Norman Douglas was a despicable man. A paedophile, a bully, horribly vain and irredeemably dissolute. He was also a very fine writer. I immersed myself in his work before committing him to the page, taking Lawrence's portrayal of James Argyle as my starting point and layering onto it Nancy Cunard's fond recollections in Grand Man, Richard Adlington's more biting portrait in Pinorman. Above all, I read Douglas's essays, his travel books and novels, picked up on his linguistic tics, the unique register of his voice. Primary sources are critical when researching historical figures and, over the course of his long life, Douglas left a wealth of material.
I didn't like Douglas any more as a person after I'd spent several months in his company. The picture of this once-grand man of letters throwing handfuls of lire at gypsy boys who'd take off their shorts for him under the bridges of the Arno is as sad as it is sickening. But we don't ask our authors to be angels, and nor do we need all of our characters to be "likeable" (just ask Claire Massud). Douglas is one of the villains of In Love and War, but a villain for whom writing holds out the only hope of redemption.
One brief story that didn't make it into the book: at the end of the war, Douglas tried to re-enter Italy at a border crossing on the Riviera. A senior customs official, after looking at his file, asked why they should let him come back to live in a country where he'd behaved so badly. "I'm not coming back to Italy to live," Douglas replied, "I'm coming to die." He was allowed through and kept his word, dying in Capri in 1952.
Alex Preston, for Waterstones.com/blog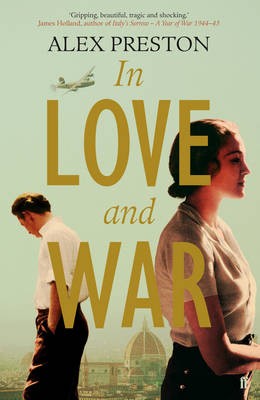 You can Click & Collect In Love and War from your local Waterstones bookshop, buy it online at Waterstones.com or download it in ePub format