We regret that due to the technical limitations of our site, we are unable to offer eBooks or Audio Downloads to customers outside of the UK.
For further details please read our eBooks help.
Blog
Recipe: Sherbet Lemon Dippers and Seashell Caramels
Miss Hope and Mr Greenwood - confectioners extraordinaire - share the secrets of the trade in two exquisite sweetie recipes.
How lucky we are. Luckier than a swan in Cookham and far luckier than a nightingale with laryngitis. That's us. Miss Hope and Mr Greenwood purveyors of splendid confectionery.
Imagine the exquisite joy of writing 80 confectionery recipes? Imagine how many neighbours we have who just 'pop in' daily to taste their childhood memories and nibble on some taste bud twisting flavour combinations. Greedy bunch.
Sherbert dipper
With a dark caramel lemon lollipop
The first recipe on our list of wonders is Sherbet Lemon Dippers. Inspired by my childhood trips to Campbell's sweet shop, a brown penny in my hand and eager to buy my Twinkle magazine and a sherbet dip dab.
Our Sherbet Dipper is an easy to make homemade treat consisting of a mere handful of ingredients. Glucose syrup, sugar, lemon and water and that's it, easy peasy, literally - lemon squeezy. The icing on the cake is the sherbet, an updated fizzy marvel made sweet by the sugar with the sour twist of citric acid (try Baldwins).
So grab a sugar thermometer and a heavy bottomed pan and here we go, recipe number one.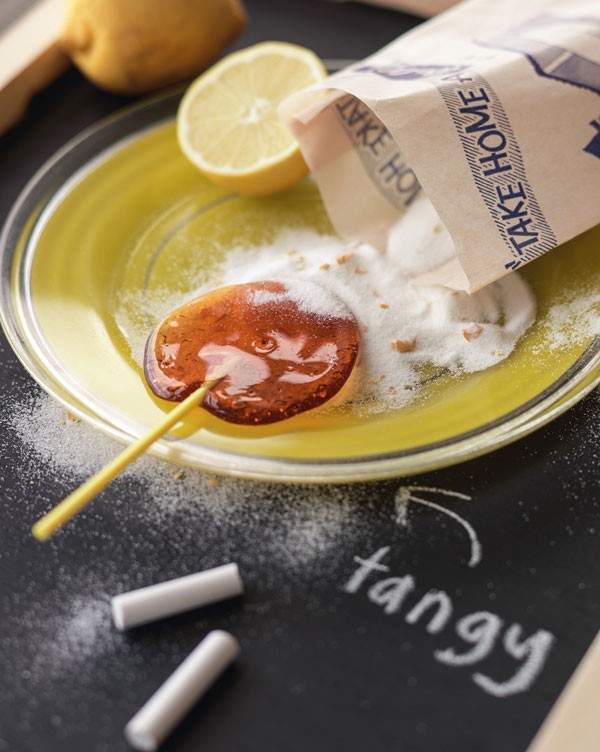 Let us hopscotch into the playground of our past. As homage to the sherbet dips of our childhoods here is my recipe for a sharp, lemon peel sherbet and my dark caramel, lemon lollipop. At a recent school reunion I was delighted to find that all my old playmates still have plasters on their glasses, teeth you could open a pop bottle with and rickets.
Makes Four Takes around 30 minutes to make, plus setting.
For the sherbet
1 lemon
100g (4oz) caster sugar
1 tsp powdered citric acid (from the chemist)
For the lollies
A little vegetable oil
150g (5oz) granulated sugar
Juice of-lemon
1 tbsp liquid glucose
You will also need 4 lolly sticks
Preheat the oven to 150°C/300°F/Gas 2. Use a vegetable peeler to pare the peel from the lemon, leaving as much white pith as possible on the fruit. Put the peelings on a baking sheet and bake for 15–20 minutes until dried out and golden.
Use a glass or jar to draw four 6–7cm (2- –3in) rounds on a piece of baking parchment . Turn the paper over and put on a heatproof board. Brush the inside of each round with oil.
Allow the peel to cool, then whizz in a mini blender, or use a knife, until finely chopped. Add the caster sugar and citric acid and whizz again briefly to combine.
Fill the sink with cold water. Just do it, ok?
Put the sugar, lemon juice, liquid glucose and 1 tablespoon of boiling water in a small heavy-bottomed pan and heat gently to dissolve the sugar. Put a sugar thermometer into the pan and increase the heat until the syrup is simmering steadily. Watch the temperature carefully and cook until it reaches 150°C (300°F).
Quickly dip the base of the pan into the water in the sink to stop the caramel cooking any further then take a teaspoon and carefully spoon some of it into each round on the parchment. Push in the sticks and spoon some more syrup into each round – it may run outside the circles but the lollies will be all the more lovely for it. Allow the lollies to set then carefully release from the parchment and serve with the sherbet.
Seashell caramels
Oh I do like a sea salt caramel
In the dark winter we are buffered by icy storms and hurricanes blowing over the English Channel. In the summer however it is a very different story. Red valerian sweeps its polka like flowers along the sea wall and the kite surfers pirouette in the cornflower sea outside our kitchen window. It's no surprise then that we are rather fond of the titillating salt caramel whether that is in snuggled in a crumbly fudge or rolled in a dusted, dark truffle or our rather splendid Seashell Caramels.
Our Seashell Caramels embrace long summer days on the beach in front of our houses, salty lips and beach hair, a slightly burnt nose and children squealing in rock pools.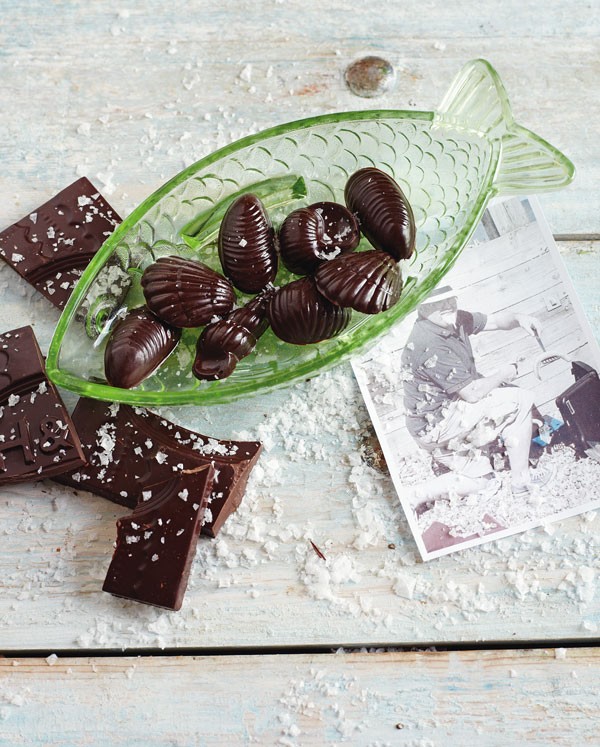 Mr G and I often take a trip to the South Coast with a little gas stove and a packet of sausages.
I was sitting watching the sea as it furled its white fingers around my flip-flops when the idea of popping oozing salted caramel inside a two-chocolate seashell came to me.
'I am quite brilliant,' says I, zipping up my cagoule. 'Harumph,' mumbles Mr G.
Makes 20
Take 25 minutes to make, plus chilling and cooling time.
Dark chocolate, for tempering
55ml (2fl oz) double cream
½ level tbsp dark muscovado sugar
15g (1/2 oz) caster sugar
A good pinch of sea salt crystals
White chocolate, for tempering
You will also need chocolate moulds with 20 assorted seashells
First up please temper the dark chocolate and use a brush or a teaspoon to coat and line the seashell moulds. Do this quickly or suffer the consequences. Use a sharp knife or chocolate scraper tongue to tidy up any messy bits around the chocolate shells. Scrape any dark chocolate that you haven't used into a bowl and save it to use again, unlikely I know.
Slide the moulds into the fridge to set for around 20 minutes. To make the salted caramel, put the cream and dark muscovado sugar into a small, high-sided heatproof bowl and rest it in a heatproof bowl of boiling water to warm gently.
Pour the caster sugar into a small heavy-bottomed pan and lodge on a low to medium heat to dissolve the sugar, stirring it now and then until it is dark and golden.
Whip the pan off the heat and slop in the warmed cream and muscovado – step away from the pan as it will bubble up. Once the initial bubbling subsides, get a wooden spoon in there and stir furiously, faster, faster, to make a lovely caramel. Cool a wee bit, then stir in the salt.
When the caramel is cool, whip the chocolate moulds out of the fridge and divide the caramel amongst the chocolate shells.
Temper the white chocolate, as before. Spoon the chocolate over the caramel to cover. Chill again for 15 minutes – try a warm bath or a bit of telly. When hard, gently upturn the mould onto a board with a persuasive thumbing and release the chocolates.
Store in an airtight container in the fridge for up to 5 days.
Taken from Sweets: Made Simple by Miss Hope and Mr Greenwood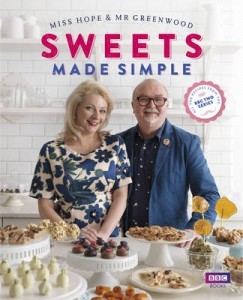 You can Click & Collect Sweets: Made Simple from your local Waterstones bookshop, buy it online at Waterstones.com or download it in ePub format