Navigation
Search
Books

Dinosaurs Love Underpands

Claire Freedman, Ben Cort

Deep Sea Monsters

Igloo

Dinosaurs Love Underpands

Claire Freedman, Ben Cort

Deep Sea Monsters

Igloo
We regret that due to the technical limitations of our site, we are unable to offer eBooks or Audio Downloads to customers outside of the UK.
For further details please read our eBooks help.
Blog
Recipe: A hummus feast
Three simple but delicious recipes from the Hummus Bros., Christian Mouysset and Ronen Givon, which will have your taste buds dancing this summer.
Hummus with lamb & pine nuts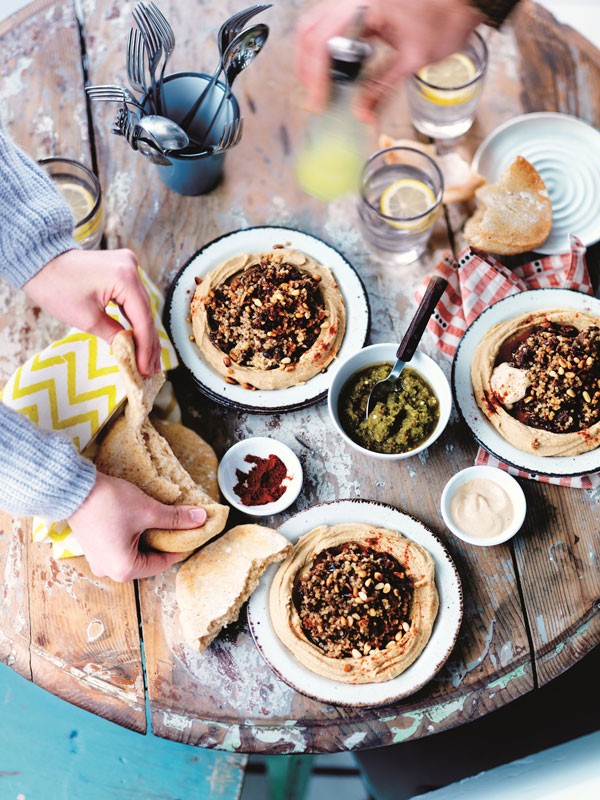 This is the classic Lebanese way of serving meat with hummus. the cinammon–flavoured meat and nuts blend perfectly with the hummus. served here with a little green chilli sauce on the side.
Serves 4
Prep: 10 minutes
Cook: 45 minutes
1 tbsp olive oil
1 large red onion, finely chopped
500g/1lb 2oz minced lamb
25g/1oz butter
450ml/16fl oz lamb stock
85g/3oz bulghur wheat
2 tsp ground cumin
1½ tsp ground cinnamon
½ tsp chilli powder
1 tsp granulated sugar
Sea salt and freshly ground black pepper
55g/2oz pine nuts, toasted
450g/1lb Hummus
To garnish:
tahini
paprika, to taste
1. Heat the oil in a large frying pan, add the onion and fry over a medium heat for 5 minutes, stirring until just beginning to brown around the edges. Add the lamb and butter and fry, stirring from time to time and breaking up the mince with a wooden spoon until browned and tender.
2. Meanwhile, bring the stock to the boil in a saucepan, add the bulghur wheat, cover, lower the heat and simmer for 10 minutes until just tender with just enough stock left to keep the bulghur wheat moist.
3. Add the cumin, cinnamon and chilli powder to the mince, then stir in the sugar and season with salt and pepper. Cover with a lid and cook for 10 minutes. Tip the bulghur wheat and stock into the mince, then about two-thirds of the pine nuts. Stir together, cover and cook gently for 10 minutes.
4. Spoon on to serving plates spread with Hummus, then sprinkle with the rest of the pine nuts. Add a spoonful of tahini, sprinkle with a little paprika to garnish and serve.
Tabouleh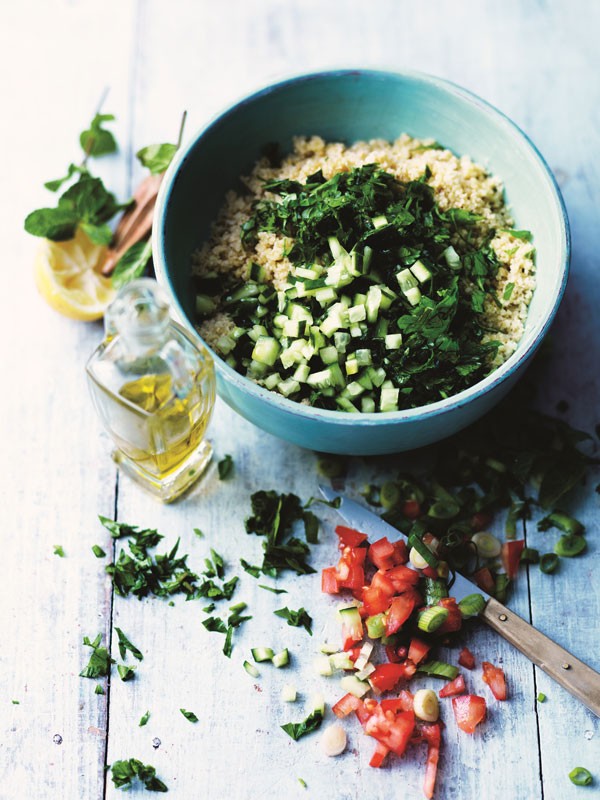 Serves 4
Prep: 15 minutes
Soak: 30 minutes
Cook: 10 minutes
Packed with chopped mint and parsley (you're aiming for half herbs to bulghur), this lemony dressed bulghur or cracked wheat salad is great served with virtually any savoury main dish, or as a simple starter with baby cos lettuce leaves to scoop it up.
100g/3½oz fine grade bulghur wheat
4 tbsp virgin olive oil
Juice of 1 lemon
Sea salt and freshly ground black pepper
25g/1oz fresh mint, finely chopped
55g/2oz fresh flat-leaf parsley
2 plum tomatoes, finely diced
¼ cucumber, diced
½ bunch of spring onions, finely chopped
½ pomegranate, seeds removed from casing
1. Tip the bulghur wheat into a bowl, cover with cold salted water and leave to soak for at least 30 minutes until softened.
2. Drain the bulghur wheat if required and spoon into a salad bowl, then pour over the dressing and stir together.
3. Add the chopped herbs, tomatoes, cucumber and spring onions to the bulghur wheat, stirring gently.
4. Using a fork, stir the oil, lemon juice and a generous sprinkling of salt and pepper together in a small bowl. Only add the dressing just as you are about to serve., scattering the pomegranate seeds on top.
Cauliflower with Green Tahini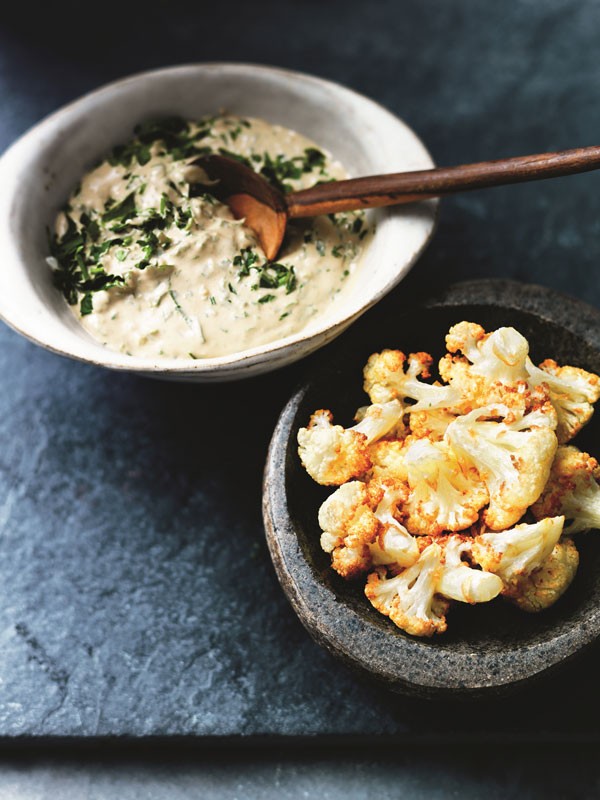 Serves 4
Prep: 15 minutes
Cook: 10 minutes
The British grow lots of cauliflowers, but it is one of those ingredients that is rarely served and when it's cooked, tends just to be plain boiled or smothered in cheese sauce. This salad of crispy deep–fried cauliflower florets ,served on a bed of parsley–speckled garlic tahini sauce, lifts this humble veggie to a whole new level.
1 large cauliflower (or 2 small ones)
40g/1½oz fresh flat-leaf parsley,finely chopped
2 large garlic cloves, finely chopped
300g/10oz Tahini Sauce
1 litre/1¾ pints rapeseed oil, for deep-frying
1 lemon, cut into wedges
Salt
1. Cut any leaves from the cauliflower, cut in half and then cut away the florets and discard the woody core. Cut any larger florets into even bite-sized florets so they will all cook in the same time.
2. Stir the parsley and garlic into the Tahini Sauce and set aside.
3. Pour the oil for deep-frying into a medium saucepan so that the pan is only half full, then heat the oil to 160°C/325°F. Alternatively, test by adding a cauliflower floret to the hot oil; the oil should immediately sizzle around the cauliflower when it is hot enough.
4. Add the cauliflower to the hot oil, a few pieces at a time, until about one-third of the florets are in the oil. Don't overcrowd the pan or the oil temperature will drop too much. Deep-fry for 2–3 minutes until the cauliflower is browned, then scoop out of the pan with a slotted spoon and transfer to a plate lined with kitchen paper. Bring the oil back to temperature, then continue cooking the cauliflower in small batches until all the florets are done. Leave to cool for a few minutes.
5. Spoon the Tahini Sauce over 4 serving plates, then top with the cauliflower. Squeeze over a little lemon juice and salt to taste and serve immediately. Alternatively, serve in separate bowls for your guests to mix themselves.
Taken from Hummus Bros. Levantine Kitchen by Christian Mouysset and Ronen Givon
Photography by Karen Thomas
Follow the Hummus Bros. on Twitter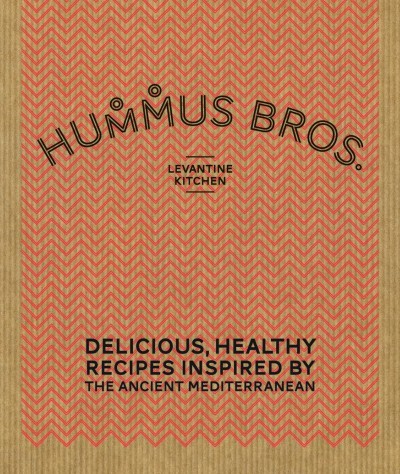 You can Click & Collect Hummus Bros. Levantine Kitchen: Delicious, Healthy Recipes Inspired by the Ancient Mediterranean from your local Waterstones bookshop or buy it online at Waterstones.com