Blog
Re-Imagining Terry Pratchett's Tiffany Aching: The Witch of the Chalk
Sir Terry Pratchett's series of tales featuring the young Witch of the Chalk Tiffany Aching rapidly became some of the most beloved stories in the Discworld universe. Written with children in mind, 2017 sees Tiffany's adventures republished for a new generation of readers. Deputy Art Director for Penguin Random House, Ben Hughes, takes us through the re-imagining of a Discworld icon.
Managing the design of Sir Terry Pratchett's list of children's books is a wonderful privilege that provokes contrasting moods for me; when bestowed with the responsibility, I was immediately elated by the prospect of designing such a renowned author's backlist – it's Terry Pratchett! And that's when the fear dawned on me; it's Terry Pratchett, don't get this wrong!
These conflicting emotions have not yet subsided and were very prominent when the brief arrived for the redesign of the five Tiffany Aching titles. Our brief was to take one of the Discworld's most beloved characters and really reintroduce her to an entirely new generation, with a gift edition release of each title alongside the new paperback range.
Our first stop was to really understand what makes Tiffany Aching unique, and after some pretty intensive reading and research we determined that everyone really loves Tiffany as she is such an aspirational female character. Readers are drawn to the magic, adventure and humour we so associate with Sir Terry's work, plus his writing cuts across all genders and ages: the appeal is universal. We also understood that the Tiffany Aching character is the perfect introduction to the Discworld and the power of Sir Terry's storytelling.
Using this information, I created a sample brief and sent it out to many agents and illustrators, asking for a sample of Tiffany from The Wee Free Men – aged nine but wiser than her years suggest, determined, dressed in oversized boots and armed with a frying pan (obvs) – Tiffany was to be surrounded by the Nac Mac Feegles. I had a flurry of samples, really good ones too, but one person stood out from the start – Laura Ellen Anderson.
In fact, Laura was so keen that she drew up a sample of an older Tiffany in a matter of minutes before I'd even sent her the brief.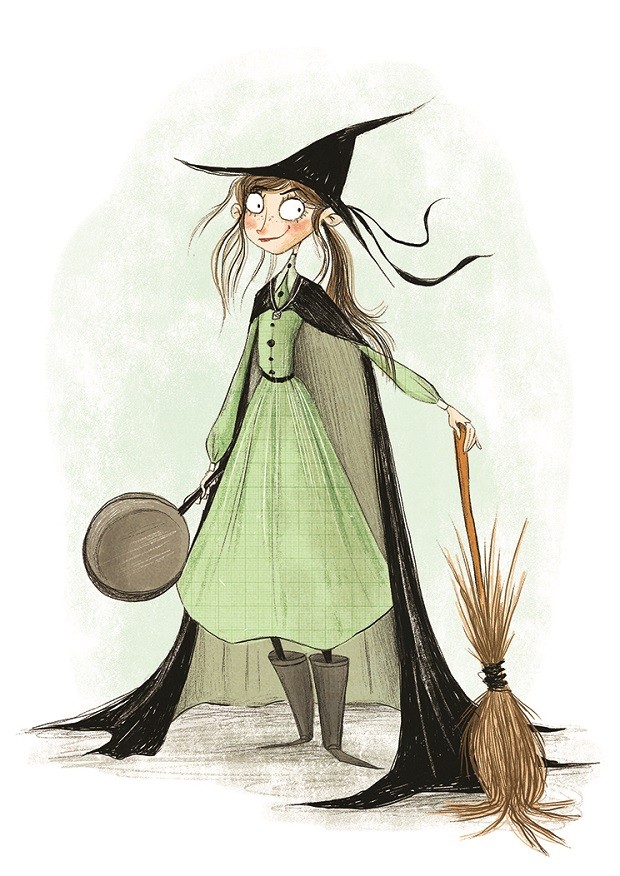 Pre-brief illustration
That effort made a big impression on me and raised my expectations of her sample, and I wasn't disappointed. I remember opening the email from Laura's agent and instantly thinking to myself – 'this is our new Tiffany'.
First sample
Yes it needed developing and the Nac Mac Feegles were far too large, but Laura had managed to portray a steely nine year old that does not give in to fear. And that's not an easy feat. Laura was quickly selected, from all submissions, as our favourite in-house and by Rob Wilkins who co-manages the Pratchett estate.
Laura and I then worked on Tiffany by altering the shape of her eyes and face a little.
Development of first sample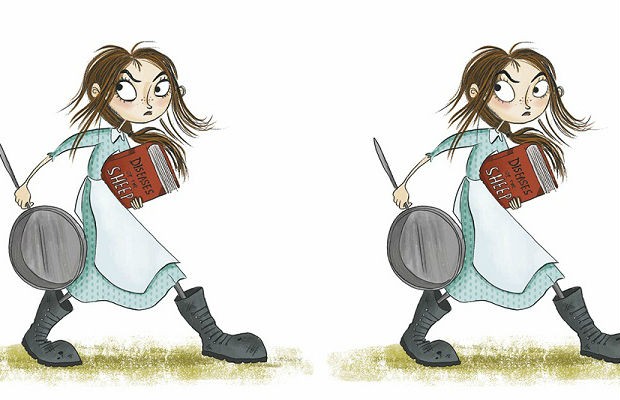 Development of first sample detail
Laura then sketched a much older eighteen year old Tiffany from the fifth and final title; The Shepherd's Crown. The character ages by roughly two years per book so it was important to show this transformation from child to adult across the five covers.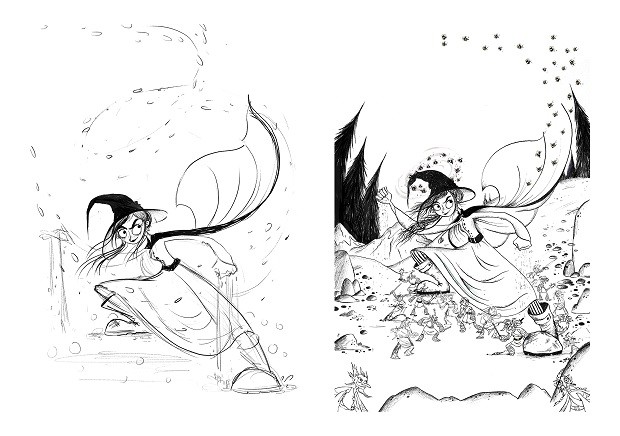 Development of book 5 sample
Whilst Laura developed Tiffany, I referred back to the original brief to create new author branding and cover compositions. We really wanted the branding to reflect Terry's humour and the magic within his stories.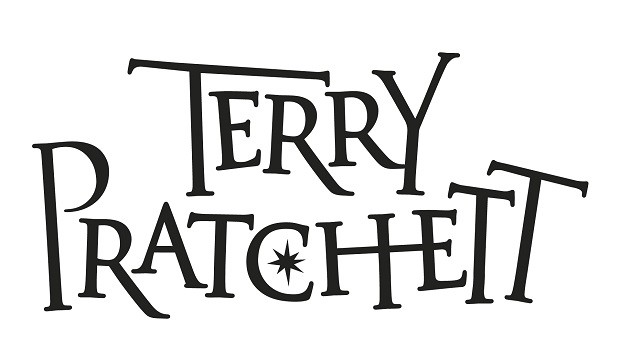 Developing author branding
The aim for the compositions was to imbue each cover with as much movement as possible – so all poses, angles and viewpoints were considered – we have Tiffany front facing, side profile, running, leaping, flying and finally in (what we geekily referred to) as the 'super-hero' pose – at the peak of her powers as a witch of the ages.

Series sketches

Series sketches close-up

Laura was an absolute dream to work with; her first drafts were near perfect each time (again – not an easy feat). Each final illustration generated such excitement in our office.

Final covers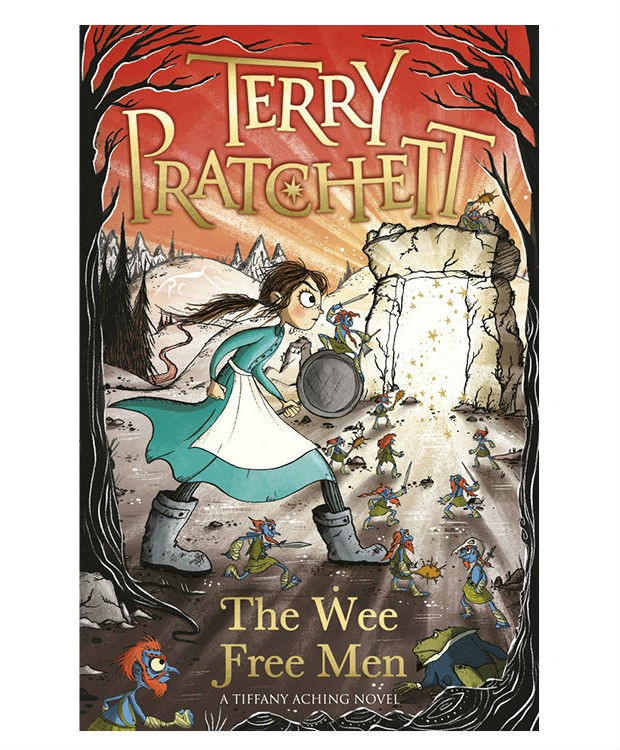 Cover for The Wee Free Men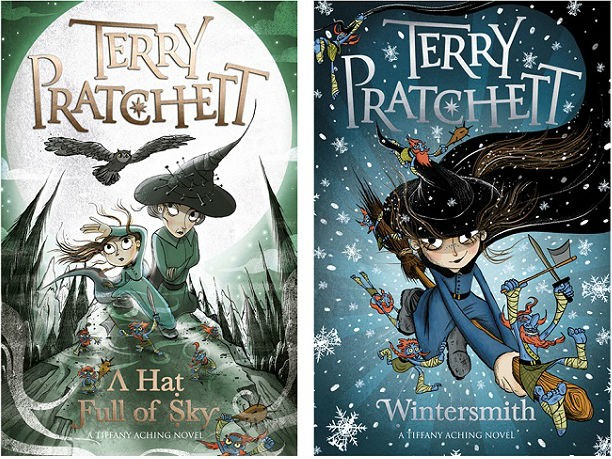 Covers close-up

Covers close-up

Laura recently told me that she approached each cover as though it was a film poster; looking at the final set with their dynamic poses, frenetic energy and Tiffany's empowering stares, that's clearly evident. I love the final covers – they're engaging and appealing, answering every point of the initial brief. Laura has, in my opinion, created a Tiffany Aching for a new generation, I hope the kids agree.
The Wee Free Men is published on 27th April 2017 and the rest of the Tiffany Aching series will be published on May 25th 2017.
×
Download the Waterstones App
Would you like to proceed to the App store to download the Waterstones App?
Reserve online, pay on collection


Thank you for your reservation
Your order is now being processed and we have sent a confirmation email to you at
When will my order be ready to collect?
Following the initial email, you will be contacted by the shop to confirm that your item is available for collection.
Call us on or send us an email at
Unfortunately there has been a problem with your order
Please try again or alternatively you can contact your chosen shop on or send us an email at