We regret that due to the technical limitations of our site, we are unable to offer eBooks or Audio Downloads to customers outside of the UK.
For further details please read our eBooks help.
Blog
Biography of the Kremlin wins Pushkin House Russian Book Prize
Red Fortress, a "biography" of the Kremlin by Catherine Merridale, has won the Pushkin House Russian Book Prize 2014.
Chair of Judges Dr Rowan Williams described Catherine Merridale's book as "profoundly engaging" with "a sharp relevance to current issues" when he announced her victory this evening at Pushkin House, London.
Red Fortress: The Secret Heart of Russia's History received widespread critical acclaim on publication, and tells the story of one of the most significant, mysterious and emblematic buildings in Russian history.
Williams, the former Archbishop of Canterbury, said the book "combines acute historical scholarship, readable and lively prose and a sharp relevance to current issues." He added that "It's the kind of understanding we badly need at the moment, and any and every reader will gain something from this book."
Fellow judge Boris Akunin, Russia's bestselling crime author, explained how despite having "lived a big part of (his) life within walking distance from the Kremlin.... Red Fortress made (him) see the Kremlin differently." He went as far as saying that having read Merridale's book "I understand my own country better'.
The Pushkin House Russian Book Prize, in association with Waterstones - which last year went to Douglas Smith Former People - rewards the best non-fiction writing on Russia and was established to encourage public understanding and intelligent debate about the Russian-speaking world.
Andrew Jack, co-chairman of Pushkin House, said: "Red Fortress is a very worthy winner that meets our objectives in seeking to bridge understanding and high quality analysis between Russian and English cultures."
"I loved this book." enthused judge Viv Groksop, "Catherine Merridale delves into every nook and cranny - often literally, with the authorities snapping at her heels - and comes out with a great story."
Merridale explained that in fact "the main hazard to my work was the cats at the RGADA, the Archive of Ancient Acts. One sprayed me, and I lost a raincoat." As winner though, Merridale received a cheque for £5,000 - which should hopefully allow her to buy a new one.
Related books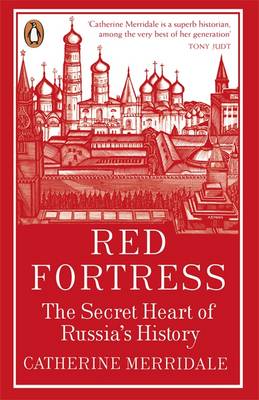 Winner of the Wolfson Prize 2013 and Herald Books of the Year 2014, this book revels in both the drama of the Kremlin and its sheer unexpectedness: an impregnable fortress which has repeatedly been devastated, a symbol of all that is Russian substantially created by Italians.