Blog
The A - Z of Jon Ronson
As part of our new author profile series, here is an introduction to Jon Ronson and his writing
Jon Ronson is a writer and documentary filmmaker who "dips into every flavour of madness, extremism and obsession."(1)
Traveling the world to track down the most extreme and unusual among us, Ronson interviews all kinds, from members of secret societies to ex-members of clandestine C.I.A units. His work is reportage from the margins and his findings - described by ex-presenter of The Daily Show Jon Stewart as "investigative satire" (2) - are sometimes disquieting, sometimes hilarious, but always fascinating.
Explaining his approach, Ronson said:
"I want to immerse myself in an unfolding adventure in the way an investigative journalist does: drown yourself in the details and sort of lose yourself in the maze of the story, but come out on the other side not with a polemical treatise or a finger-wagging expose, but a with really nice piece of narrative nonfiction; to look at the nuances of the human condition in a funny way." (3)
Ultimately, his writing interrogates the concept of normality; while he may often focus on people who have strayed far from the mainstream, in the end, like all great satirists, he explores what it means to be human, in all of its everyday peculiarity.
Bibliography: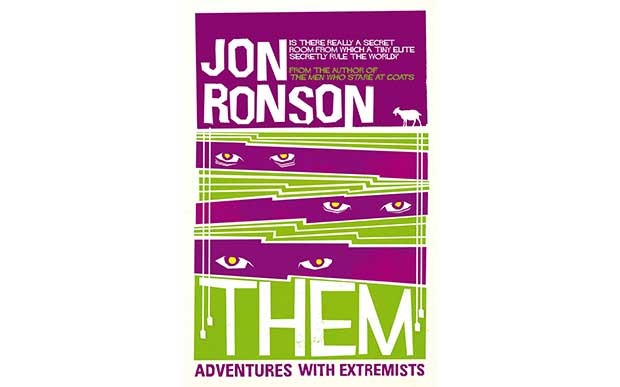 Them: Adventures with Extremists
The stories from extremists and fanatics that comprise this book have one common denominator: they all revolve around a belief that history is a conspiracy and the world is controlled by a small, secret society (Them). Varying widely in their general outlook, all the subjects Ronson interviews, from David Ike to men at a Jihad training camp, are governed by a fear that this clandestine force is shaping all of our lives.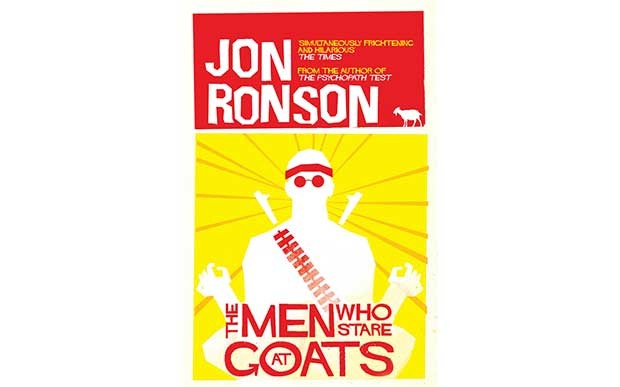 Adapted into a highly successful film, The Men Who Stared At Goats tells the story of The First Earth Battalion, a "psychological warfare" unit created by the C.I.A. Ronson began this project because of "a hunch there was a deep-seated irrationality at the heart of America's war on terror" (4); what he discovered was a secret 'psy-ops' unit who were tasked with killing goats using the power of their mind.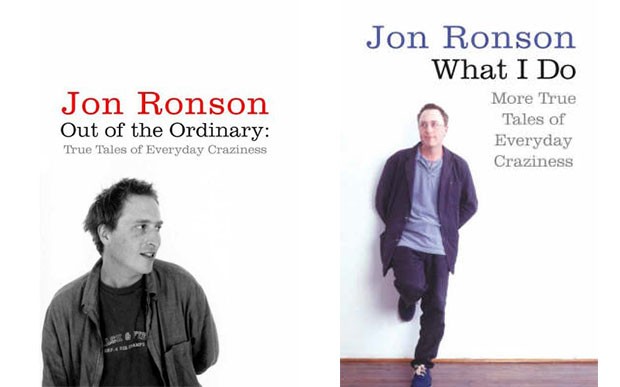 Out of The Ordinary and What I do: More Tales of Every Day Craziness
These two collections of Ronson's journalism for The Guardian relate stories of home-grown lunacy. Through telling anecdotes, often personal to him, Ronson explores the myriad ways we stretch the boundaries of 'sanity' on a daily basis. These are altogether more domestic versions of madness: the strange and often inexplicable things we all do, at home, at work and with our friends.
If you wonder how to spot a psychopath, or how to diagnose yourself as one, but are not sure of the criteria, this is the book for you. Ronson meets the psychologist who invented the Psychopath Test, as well as quite a few people who have been deemed psychopaths in their lives. Funny, insightful and life-changing, this book will make you look twice at some of the world's most successful people.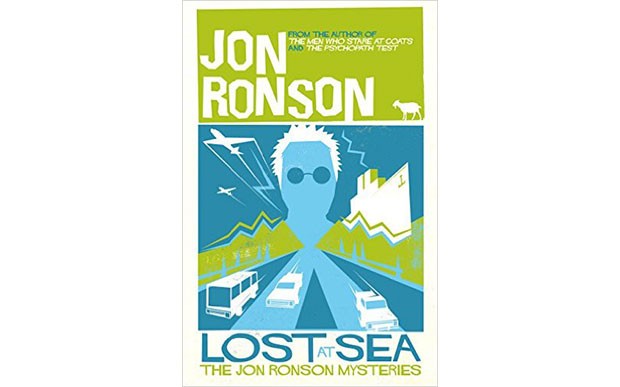 Lost At Sea: The Jon Ronson Mysteries
If Ronson were a band, this would be his best of album, with added extras. The perfect introduction to his writing, this book comprises some of the weirdest and most entertaining of his interviewees. Ronson has embarked on extensive research trips for his projects, he has attended UFO conventions, interviewed a robot, and visited a town in Alaska where every day is Christmas; what he reports back can be alarming and amusing, usually in equal measure.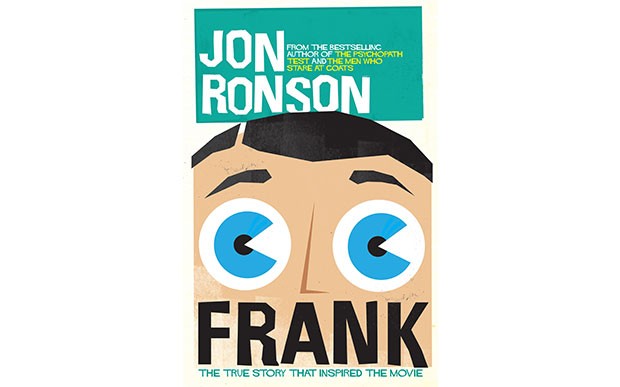 Frank: The True Story That Inspired The Movie
Ronson ran away from home to tour as the keyboard player in Frank Sidebottom's Oh Blimey Big Band, in the 1980's. Time spent with Frank, a man who refuses to remove his enormous papier-mâché head, must surely have been formative. Here, Ronson tells his version of the shambolic and peculiar events (Ronson also co-wrote the script of the film, of the same name, which won him Best Screenplay at the Sundance Film Festival).


So You Have Been Publically Shamed
"How did twitter become a courtroom?" could sum up the inspiration for Ronson's most recent book. He once again travels the world, this time to track down people whose lives have been destroyed by social media. These ordinary people have one thing in common: they have done something relatively small, usually just a small misstep online, and then been shamed, publicly, and painfully. Justice has become democratised, but do we really have the right to judge?
(1) Ted Talks https://www.ted.com/speakers/jon_ronson
(2) http://therumpus.net/2012/11/the-rumpus-interview-with-jon-ronson/#_Anchor1
(3) http://therumpus.net/2012/11/the-rumpus-interview-with-jon-ronson/#_Anchor1

(4) http://www.theguardian.com/theobserver/2004/nov/21/politics
×
Download the Waterstones App
Would you like to proceed to the App store to download the Waterstones App?
Reserve online, pay on collection


Thank you for your reservation
Your order is now being processed and we have sent a confirmation email to you at
When will my order be ready to collect?
Following the initial email, you will be contacted by the shop to confirm that your item is available for collection.
Call us on or send us an email at
Unfortunately there has been a problem with your order
Please try again or alternatively you can contact your chosen shop on or send us an email at