Blog
Picture Perfect
The Muse, Jessie Burton's first novel since her record-breaking 2014 debut The Miniaturist is published later this week. Ahead of its publication on the 30th June, Martha Greengrass caught up with the author and discussed the book's genesis
Jessie Burton was born in London in 1982 and studied at Oxford University and The Central School of Speech and Drama. She worked as an actress before her first novel The Miniaturist was published in 2014. It was translated into 30 languages and has sold over a million copies worldwide. The Miniaturist was voted Waterstones Book of the Year in 2014. Jessie Burton lives in London and her bookshop tour to talk about The Muse begins at our Hampstead branch on the night of publication.
MG: It was famously a trip to the Rijksmuseum that sparked the idea for The Miniaturist; what inspired you to write The Muse?
JB: Well, I suppose I'd always been interested in Spain. I studied Spanish at university and although I didn't know lots about the Spanish Civil War, I was very interested in learning more about how it came to be and also the aftermath. I was also interested in Britain's colonial legacy and slavery as it turned into colonialism and then independence. And I was also interested in art, in making things, in creativity and the process of that and how it affects the person who makes it, those who surround it and those who sell it. So I suppose I was looking for a way to not give up all of those interests and to fuse them together. It was the passion behind those interests that fuelled my decision to write the book that The Muse now is.
MG: Is it harder second time around?
JG: In some ways it is because my experience was quite unusual. The Miniaturist seemed to capture the imagination of a lot of readers and therefore you could say that gave me a lot to live up to, or to replicate or to repeat. But actually, I didn't feel a pressure in that sense because I knew that this was a completely separate book, it was a different process, there was a different impulse behind it. It's always hard to write a book because in a sense you've just got to conjure it out of nowhere sometimes, it feels. And obviously there were low periods writing it, periods of frustration, of feeling that what was in my head wasn't coming out on to the page.
But, oddly, when you've written one before, somewhere at the back of your mind you know you can do it again. So it wasn't so much that I didn't believe in myself, or in my ability to write a new novel, it was more that I was mentally quite exhausted from the impact of The Miniaturist's success and what came afterwards and having to meet it and represent it internationally. That was quite a challenge.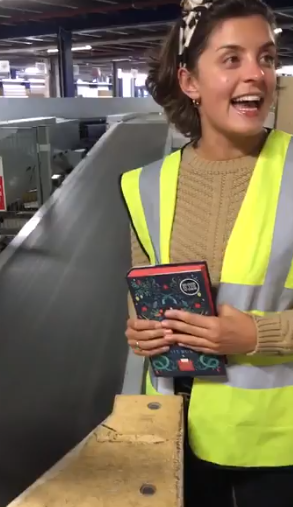 Jessie Burton at our Midlands Warehouse

MG: The Muse is set partly in Spain in the 1930's and partly in London in the 1960's - what attracted you to write about those periods?
JB: I wanted to show what Spain was like before the war broke out and why it happened. The Miniaturist is very dark and cold and damp and misty and heavy and damask and velvet. The Muse is set in summer both in London and in Spain and there's a heat to it, a luxuriousness and in a different way a sort of sensuality. When it came to London, it's just a really dynamic, exciting time to write about.
MG: Were there always both narrative strands?
JB: Yes, it's funny I have a diary and I don't note when these moments happen, I think they're fairly organic. But I think there must have been a decision when I realised I'm not going to give up one or the other and I'm going to do my best to marry those two periods together.
MG: You often write about people who are in some way on the periphery, on the outside of things are you particularly drawn to those kind of characters?
JB: I suppose, objectively, you can say that as a writer, as somebody who is creating tension and drama, it is richer, or perhaps easier, to create people who do live on the margins or who are oppressed or who have challenges in their life that not everyone faces because then you open up this seam that you can explore. But at the same time, they're not outsiders in their own life, to themselves. I hope I've given all of those characters from Johannes Brandt to Otto, to Odelle, to Olive, a self-possession and a self-dominion that makes them feel entirely of their world. You could argue that so many people feel like they don't fit into society or that society doesn't understand them - that there's a collective ideal that they can't seem to match. It was never overtly conscious though.
MG: You write about women who are often constrained, either by their domestic sphere or by social convention, do you consciously write them ways to escape and transcend those environments?
JB: Yes, I suppose I do, I suppose that's my rebellion. But I think anyone who was locked in a house, or a marriage or a job would have that fermenting desire to escape. But yes, I suppose I gave these women opportunities to let in fresh air and to explore other sides of themselves. It does seem, talking to readers, that it was something that was incredibly gratifying for them to read and it's so nice for me to be able to do that. Although it's a fictional world, it does in some ways transpose into reality and many women have their secret lives and their secret desires and they're not always met. So, yes, I suppose it was a conscious gift I gave to the characters, definitely.
MG: You researched the construction of doll's houses for The Miniaturist, how did you get inside the mind-set of a painter for this novel?
JB: Well I can't paint! As a result of that it remains very fascinating to me, people who can, imagine just using your hand and painting these extraordinary paintings that we have in our galleries! So, what I did was to transpose a lot of my feelings about creativity and making art, whatever kind of art, into a painter's mind. I love painting and I love colour and the different things that different paintings can give you, so it was a great pleasure to describe them and to describe the process of making them and what that means.
MG: You're a very visual writer, you conjure very vivid, visually detailed scenes. Is it important to you that you can 'see' what you write in your mind's eye?
JG: I do see them, I really do. It's a wonderful thing for me but it's also quite a strange thing because you become absent from reality. So I say that when I wrote The Muse it was a year and a half of absence - I wasn't really here, I was there. And it is quite a seductive landscape and I was wanting to escape. So perhaps for those reasons it's incredibly vivid but also what's nice for me writing a character like Olive, who is a painter, is that these are painterly descriptions. So when she sees Isaac for the first time, he's a Tuscan nobleman, he's a featherweight boxer, he's physical to her but he's also like a Tuscan Bellini painting. She's already using him and I'm using her to use him – it's a fun game.
MG: Are the places in the book based on real locations?
JB: The Spanish stuff is more like a reconstructed memory of when I lived in the south of Spain, I'm looking at it through a prism of memory, a kind of patchwork of memories of fincas like that in the middle of this incredible landscape. Andalucía is a beautiful, beautiful place, very varied. The Skelton Institute is based on a particular building where I wrote part of the book – it's The London Library. So the Spanish scenes are much more impressionistic but in London its much more rooted in a specific geography.
MG: You write that the creating The Miniaturist was an 'act of love' and I wondered if you could talk a bit more about that. Is it important to you that you fall in love with your characters?
JB: It's a really important question because I don't think you necessarily have to fall in love with your characters but I do think that to complete something like this, any kind of artwork, you do have to have love, you have to have passion. Because you're going to hate it at times, it's going to be an emotional experience. I don't think you have to love your characters, or necessarily even hold them in great affection, but I do think you have to at some point understand them, or elements of them. I always believe there's this sense of a hinterland beyond a character that they occupy where I don't go or where they don't go on my pages but they might in a reader's imagination. There has to be this metaphysical space that is inhabited by the reader but not by me. Whilst I may give the impression of manipulating them or working them (I am to a degree) I don't always like them. But I love the overall process, the work, I have to otherwise I wouldn't do it.
MG: Was there a particular artist or painting that you had in mind when writing The Muse?
JB: It's a kind of composite. I love Frida Kahlo's work, Miro's early painting. There's a painting of his called 'The Farm' which no one wanted, he wasn't very popular early doors which is amazing when you come to think about it. But Hemingway bought it and Hemingway had a good eye, clearly. So they're super colourful, quite blocky, not real but sometimes hyper-real, I'm not an art historian at all, but there's a droplet of surrealism in there. Also Olive Schloss, the artist in the novel, is very interested in The Renaissance, she does her thesis on Bellini and I love Bellini. There's a painting in The Frick Collection in New York and it's St. Francis and it's one of the most incredible things I've ever seen and I love that kind of strangely flat but at the same time emotional and narrative and lush kind of paintings that he does. So, yes, it's a mixture. Normally, I don't like to say because I just want the reader to see it in their mind's eye but those are the painters that I suppose I was thinking of. But also the attitude of Picasso. Here was somebody, to my mind, who just created and that was his drive. He kind of ate women up and I suppose I flipped that because Olive has her male muse. He said he spent his entire adult life trying to recover the way he painted as a child and I love that. I think that's an innocence but also a wise worldliness about the trickiness of becoming successful, or becoming popular, or becoming old and not having that innocence any more.
MG: If someone gave you a blank cheque, what is the one piece of art you would want to take home?
JB: Wow! That's a hard one! Yves Klein did this Angel of Samothrace, I think it's called ['Winged Victory of Samothrace'], the original is in the [Musée de] Louvre, this gigantic headless angel and he did a mini one in Yves Klein Blue, this blue that you want to just eat. Or a Sonia Delaunay, the colours of a Sonia Delaunay - that richness. Or a Louise Bourgeois, or maybe a Vermeer… I could go on.
MG: You trained as an actor and I wondered whether acting is a useful skill for a novelist to be able to inhabit other characters, whether it is similar to being a novelist in some ways?
JB: I think about this and most other novelists have not acted. Earlier, when I was talking about The Miniaturist I was adamant that they were super different. Acting requires, I think, actually, a massive reneging of ego. For a play to work everyone has to leave their egos at the door and be listening and not plonking themselves all over each other (they do that later!). But with writing, you're all the parts - you're director, you're producer - your ego is monolithic. So they're very different, writing is also very solitary.
But I think now, I think about how I work, I read all my work out-loud, I do all the voices and I do it several times and I sometimes imagine that I'm telling the story to a gathered group of people. I'm looking to get that sense of audience and performance across somehow and I do think the dialogue seems to work quite well, I've been told, which is wonderful to hear. So maybe, maybe, maybe, somewhere in my subconscious is the old actor in me and you know I'm creating all these roles for women that they don't usually get to play in great numbers in TV, film and theatre.
MG: Both of your novels are historical, if you had a time-machine where and when would you like to go?
JB: When I was younger I always thought I'd love to do that and now I think: women's right, health… I'm so pragmatic, I think it's so dangerous, I might get beheaded for saying the wrong thing! Maybe if we take it from a pleasure aspect rather than a political aspect?
MG: Perhaps you could be invisible, so there's no risk of beheading!
JB: Well, I would quite like to go back to the 1920's actually, to that kind of mad post-war mania of anything goes, we've survived. The design, like Schiaparelli, those dresses and the music and that sense of madness and abandon before the next one came along. I think I would enjoy that because it's kind of reckless and giddy and, for me, consequence free.
×
Download the Waterstones App
Would you like to proceed to the App store to download the Waterstones App?
Reserve online, pay on collection


Thank you for your reservation
Your order is now being processed and we have sent a confirmation email to you at
When will my order be ready to collect?
Following the initial email, you will be contacted by the shop to confirm that your item is available for collection.
Call us on or send us an email at
Unfortunately there has been a problem with your order
Please try again or alternatively you can contact your chosen shop on or send us an email at