Blog
Philippe Sands on Unexpected Connections to the Past
Philippe Sands's The Ratline, a riveting study of SS Brigadefuhrer Otto von Wachter, was one of the most popular and critically acclaimed history books of 2020 and its publication brought plenty of unexpected correspondence the author's way. In this exclusive piece to celebrate its paperback release, Sands recounts the fascinating letters he received in the wake of The Ratline and outlines the artefacts which will be adorning the window of Waterstones Gower Street for the next month.
It seems extraordinary that a year has passed since The Ratline was first published. In a time of extended lockdowns, and with bookshops across Britain closed for many months, the reaction of readers offers much comfort and joy. I feel fortunate to have received a huge postbag, and not just from the English-speaking world. The emails, notes and letters, as well as drawings and even cartoons, offer happy confirmation to a writer that you are actually being read, which is a wonderful feeling, and bring the arrival of more stories.
Last Christmas Day, for example, I received an email from Vienna. The correspondent introduced herself as Marie-Theres Arnbom, a historian and the great-granddaughter of Robert Winterstein, in whose house she now lives, in the parish of Pötzleinsdorf, on the outskirts of the city. A renowned lawyer, Winterstein served as Procurator General (chief public prosecutor) of Austria until March 1938, when, following the Nazi takeover and the country's incorporation into the Third Reich, he was fired, stripped of his pension, arrested (on Kristallnacht), and deported to Buchenwald. He never returned. His family retained a memento of his removal, a typewritten letter, dated 14 September 1938, closed with a confident but indecipherable signature. For decades, the family wondered about the identity of the writer of that letter.
Arnbom wrote to say that thanks to my book, recently published in German and gifted to her at Christmas, the mystery had been solved. My book mentioned her great-grandfather, one of thousands of Austrian civil servants removed from their posts for the wrong of being Jewish. The Säuberungsaktion, or cleansing action, was implemented by one of the book's central characters, Otto Wächter. It was his signature, The Ratline confirmed, that graced the unhappy family heirloom.
The deciphering of the intricate signature was not, however, Arnbom's reason for writing. Remarkably, she explained, Otto Wächter happened to be the grandfather of her neighbour and friend of many years. A year earlier, she and the Wächter granddaughter had attended an appearance that I'd made in a Viennese theatre, unaware of the letter's hidden family connections. 'What a strange situation', Arnbom mused – Wächter's son, who was also named Otto, had, as a deacon at the parish church in Pötzleinsdorf, officiated at her wedding. 'You have known a family for so long, are on friendly terms, and suddenly there is another connection that radically changes the relationship.'
***
This week the paperback of The Ratline is published in Britain. This coincides with more letters, two of which strike me as extraordinary.
One is from a gentleman who explains that he was born and brought up in Lwów but had lived in England since 1947. 'On one unremarkable day a good few years ago', he wrote, he visited a friend in Warsaw, a renowned theatre director. 'He learned his craft in Lwów before 1939 and eventually had a stellar career in post-war Poland. As we chatted about nothing in particular, conversation drifted to my friend's experiences in the Lemberg ghetto', the one I write about, created by Hans Frank and overseen by Otto Wächter. 'To increase the chances of surviving in the ghetto it was necessary to have a job which could be deemed to be useful to the Germans. My friend's specialism did not fit that category, so he became a locksmith. From time to time he was called to fix lock problems outside the ghetto. On one occasion he was summoned to repair a lock by someone called Charlotte Wächter. As you have no doubt guessed, the locksmith was Erwin Axer'.
I wrote about Mr Axer in The Ratline, as Horst Wächter had often cited him as an example of a Jew his father had saved. The material Horst shared with me did not establish that fact, but I now had a link to Mr Axer's sons, one in Poland, the other in America. Through them, perhaps, I will be able to learn more about exactly what happened in 1942.
The second interesting letter of the week came from a clinical psychologist in Salzburg. 'Your book Die Rattenlinie took me back to a time when, as a young student', she wrote, she rented a room in Haus Wartenberg, the pension ran by Charlotte Wächter, filled with local and American students. 'All roommates were asked to call her Aunt Lotte which, as she was not known to me, seemed to be strange. Perhaps by doing this, Mrs Wächter wanted to prevent her true identity as Otto Wächter's wife from becoming known?'
Soon, an American student and fellow resident drew her attention to a book – Kaputt by Curzio Malaparte – in which Otto Wächter's 'horrrific work' in Krakow and Lemberg was mentioned. In this way the writer developed a greater sense of events at Haus Wartenberg, and of various parties held in the room with a piano. She came to realise these were gatherings of 'Nazi loyalists', which caused her to feel an increasing discomfort, and even disgust. But something else happened, which in due course caused her to leave. 'The baroness's children, with whom I was friendly, lived on the top floor under the roof', she explained. One evening, Horst's sister Heidi told her that Otto Wächter was buried right under her window, and described the burial ceremony of Aunt Lotte's husband, 'one night, attended by the children, who carried candles'. 'It is a sad reality that Salzburg is still coloured brown', she added, a reference to the colour favoured by the Nazis.
***
With the paperback, I am delighted to be working with Waterstones on some window displays. I have been asked to loan a number of items, which will appear in the Gower Street shop.
There is a German First World War trench shovel. It was made in 1915, in Mürzzuschlag, by the steel company owned by Charlotte Wächter's family, the Bleckmanns. I bought it on eBay a few years back for a few pounds. I noticed the mark of Bleckmann steel.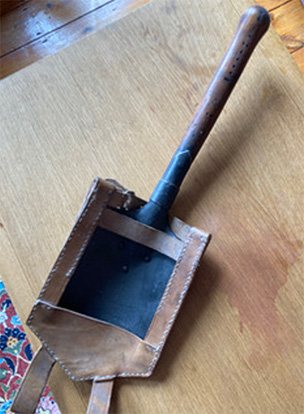 There are two yellow Stars of David, that belonged to my grandfather, Leon Buchholz, who was born in Lemberg (Lwów/Lviv). It has the word 'Juif' on it, because he was given it, and required to wear it, in Paris, where he lived during the German occupation. They are made of silk, which somehow makes them even more chilling.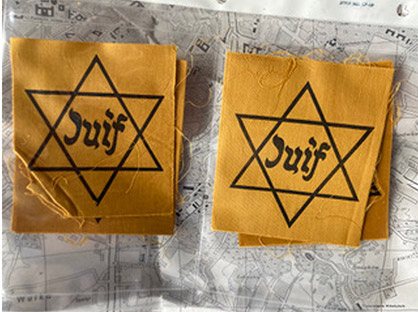 And there is a map of Lemberg, produced in 1944 by the administration run by Otto Wächter, in the last months before the Red Army took over. The streets have been Germanised, so that the main square, with the Opera House, is now renamed Adolf Hitler Ring. The street on which my grandfather was born – Szeptycki Street – has been renamed Bischofstrasse.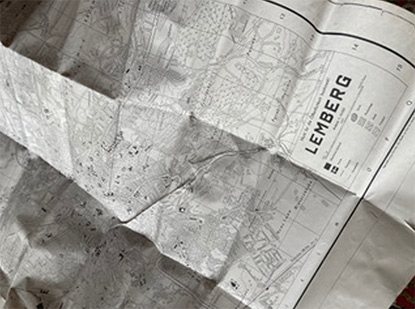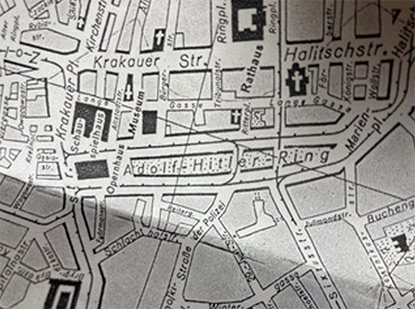 Archives and artefacts fascinate me, even the dark ones.
×
Download the Waterstones App
Would you like to proceed to the App store to download the Waterstones App?
Reserve online, pay on collection
Alternatively, for multiple items you may find it easier to
add to basket
, then pay online and collect in as little as 2 hours, subject to availability.
Thank you for your reservation
Your order is now being processed and we have sent a confirmation email to you at
When will my order be ready to collect?
Following the initial email, you will be contacted by the shop to confirm that your item is available for collection.
Call us on or send us an email at
Unfortunately there has been a problem with your order
Please try again or alternatively you can contact your chosen shop on or send us an email at