We regret that due to the technical limitations of our site, we are unable to offer eBooks or Audio Downloads to customers outside of the UK.
For further details please read our eBooks help.
Blog
Out of strange places...
From Cronenberg to Christie, via Eugenides and King, James Smythe tells us about the echoes of uncommon inspirations in his latest science fiction novel...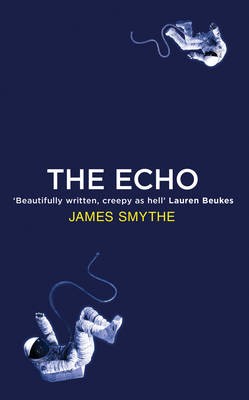 The Echo came out of some strange places. The first book in The Anomaly Quartet, The Explorer, was born from my love of classic SF writers (Bradbury, Bester, Asimov, Clarke) – along with more than a little bit of Groundhog Day. But for the sequel, I found myself almost unconsciously casting the net a little wider. I wanted to play with the notions of the narrator a little more, really looking at those narrators throughout fiction who, for me, have been unreliable through no fault of their own. (I don't think that's a spoiler, incidentally: every first person narrator in fiction is unreliable, to some extent. That's the nature of having only one incredibly focused point of view.) The narrator in Palahniuk's Fight Club, Cal in Eugenides' Middlesex, Merricat in Jackson's We Have Always Lived In The Castle: these are narrators for whom being told events shocks them as it does us, and throws their entire circumstances into question. For Mira, I wanted very much the same.
And then there was the subject of the tone. The Explorer mixes genres up a fair bit itself, but I wanted The Echo to ramp that aspect up to 11. As well as the more science fictional aspects to the story, I wanted there to be a real sense of mystery to the book – the crew in the tale travel somewhere to find something that cannot be explained, a puzzle that they know they're going to need to solve – along with some moments of horror (in the purest sense of the word). It was this sense of horror that I became preoccupied with. I'm a huge Stephen King fan, and have been since I was a teenager. My favourite book of his is The Dark Half, a story of a writer who finds his pseudonymous alter ego suddenly alive, a fictional character made flesh and wreaking havoc. It was in this that I found my primary inspiration for the central relationship of the novel, that of Mira and his (very nearly) identical twin brother, Tomas.
In The Dark Half, protagonist Thad Beaumont ingests his twin in the womb: one is stronger than the other, and so nature takes its course. In The Echo, there's a presentation of balance between the brothers. But balance doesn't create tension, so it needed to be upset. They're identical, sharing many similar views and thoughts on so many aspects of their lives; but there's a constant sense of game-playing between them, of one-upmanship. As Mira travels deep into space, the (de facto) captain of a ship that's facing near-certain trouble, Tomas stays on the ground, instructing and controlling his brother as best he can. It's a fragile relationship, and a key part of how The Echo works.
Staying on the horror tip, I cast my net slightly wider, to film. Specifically, to the work of David Cronenberg. The Fly, Scanners, Videodrome: thrown together under the banner of being body-horror, they're all obsessed with the way that the human body works, and how it can be manipulated to unsettle. That's something that I very much wanted in The Echo: as the crew reaches the part of space that they're investigating, I wanted them put through the ringer in terms of what they go through – and the surprises that they find there. (The Cronenberg influence isn't accidental, incidentally: after watching his twin-based film Dead Ringers, I had the inspiration for Mira and Tomas' relationship.)
Lastly, because it's a sequel, most of the inspiration had to come from the first book in the series. I like it when sequels are as stand-alone as possible, taking the reader to places that they didn't necessarily expect. Rehashes and revisits aren't as fun as something new, even if that new thing is set in the same place; and sequels give writers the chance to play with the tropes and ideas that they established in the first book. Because of the way that The Explorer played out, I knew that readers would expect twists, and that they would expect to be played with slightly. Writing a novel that works with those expectations was hugely fun, simply because it meant I could try and subvert them as much as possible. And from some early reader feedback, it seems that some of those new tricks might just have worked!
All of those inspirations served to make The Echo what it is, and they're all carrying on, feeding in some small way into the third book in the series, which I'm writing at the moment. Of course, I'm also dragging in new things: rereading The Murder Of Roger Ackroyd to brush up on my crime structures, for a start…
James Smythe, for Waterstones.com/blog
You can Reserve & Collect The Echo from your local Waterstones bookshop (http://bit.ly/1dwakHi), buy it online at Waterstones.com (http://bit.ly/1dPAzov) or download it in ePub format (http://bit.ly/1dwanmA)