Blog
Once a Bookseller, Always a Bookseller
Our Fiction Book of the Month for September is Max Porter's wildy inventive, melancholic yet comic debut
Grief is the Thing with Feathers
. Porter is currently a senior editor with Granta and Portobello Books but began his career as a bookseller and here explains the uncanny feeling he had seeing his own book for sale on the shelves
Image: An illustration from 'From The Black Sea Through Persia and India'
by Edwin Lord Weeks/The British Library


For many years I was a bookseller. Once a bookseller, always a bookseller. Now I work as an editor, and I've written a book, but I still think like a bookseller and I hope I always will. The greatest thrill for me this year has been going into bookshops and seeing little handwritten notes, bookseller recommendations, on my book. It means more than a million reviews that someone whose job it is to put the right book in a reader's hands has chosen to put my book into someone's hands. The hand-sell is the greatest thing, and all the algorithms and strategies and campaigns in the world can't rival the simple power of a bookseller recommending a book, face to face, in a bookshop.
I've tried not to be a pesky author going into bookshops to see if they have the book, but given how often I'm in bookshops looking at books, there have naturally been a few times I've plucked up the courage to say hello, and the result has been some lovely chat with booksellers. One time I blushingly asked a Waterstones bookseller if they wanted me to sign the copy on the shelf and they laughed and said "turn around" and there was a bloody great table of my book with handwritten signs and beautiful handmade posters. Those people were hand-selling the living shit out of my little book. I later took some biscuits to thank them and my children trashed their kids section and the baby did a properly toxic poo and stank out the travel section, so I guess it was a mixed blessing for them, that visit.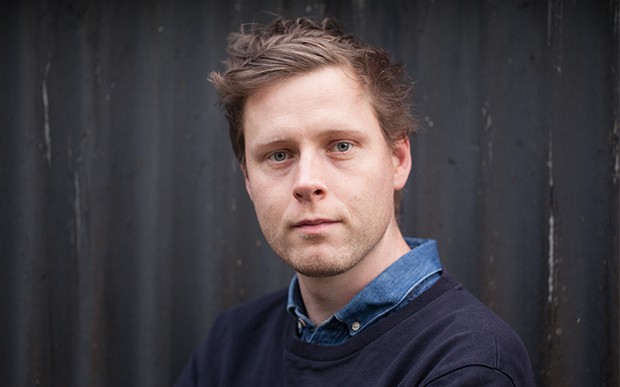 Photo: Max Porter (c) Lucy Dickens

The book is hard to categorise, and I'm often asked if it is poetry or prose, or a fable or a memoir and I cheat and say all of them, anything you like. These distinctions mean a lot to publishers, because we worry about where things will sit in the shop, and which codes to put on books so that the giant robo-brain-shop can recommend it to people who liked other imaginary death-bird fables. But I know that there's a deeper, richer way of doing things in bookshops, which pays no attention to these labels. I remember getting proof copies of books and squirreling them away, nabbing something before anyone else (unpacker's dibs). I'd then start talking about that book, sharing the book with colleagues, talking about it with customers, getting excited about sharing it. And then I'd unpack the box and the finished copy would be in there and I'd smell it and rub it and think 'Phwoooar they've done a cracking job on that. Good old Picador/Cape/Drawn & Quarterly/Faber/Granta/Particular/Allen Lane/And Other Stories" or whoever it was that kept on giving us the good stuff, the stuff we wanted to sell. And then we'd start thinking about how to sell it, whether to do a window, whether to make some little signs, whether to do a table where we put it next to the other books like it, the books it speaks to. And then soon, or months later –it doesn't matter- you see that person (Eccentric Anne, German Pete, Scandi-Crime Mick, Lady such-and-such who brings us sherry at Christmas) and you've reached for the book before they've even reached the till, and they know you've been waiting, and you don't even need to say 'trust me' because they do, and you've done this before, and they spend their £7.99 carefully and they don't take any shit, and they'll come back sharpish if you get it wrong and tell you just why you got it wrong. But if you get it right, they'll spread the word, they'll shout at you from the other side of the street while you're locking up your bike, and this is the best feeling, the feeling I never got bored of.
I never got very far writing a book while I was a bookseller. One reason for that might be the crippling anxiety of exposure to everything good. I once wrote a poem I was happy with and I thought I might send it to a magazine, and I was opening boxes and there was a new John Burnside collection and I opened it on a random page and read the poem and could hardly handle how intensely, outrageously good and complex and inexplicably dark that poem was, so I nipped over to my cycle bags, pulled out my poem and calmly ripped it up. Thanks Burnside.
But that's the point. I ran upstairs to my colleague who liked Burnside and he saw the book and grabbed it off me like some crazed white-walker of poetry, and then I grabbed it back, and read him the poem, and then Talk-a-lot-Angus came in, and asked what we were so excited about, and sure enough Angus left the shop with the new Burnside, and we ordered ten more, and that was a good day, and I forgot all about my mediocre poem.
So to be that book that got passed about a bit in stockrooms around the country, that got placed in customer's hands with a 'trust me'; that is a thrill and an honour I'll never forget. The book is a little bit a portrait of my life as a bookseller. I veered towards the poetry section when I needed the fastest, hardest, deepest pleasures. I went to the kid's section for a reminder of why I read, for the best plots, for the sharpest characters, for the whole world in 200 words. I wandered around a lot in novels, and memoirs, and weird dictionaries that gathered dust. But most of all I loved talking to people about books and life and happily realising there's no line between the two. My book is a love letter to those conversations and a continuation of some of them.



×
Download the Waterstones App
Would you like to proceed to the App store to download the Waterstones App?
Reserve online, pay on collection


Thank you for your reservation
Your order is now being processed and we have sent a confirmation email to you at
When will my order be ready to collect?
Following the initial email, you will be contacted by the shop to confirm that your item is available for collection.
Call us on or send us an email at
Unfortunately there has been a problem with your order
Please try again or alternatively you can contact your chosen shop on or send us an email at