Blog
Not Lost in Translation
As a new BBC Radio 4 adaptation of Elena Ferrante's
My Brilliant Friend
comes to the airwaves, Waterstones Online's Martha Greengrass takes a look at one of the most iconic sagas in a generation
Image: Street view of old town, Naples city, Italy (c) Ilolab


Elena Ferrante's penetrative, brutally honest take on the nature of friendship - of women's friendships in particular - is one reason why she has captured the public imagination so keenly. Many early reviewers compared their own feelings about the novels to those of being in a close relationship.
Such friends are like family (you need, or hate, or cannot forsake them) and a beloved (you are so jealous, so sensitive to their slights!) and an alternative (better?) self, squashed into one. And Ferrante's subject is exactly this sort of friendship. (The New Yorker, 2014)
Although Ferrante has been well-known in Italy for the last twenty years, it is the Neapolitan tetralogy that has really brought her to a wider public consciousness, generating a popularity dubbed 'Ferrante Fever'. This success has been something of a slow-burn, the novels not achieving their cult-like success in the UK until recently, with My Brilliant Friend (originally published in English in 2011) being shortlisted for Waterstones Book of the Year in 2015.
That they should have achieved such word-of-mouth success should really be no surprise. These novels are genuine page-turners; fast-paced, filmic, vividly alive with the sweat and dust of 1950's Naples and redolent too with universal issues of social division, class politics and the feeling that your own past, the place you come from, is never something you can fully escape.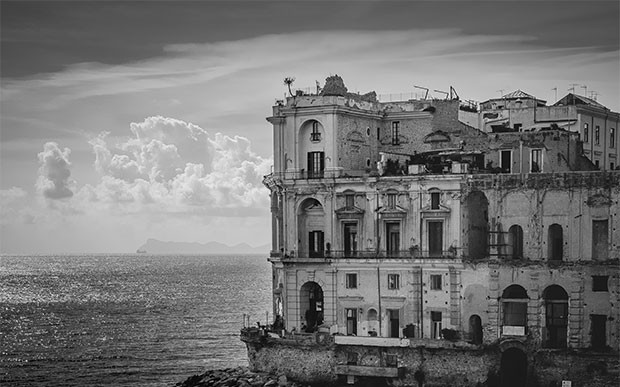 Image: Naples, Building at the Shore (c) Pavel Voitukovic

My Brilliant Friend
There is a moment, early on in the first novel in Elena Ferrante's Neapolitan series where the two central characters, Elena and Lila, are playing together, each with their own plastic doll. They hardly know one another and yet the rules of their relationship are already becoming established. In a fleeting moment of unspoken trust, the two girls swap dolls. Suddenly, abruptly and without warning, Lila tosses Elena's doll down into the dark cellar below them where Elena is deeply afraid to go.
Elena responds in the only way she can - by flinging Lila's doll down after her own. It is an act not of malice or revenge but of desperate, adoring allegiance. She says: 'that day I learned a skill at which I later excelled. I held back my despair. I held it back on the edge of my wet eyes… "what you do, I do".
It is a moment that establishes a complex, passionate connection between these two women that will shape them for the rest of their lives, lives which are played-out with a clinical, unwavering frankness across four engrossing novels: My Brilliant Friend, The Story of a New Name, Those who Leave and Those Who Stay and The Story of the Lost Child.
'Eliminating all the Traces'
Elena Ferrante does not, in fact, exist; she is the pseudonymous invention of the real author who is famously reclusive to the point of near-anonymity. There are no photographs of her, no concrete biography, she is interviewed only rarely and always by email. When Ferrante does speak about her novels it is to assert their independence from her, passionate in her defence that her fiction should live by its own merits.
Consequently, much of the discussion of Ferrante's work has been the job of her English translator, Ann Goldstein and the success of the novels is in no small part down to the excellence of her translation. Goldstein, who is also a journalist and copyeditor for The New Yorker, admits that when it comes to Ferrante, she is a fervent admirer describing her writing as 'tremendous and moving'. (Jamie Richard, www.elenaferrante.com)
The Future Ferrante
As a new original dramatization of My Brilliant Friend (adapted by prize-winning playwright Timberlake Wertenbaker) airs this week on BBC Radio 4 and with a television adaptation in the offing, Ferrante is destined for yet another kind of adaptation and translation. Ferrante's characters are so life-like a reader might be forgiven for expecting them to continue their lives beyond their original fiction.
It is little surprise then that they are, in some ways, doing just that; having a life far beyond that which the author could have foreseen. It is, perhaps, just as Elena Ferrante (whoever she is) would wish.
×
Download the Waterstones App
Would you like to proceed to the App store to download the Waterstones App?
Reserve online, pay on collection


Thank you for your reservation
Your order is now being processed and we have sent a confirmation email to you at
When will my order be ready to collect?
Following the initial email, you will be contacted by the shop to confirm that your item is available for collection.
Call us on or send us an email at
Unfortunately there has been a problem with your order
Please try again or alternatively you can contact your chosen shop on or send us an email at