We regret that due to the technical limitations of our site, we are unable to offer eBooks or Audio Downloads to customers outside of the UK.
For further details please read our eBooks help.
Blog
Non-fiction Book of the Month - The Numbers Game
With World Cup Fever about to strike - until England inevitably go out - our Non-fiction Book of the Month for June is The Numbers Game...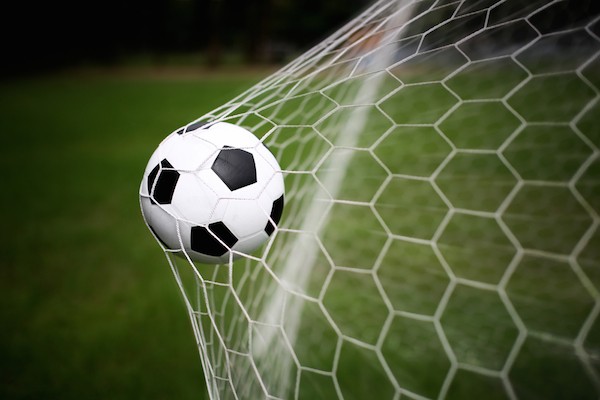 Football for Sceptics –
The Counter(s) Reformation
Seven words have long dominated football:
That's the way it's always been done.
The beautiful game is steeped in tradition. The beautiful game clings to its dogmas and its truisms, its beliefs and its credos. The beautiful game is run by men who do not wish to see their power challenged by outsiders, who know that their way of seeing the game is the true way of seeing the game. They do not want to be told that, for more than a century, they have been missing something. That there is knowledge that they do not possess. That how things have always been done is not how things should always be done.
The beautiful game is wilful in its ignorance. The beautiful game is a game ripe for change.
And at the centre of that change are numbers. It is numbers that will challenge convention and invert norms, overhaul practices and shatter beliefs. It is numbers that let us glimpse the game as we have never seen it before.
Every world-class club knows this. All of them employ analysis staff, specialists in data collection and interpretation who use all the information they can glean to plan training sessions, design playing systems, plot transfers. There are millions of pounds and hundreds of trophies at stake. Every club is pre-pared to do anything it takes to gain the slightest edge.
But what none of those clubs has yet managed to do is take those numbers and see their inner truth. It is not just a matter of collecting data. You have to know what to do with them.
This is football's newest frontier. It is often said that football cannot, or should not, be broken down into mere statistics. That, critics say, removes the beauty from the beautiful game. But that is not how the clubs who fight to win the Champions League or the Premier League or the nations battling to lift the World Cup see it, and neither do we. We believe that every shred of knowledge we can gather helps us love football, in all of its complex glory, all the more. This is the future. There is no stopping it.
That is not to say all of football's traditions are wrong. The data we are now able to gather and analyse confirm that some of what we've always thought was true really is true. Beyond this, however, the numbers offer us further truths, make clear things we could not have known intuitively and expose the falsehoods of 'the way it's always been done'. The biggest problem resulting from following a venerated tradition and hardened dogma is that they are rarely questioned. Knowledge remains static while the game itself and the world around it change
Asking Questions
It was a simple question, asked in that bewildered tone Americans often use when discussing football.
'Why do they do that?'
Dave and I were watching Premier League highlights, and something had caught his eye. Not a moment of dazzling skill, or bewitching beauty, or even inept refereeing, but something altogether more mundane. Dave was baffled, like countless central defenders before him, by Rory Delap's long throws.
So why not, when the ball goes out of play, take the opportunity to create a chance out of nothing?
Every single time Stoke City won a throw-in within hurling distance of the opposition box, Delap would trot across to the touchline, dry the ball with his shirt – or, when at home, with a towel handily placed for that very purpose – and proceed to catapult it into the box, over and over and over again.
To me, as a former goalkeeper, the benefits of Delap's throws were obvious. I explained it to Dave: Stoke had a decent team, but one lacking a little in pace and even more in finesse. What they did have, though, was height. So why not, when the ball goes out of play, take the opportunity to create a chance out of nothing? Why not cause a little havoc in your opponents' ranks? It seemed to work.
That did not sate Dave's curiosity, though. It simply served to make him ask the next logical question.
'So why doesn't everyone do it?'
The answer to that was equally obvious: not everyone has a Rory Delap, someone capable of hurling the ball great distances with that flat trajectory, like a skimmed stone, that panics defenders and confuses goalkeepers.
Dave, himself a former baseball pitcher, tried another tack: 'But can't you try and find one? Or make one of your players lift weights and practise the javelin and the hammer?'
There was a problem with this. Yes, Dave's questions, like those of a persistently inquisitive child, were getting annoying; more irritating still, I did not have a good answer.
'You could play the game the way Stoke do,' I countered, 'if you have a Delap and loads of tall central defenders. But it's just not very attractive. It's not what you do unless you have to.'
'Why?' Dave responded, with crushing logic. 'It seems to work for them.'
And that was it. All I had left, like a frustrated parent, was one word. 'Because.'
Because there are some things you don't want to do when playing football. Because, even though a goal created by a long throw is worth just as much as one from a flowing passing move, it's almost like it doesn't count as much. Because, to a purist, they're somehow not quite as deserved.
But Dave's endless questions – Why? Why? Why? – nagged at me. If it works for Stoke, why don't more teams do it? Who was right? Stoke, who were responsible for almost a third of all the goal-scoring chances from throw-ins created in the Premier League that year – or everyone else, who clearly felt they did not need, or did not want, the long throw in their arsenal?
Why are there some things that are just 'not done'?
Why is football played the way it is?
We attempted to answer these two very big questions by applying our knowledge and skills – as a political economist in my case and a behavioural economist in Dave's – our discipline as social scientists, our experiences as a goalkeeper and a baseball pitcher, and our love for sports and for solving hard problems. The result rests in your hands – a book about football and numbers.
Football has always been a numbers game: 1–1, 4–4–2, the big number 9, the sacred number 10. That will not change and we don't ever want it to. But there is a 'counters-reformation' gathering pace that may make another set of figures seem just as important: 2.66, 50/50, 53.4, <58<73<79, and 0 > 1 will all prove to be essential for the future of football.
This is a book about football's essences – goals, randomness, tactics, attack and defence, possession, superstars and weak links, development and training, red cards and substitutions, effective leadership, and firing and hiring the manager – and the way these relate to numbers.
The Analytics Hub
The neat, unassuming, thoughtful types who make their way to Boston every March for the Sports Analytics Conference hosted by the prestigious MIT Sloan School of Management make unlikely gurus for anyone seeking a glimpse into football's future or its essence. But these are the coaches, staff and executives of the world's major sports teams who gather every year to develop, learn about and map out the numbers game.
Football is some way behind, more reluctant to embrace the future.
Association football is a sport that has long been determined by finely tuned athletes and stony-faced managers. The sort of men and women who would sit happily through such presentations as 'Deconstructing the Rebound with Optical Tracking Data', or the irresistible 'Next Generation Sports Coaching Using Mobile Devices', have not found the game a welcoming environment. That, though, is starting to change. Analytics – 'the discovery and communication of meaningful patterns in data'1 – is booming in dozens of industries, and sport is beginning to awaken to its potential. Analytics is much more than just spreadsheets and statistics: it is an openness to data and information of all kinds – formal, informal, categorized, disorganized, observed, recorded, remembered, etc. – and it is a determination to find whatever truth, patterns and correspondences they may contain. Baseball, basketball and American football have embraced analytics. Football is some way behind, more reluctant to embrace the future.
Among the 2,000 or so delegates – up from 200 in 2007 – are representatives of some of Europe's leading football clubs, as well as the data-producing companies who try to quench the game's seemingly insatiable thirst for information.
They are, for now, just a handful – delegates from the US sports still form the core audience; David Gill, Chief Executive of Manchester United, can wander these halls unmolested, as he did at the 2012 conference, while Bill James, baseball's analytics pioneer, is treated as a celebrity – but they are increasing in number every year.
Analytics is sport's cutting edge, and in football it is growing exponentially. Managers, scouts, players and owners all want an advantage, and knowledge is power. These are the men and women who supply it. Every year, in that Boston convention centre, gather the game's new pioneers.
They are not there simply to discuss how to collect as much data as possible. As Albert Einstein said: 'Not everything that counts can be counted, and not everything that can be counted counts.' Instead, they want to know how they can use that data to win this week, this season. That's not an easy task. Clubs are being inundated by a torrent of information as the nascent science of analysis explores its possibilities. Mike Forde, Chelsea's forward-thinking Director of Football Operations, claims that his team has gathered around '32 million data points from something like 12,000 or 13,000 games'.
Some of these will have been gathered by the club itself, from scouting and match reports, recorded on the state-of-the-art video and computer equipment no self-respecting football club would be without. The rest of it will have been provided by the likes of Opta, Amisco, Prozone, Match Analysis, or StatDNA, companies that provide clubs with ever more elaborate data sets to pore over in search of the slightest gain. Aside from match data, clubs also keep detailed medical records and training logs – injury prevention and rehabilitation are among the frontiers in football analytics – along with data on which players sell more shirts and which put more bums on more seats and which games sell more pies and pints. There is an arms race here: clubs and companies desperate to outdo each other to prove how comprehensive they can be, how many things they can count.
Gathering the information is just the first step. The clue to analytics is in the name. To make those numbers mean something, to learn something from them, they must be analysed. The key, for those at the vanguard of what some have called a data 'revolution' and what we think of as football's reformation, is to work out what they need to be counting, and to discover why, exactly, what they are counting counts.
Football Analytics Today
Deep inside Roberto Martínez's home stands a 60-inch, pentouch television screen; it is linked to his personal computer, which is loaded with Prozone's most advanced software. After returning from a match, Everton's Spanish manager – who will emerge as one of the heroes of this book – will spend hours locked away watching his side's latest game again and again; often, he will need to see the fixture ten times before he is satisfied. 'My wife was delighted when I had it installed,' Martínez told the Daily Mail. 'But she understands I need that space and time to be able to come back to being myself. Once I find a solution, I'm fine.'
All of that is boiled down and presented to Martinez, who summarizes further and delivers the assessment to his squad.
Martínez is far from atypical. Football can still be an old-fashioned business, where managers follow the time-honoured tradition of collecting intelligence and information by themselves, by watching players in training and in matches, reading the news, consulting their staff, listening to their scouts. But clubs at the elite level complement that with an analysis department, staffed by trusted adjutants who can help their manager see what is and isn't there.
That is what Steve Brown and Paul Graley do for Martinez at Everton. The manager's match analysts spend hours preparing and auditing Premier League games in meticulous detail, examining the attack and defence of their own players and the opposition, preparing background materials on each player's immediate opponent. Before a match, they will examine at least five of the opposition's previous games, compiling scouting reports and combining them with Prozone's data. Using these data and video, they look at style, approach, strengths, weaknesses, positional organization and the follies and foibles of their players. All of that is boiled down and presented to Martinez, who summarizes further and delivers the assessment to his squad.
Brown and Graley also work one-on-one with individual players. Some will sit with them before the match to do some homework and go through their direct opponent's patterns of play. Sometimes they cram collectively, talking things through as late as game day – especially when opposition players are either playing in unusual positions or new players come into the opposition team. As soon as the match is over, the Everton staff start their post-mortem. Graley will go through the game a number of times, along with the coaches, and summarize and review what worked and what didn't. Again, the manager is part of the process, and individual players regularly learn what they did well and badly so they can adjust for next time.
You might think that the men whose job it is to break down your team's and your opponent's strengths and weaknesses – the men who hold the key to next Saturday's victory – sit near the centre of Everton's universe, right next door to the manager.
And yet, when we visited them at the club's Finch Farm base on the outskirts of Liverpool, we found that their office is just one of many along a corridor leading to the canteen. It is a functional, unspectacular space. There are few clues as to the nature of the work that goes on here: file folders sit on top of standard-issue desks next to desktop computers; Steve and Paul sit on ordinary swivel chairs. It could be any office, anywhere, in any industry.
Only the tactics whiteboard in the corner, and the software on screen, hint that this is a room dedicated to analysing the best way to maximize performance in one of the world's most glamorous, rich and exciting leagues.
It is somehow fitting that the analysts at Everton – and those we've seen elsewhere – are but one spoke in the wheel of a club's football operation. Brown and Graley and their ilk are relatively novel creatures. Generally, in football, nobody is quite sure what to do with them. They are the latest addition to the manager's back-room staff; not as established as coaches, scouts, physiotherapists or even psychologists, their place in the pecking order is uncertain.
Their arrival, though, has not gone unnoticed by the market. In the decade or two since the first football analysts were appointed a whole industry of data providers has emerged to satisfy their appetite, their endless desire, for more – and better – information to pass on to their managers.
The first of these companies to emerge was Opta Sports, started by a group of management consultants who, in the 1990s, decided to create an index of player performance in football. As Content Director Rob Bateman told us, the aim was simply 'to get the brand into the public eye'. Opta contacted the Premiership (as the top tier of English football was known between 1993 and 2007); they were given funding by Carling, who sponsored the league at the time, and former Arsenal and England coach Don Howe came on board to provide football expertise. They launched the index in 1996 on Sky Sports and in the Observer newspaper, but soon discovered that the information they were collecting was far more valuable than the publicity the index brought the company. They could sell it to media outlets, near and far; later, they would discover that clubs were just as desperate for it.
When Opta started, each game's events took about four hours to code, using a pen and paper and pressing stop/start on a video recorder. The actions they noted were basic: passes, shots, saves. The level of detail their analysts record now is a world away from those unassuming beginnings. Take the 2010 Champions League final between Bayern Munich and Inter Milan. That night, Opta's team of three analysts logged a total of 2,842 events, around one every two seconds of the game. One was designated to monitor Inter, one Bayern, each one an expert in their subjects – they had been following their games, tracking all their actions and movements, all season. They were joined by a teammate in the role of overseer, pointing out mistakes and omissions.
More than a decade on from their birth, though, Opta are just one of a number of path-breaking companies formed to satisfy football's increasing addiction to data. Everton, as we saw when we were welcomed into Steve Brown's inner sanctum, subscribe to Prozone, a Leeds-based company set up to deliver data specifically designed to help with the coaching and scouting of players. In summer 2011 it merged with a French rival, Amisco, and between them the two brands now are among the industry's leaders.
Where clubs had once relied on good relations with their opponents to obtain videos of their most recent games – a system dependent on reciprocal trust which often proved misplaced when match videos were inexplicably lost – Amisco and Prozone developed the technology not only to allow the rapid analysis of a team's matches, but to collect even more data.
That is the true power of data: to change our relationship with the game.
They mounted cameras high above the pitch to track individual players, to give coaches, sports scientists and the like the sort of information they craved: how much running a player did and at what speed, how the flow of the game affected events. Later they combined the video with software that allowed players and actions to be tagged: now it is easy to compile footage of an individual's actions, or of all the goals your opponents have conceded. Martínez can watch all his team's corners or all his midfield's misplaced passes from a comfy armchair at home at the click of a button.
Prozone and Opta are not alone. There are many other companies working in the same arena across the world: Impire in Germany, Infostrada in the Netherlands and Match Analysis and StatDNA in the United States . . .
All are benefiting from the boom as the markets to which they sell their data expand seemingly without limit. There are the coaches, players, executives, journalists, fans and even academics who have a growing appetite for football's numbers, and then the video game manufacturers, fantasy football leagues and the betting houses which use them to make money.
Those involved in assessing, managing and exploiting risk, whether it be in financial markets or sports gambling, tend to build elaborate forecasting models. For that, they need data. Bookmakers' odds are not set on a whim; all the data they can access is fed into one of their algorithmic engines, and favourites and outsiders are determined accordingly. Algorithms are equally key when determining prices on the financial markets. Football is right at the intersection of the two areas.
Just as the betting companies are raking in the profits from their analytical, odds-setting engines – and using them to fund expensive sponsorship deals with the biggest names in sport, such as bwin's current arrangement with Real Madrid – those men who made their fortunes playing the markets are buying into the game: Sunderland, Brentford, Brighton, Stoke, Liverpool, Millwall and many others all have owners who do not place a bet or invest a penny without examining the numbers first.
That is the true power of data: to change our relationship with the game. Owners no longer have to rely on their own judgment to discern whether their team is performing well or if their investment is sound – the numbers can be slipped on to their desk every Monday, or even sent Sunday morning to their mobiles or iPads. After every training session managers can post data on the dressing-room door showing how far each player ran.
And some of that information is available to fans, published in newspapers or flashed up on the television screen, available at the push of a button on a smartphone and recorded forever online. There is no hiding place. The eye in the sky is always watching. No wonder Paul Barber, formerly a director at Tottenham Hotspur and now Chief Executive of Brighton and Hove Albion, refers to the rise in and increased sophistication of video analysis as being 'like an X-Ray'. This is the age of the see-through footballer: it is little surprise that the game's radiographers – men like Steve Brown and Paul Graley – are finding themselves slowly, incrementally, welcomed in from the cold.
The days of relying purely on gut instinct, conjecture and tradition to judge what constitutes good and bad football are over; instead, we can turn to objective proof. The implications are profound. The use of objective information is reshuffling the balance of power in the beautiful game. Instead of being run by a mix of command, habit and guesswork, football is entering a new, more meritocratic phase.
That is threatening to the game's traditional power brokers, because it suggests there may be something they have been missing all these years. In that sense football is a little like a religion: there has long been a perception that, to be an expert, you must have been born in the right place and been steeped in its rituals from a young age. There are creeds, dogmas, communion with your fellow fans, confessions, dress codes, imbibing and chanting and all the rest.
But if the data allow just anyone to become an expert, to have an informed opinion, those immersed in the old ways become less powerful, less special, more open to question. Ultimately they can be proved wrong, and the more they are proved wrong the less power they have. If they are the priests and the papists, our role as authors of The Numbers Game is to teach you both to be and to appreciate the iconoclasts and counters of football's reformation.
This, perhaps, explains the degree of resistance football's analytics pioneers have encountered.
We were tasked by one club, before one recent transfer window, with a research project that focused on strengthening their squad in particular areas. We were delighted to hear that our results had been received well by the board. The manager, though, was rather less enthusiastic. 'Stats can't tell me who to sign,' he said. 'They can't measure the size of a player's heart.'
This is not only an English problem; reluctance to embrace new technology, new sources of information, spreads far and wide.
It is the same with using data to adapt your approach to a particular match. 'The manager believes it when he sees it with his own eyes,' one Premier League match analyst told us. 'He likes to watch the video, and he tries to go out and see as many matches as he can for himself.'
This is not only an English problem; reluctance to embrace new technology, new sources of information, spreads far and wide.
Boris Notzon, the Director of 1. FC Köln's SportLab, showed us around one of the most advanced analytics enterprises in professional football. Köln employs three full-time and thirty part-time analysts from fifteen countries to collect and manage everything from opposition scouting reports to physical data from the club's first, reserve and youth teams. Even he, though, admits that Köln are unusual. As part of a joint project, all German first and second division clubs have access to match data provided by Impire, who use technology similar to that of Opta and Prozone/Amisco. Yet, few actually trust or use the data that are accumulating with every match. They don't want football on a spreadsheet; they want to see it with their own eyes.
'In comparison to historical medicine, football analytics is currently in the time of leeches and blood lettings,' says Mark Brunkhart, founder of Match Analysis. 'Not that we should stop progressing and working, but we should realize how little we understand.'
Related books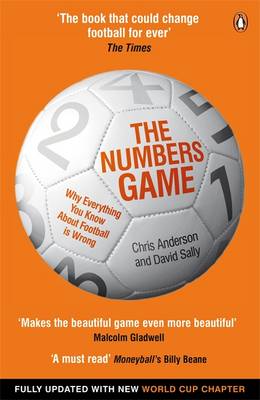 What if the numbers that really matter, the ones that hold the key to winning matches, are actually 2.66, 53.4, 50/50, and 0 > 1? What if managers only make a 15 per cent difference? What if Chelsea should have bought Darren Bent? This book shows that every shred of knowledge we can gather can help us to love football and understand it even more.