We regret that due to the technical limitations of our site, we are unable to offer eBooks or Audio Downloads to customers outside of the UK.
For further details please read our eBooks help.
Blog
Non-fiction Book of the Month: Empress Dowager Cixi
Jung Chang explains how she came to write Empress Dowager Cixi: the Concubine who Launched Modern China - our Non-fiction Book of the Month for July.
By 2007, the Chinese edition of my biography of Mao, Mao: the Unknown Story (2005, written with my husband Jon Halliday),  had been published in Hong Kong – though greeted with a strict ban in mainland China. I had translated the book into my native language, added more details for Chinese readers and increased the already massive notes. My mind was beginning to turn to what to write next. Two friends suggested that I wrote a biography of Empress Dowager Cixi of China (1835-1908). Prince Nicholas Romanov, a descendant of the Tsarist family, is a passionate lover of history. His ancestors had many dealings with Cixi and he wanted to know more about her. The other friend was the English painter James Reeve. James had read the memoir of an American painter, Katharine Carl, about her life in the court of Cixi, and he was enchanted by Cixi's ability to entice birds to her outstretched fingertips. He said to me, 'You have just written a big serious book, now you must relax and write something light!'  Of course Cixi was no light subject, although there was a light-hearted side to her. This was a woman who for decades held the Chinese empire  in her hands, right until her last breath.
I knew little about Cixi when the suggestions were made. Actually, there were numerous stories about her. Virtually all of them condemned her as a die-hard conservative and a cruel despot, who ruined China. To me these were noises off, but they left a vague and negative impression. Now I began to think about her. I remembered one moment over twenty yeas ago, when I was researching Wild Swans. I discovered that Cixi was the person who put an end to foot-binding, the thousand-year-old practice that tortured my grandmother for life. I recalled being tremendously struck. Before then, thanks to  my communist education, I had hazily assumed that foot-binding was banned by the communists. For the first time, I saw a Cixi very different from her image. I thought at the time: What else did she do?
Then during my research for the biography of Mao, there came more revelations. China embarked on a monumental transformation from the medieval to the modern from 1861 -- the year Cixi launched a coup and seized power. I was astonished to see the freedom and opportunities the young Mao enjoyed. (Mao was born in 1893 and grew up under Cixi and her legacy.) As a peasant lad, he could easily get scholarships to go to school and college, and had plenty of chances to go abroad if he had wanted to. He could travel all over the country without restriction and check into hotels with girlfriends as a couple. And he wrote for an incredibly free and flourishing press. All this I could not even dream of when I was living under Mao decades later.
Some of the achievements in the Cixi era did get mentioned from time to time. But they were invariably credited to some officials under her, and while these officials were being acknowledged, Cixi herself was still denounced. I could not help wondering how to square the circle. Cixi was said to be the tyrant who held power tightly and who was dead against reforms. How come those great changes could take place?
The idea of writing about Cixi brought back all those puzzles. I became intensely curious about the Empress Dowager. I wanted to find out what she was really like and what exact role she played in the modernisation of China. As a woman, I also wanted to enter the mind and heart of woman Cixi.
Having decided to write her biography, I found myself in luck: archives on Cixi are open. The First Historical Archives of China in Beijing, the main keeper of the records to do with the Qing dynasty, of which Cixi's reign takes up one fifth,  holds more than ten million documents. Ever since the death of Mao in 1976, archivists and scholars have been working on the papers. Vast numbers of court records have been sorted, studied, published, some even digitalised – including Imperial Decrees. From all corners of the country, official communications, personal correspondence, diaries, and eye-witness accounts have been re-issued. Thus I have had the good fortune to be able to utilise a colossal documentary pool, as well as consulting the archives myself. I love the investigation and relish the chance to become a 'history detective' again -- after spending twelve years solving the case of Mao.
As the sources about Cixi are more easily available, I have been able to finish the book in six years. In these years, I came to know the Empress Dowager:  her accomplishments and failings, her personal and political dilemmas, her motives and methods – as well as her qualities and flaws, some fatal. I hope my book manages to bring Cixi and her times alive. I hope I have done justice to this extraordinary stateswoman.
Jung Chang, London, June 2014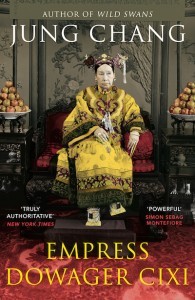 You can Click & Collect Empress Dowager Cixi: The Concubine Who Launched Modern China from your local Waterstones bookshop, buy it online at Waterstones.com or download it in ePub format