We regret that due to the technical limitations of our site, we are unable to offer eBooks or Audio Downloads to customers outside of the UK.
For further details please read our eBooks help.
Blog
Noirwich Crime Writing Festival
Yes, that's deliberate and not a typo! Rowan Whiteside of our Norwich bookshop shares her excitement about the upcoming Noirwich Crime Writing Festival – a deadly new festival.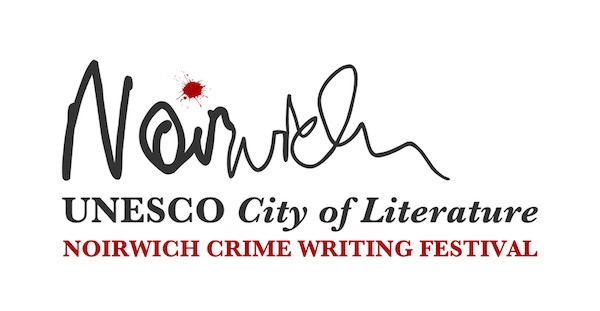 Come September you'd best watch out for bloody footprints and concealed weapons in Norwich – Noirwich Crime Writing Festival is transforming the city into a literary crime scene. Together with The Crime Writers' Association, University of East Anglia, and Writers' Centre Norwich, Waterstones has schemed to bring the best criminal minds together for your enjoyment.
Taking place from the 10th-14th September, Noirwich Crime Writing Festival promises a week of brutally brilliant events, including writing workshops, film screenings and events with writers such as Sophie Hannah and Val McDermid.
Here's a few highlights of the Noirwich events:
We're kicking off the festival with a celebration of S.T. Haymon, a mostly forgotten Norwich crime writer. Haymon was hugely popular in the eighties, winning effusive praise and multiple awards, but her novels fell out of print in the intervening years. Dr John Curran, who describes Haymon as one of his favourite writers, will unearth her history and discuss her writing in a fascinating exploration of author and craft. (Find out more about A Forgotten Mystery: The Life and Works of S.T. Haymon with Dr John Curran.)
Almost forty years after Agatha Christie's last novel was published, Hercule Poirot, the moustachioed, egg-headed genius, springs back to life at the launch of a brand new mystery, The Monogram Murders, at Norwich Playhouse - written by best-selling author Sophie Hannah.
Best known for her taut, twisted psychological thrillers, Sophie Hannah turns her hand to locked room puzzles in The Monogram Murders. At this special Noirwich event Hannah will discuss the pressures and pleasures of resuscitating the cultural institution of Poirot and the challenges of doing justice to Christie's legacy whilst maintaining creative freedom. She will be joined on stage by Christie expert Dr John Curran to explore a new side to Christie, the Queen of Crime. (Find out more about Noirwich: Poirot Returns with Sophie Hannah and Dr John Curran)
Later on in the week the incomparable Val McDermid will be joining us to launch her newest novel The Skeleton Road. Val McDermid's chilling psychological thrillers and cutting edge procedurals have sold over 10 million copies worldwide, placing her firmly in the ranks of the criminal elite. She'll be joined on stage by crime novelist and academic Henry Sutton for an evening of deadly discussions and ruthless readings. Sure to be a sell-out event, I'm hoping that Val will reveal the secrets of serial killers (fictional ones, at least) and share her writing techniques.  (Find out more about The Skeleton Road: An Evening with Val McDermid.) 
From past to present – Waterstones Norwich bookshop manager Ben Richardson will interview the next generation of criminal masterminds; Tom Benn, Eva Dolan and Oliver Harris. These up-and-coming writers, who are already becoming known for their gritty noir styles and skill in conjuring a strong sense of place in their narratives, will explore how setting has influenced their writing and prove that a crime novel doesn't need to be set in the mean streets of New York to be authentically noir. (Find out more about New Voices, Old Places with Tom Benn, Eva Dolan and Oliver Harris.)
A duo of Crime Writers Association Diamond Dagger winners will be joining us to share their experiences of a career in crime. Simon Brett and John Harvey will share their experiences of (figuratively) burying bodies and offer you an intriguing glimpse into the mind of an experienced novelist. (Find out more about Celebrating the CWA Diamond Dagger with Simon Brett and John Harvey.)
Secretly fancied turning your hand to murder? (The imaginary kind, obviously. I don't encourage that sort of behaviour.) As part of Noirwich Crime Writing Festival there'll be two special crime writing workshops which promise to reveal the tools of a crime novelist's trade – one taught by Henry Sutton on the crime thriller and a second taught by Simon Brett on detective fiction.
If you prefer your blood spatters on the screen, take a look at The Golden Age of Nordic Noir: A Film Appreciation Short Course, which explores the influence of Scandi-crime on British cinema and television. Or join us at a special screening of The Killer Inside Me at Frank's Bar (a Norwich institution) for criminally good cocktails – the recommended bevrage is (of course) a Bloody Mary.
Last, but not least, we'll be welcoming Megan Abbott to Noirwich for a rare UK appearance. Abbott is already being compared to Gillian Flynn and garnering rave reviews for her chilling psychological novels. She'll read from her latest novel, Fever and discuss her writing with fellow author Henry Sutton. (Find out more about Noirwich Crime Writing Festival Presents Megan Abbot.)
So, pick up your finger printing kit, grab your magnifying glass and book your tickets. We're looking forward to seeing you!
Rowan Whiteside, for Waterstones.com/blog
Noirwich Crime Writing Festival celebrates the sharpest noir and crime writing over five days of events, film screenings and writing workshops in Norwich, UNESCO City of Literature. Noirwich Crime Writing Festival is organised by Writers' Centre Norwich, The Crime Writers' Association, University of East Anglia and Waterstones. For more information on all of the Noirwich Crime Writing Festival events visit: www.noirwich.co.uk