We regret that due to the technical limitations of our site, we are unable to offer eBooks or Audio Downloads to customers outside of the UK.
For further details please read our eBooks help.
Blog
New Year's resolutions 2014 - You're fine as you are
Every year as the calendar starts again the world falls into a blind panic. People who were otherwise happy in their habits, minds, bodies and routines decide to change in the name of self-improvement. 'It's a new year, it's time for a new me,' they think, sometimes forgetting that, actually, they quite like themselves as they are.
Diets! Running! See friends more often! Stop drinking! Eat better! Spend less time watching the TV! Read more boo…no, wait, do that one. That's one we approve of. Enlighten your brain to new ways of seeing the world! BECOME BETTER.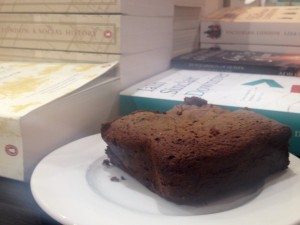 A Cafe W chocolate brownie shortly before you ignore everyone and eat it.
You could make unrealistic goals that you ultimately won't meet, leaving you feeling guilty that you haven't managed something that you probably didn't really want to do in the first place. Or you could take stock, realise you're already pretty good and carry on as normal.
Anyway, the point is, if you don't feel like going on this year's diet and would just like to bake some amazing cakes, then do that. If you want to go to the pub to have the occasional drink, that's ok too (don't go nuts though, everything but books in moderation). You're ace, tip-top, ship shape, top of the pops. Don't do things you don't want to do just because you feel you should, You're fine as you are. Enjoy it.
We've even put together a small selection of books to help. Cakes, TV, computer games, staying in. You know, the things you actually like doing.