Navigation
Search
Books

Dinosaurs Love Underpands

Claire Freedman, Ben Cort

Deep Sea Monsters

Igloo

Dinosaurs Love Underpands

Claire Freedman, Ben Cort

Deep Sea Monsters

Igloo
We regret that due to the technical limitations of our site, we are unable to offer eBooks or Audio Downloads to customers outside of the UK.
For further details please read our eBooks help.
Blog
My Mother Is Dead...To Me - Koren Zailckas
Koren Zailckas, author of the critically acclaimed memoir Smashed, shares how her relationship with her own mother fed into her dark and disturbing début novel Mother, Mother...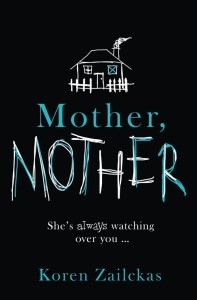 For all intents and purposes, my Mom died nine months ago. My Dad, in close timing, died two months later. There was no burial. No service. Sometimes I think I'd be healthier, emotionally speaking, if I'd had a chance to throw a hunk of dirt over those two.
See, my parents aren't in coffins or urns. They're very much alive and thriving. And as I write this, they are presumably still grilling cuts of meat on their deck or trimming their massive lawn.
I disowned my mom and dad.  Sometimes I worry that this will teach my children it's okay to run away from conflict. But I'd rather that, than teach my kids that emotional abuse is okay, just so long as it comes from someone close to them, or it's plausibly deniable, or the offending person showers them with gifts.
Now that I'm a wife and a mother myself, I know family isn't just about blood. It's about compassion, vulnerability, attention, trust. Family isn't a sacred institution. It's an emotional investment. It's the sum of a billion affectionate (or at the very least, reciprocal) moments--times we can recognize loved ones' pain even when we're up to our ears in our own.
I've had my share of childhood disappointments, but I didn't disown my parents because I didn't get enough hugs as a kid. I've made sense of my confusing childhood through therapy and the tattered journals that later became memoirs. By the time I pulled the family rip cord, I'd done everything in my power to manage the situation. I'd read enough self-help books to fill the Library of Congress. I had more therapy than an ex-altar boy. I'd erected emotional boundaries and cultivated compassion for Mom's own traumatic childhood.
There are no evil mothers, my doctor said, only mothers who wear their fear-memories like brown bags over their heads.
I realized just how bad things had gotten when my husband and I asked my parents to babysit our two-year-old daughter, Ayla, when I went into labor with my second child.
From the first word, the visit was stressful for us all. Mom, complaining of being bored at home, arrived a week before my due date and spent the rest of the time trying to nag me into labor. "Go outside and jump on the trampoline, will you?"
After a week of tense interactions, Mom seemed to have a change of heart. After breakfast one morning, she told my husband and I to put our feet up and read the newspaper. "Sit back and relax," she said. "I'll take Ayla outside to play."
Ten minutes later, she walked back into the kitchen, alone, the corners of her mouth turning up in an almost-smile.
"Oops! Where's Ayla?" she asked, putting a hand over her mouth. It was a concerned gesture that clashed with the glimmer of excitement in her eyes.
"What do you mean where's Ayla?" I said too loudly, jumping to my feet. "You took her outside. You said you were watching her."
Evidently Mom had led Ayla outside, left her with my father without properly alerting him (he'd had his head down between the car seats, vacuuming the floor of his car), and spent the time that followed in the bathroom adjacent to the mud room. At worst, it was a cleverly orchestrated "accident." At best, it was an eerie example of her lack of care, especially in moments when she felt threatened and stressed.
I hitched up my maxi dress, grabbed my bowling-ball belly and ran outside alone in the sweltering June heat. I shouted my throat raw, calling my daughter's name over and over and over.
I couldn't decide where to look first.
Like most historic stone houses, the one we were renting was built on an early road that was now a busy state route with traffic screaming by at sixty miles per hour. If Ayla had wandered alone down the driveway, it would have taken her all of two minutes to be hit by a car.
It took my dad a long time to come outside and help me look, and to my knowledge, my mother never came out at all. My husband later told me she had cornered him in the kitchen, telling him to reason with me. In her approximation, I was just "pregnant and hormonal," not desperate to find my missing two-year-old.
That's when it became crystal clear: my mother didn't get it. She couldn't. At least where my children and I were concerned, she was missing the essential thing, empathy, that makes a woman a mother. My dissociative mother couldn't put herself in my shoes, let alone in my daughter's size-five mary janes. There seemed a good chance she was using her granddaughter to reenact the abandonment she'd experienced when my grandmother kicked her out of the house at sixteen.
I finally found Ayla on the edge of the property. I clutched her to my pregnant belly. A few feet further and the sweet, strong little girl I love more than just about anyone might have been gone.  That's when I finally got it: my mother was waging an inner war over a past I was helpless to control, but I didn't have to offer up my children as collateral damage.
Cutting off contact wasn't a happy ending so much as an imperfect solution.
I think of Mom daily and hope she finds wholeness and peace. But at long last, I've accepted I can't give that to her. I'm only responsible for my own stability, my own sanity. I feel healthy and grounded for maybe the first time ever.
Having a child doesn't make a woman a mother any more than owning a paintbrush makes her Frida Kahlo. Some mothers, no matter how well intentioned, aren't naturals. It's a fact of nature we can't fault them for. But we don't have to wait out in the cold either.
Koren Zailckas, for Waterstones.com/blog
Read a sample of Mother, Mother now.
Mother, Mother is published on 16th January but you can pre-order it now at Waterstones.com (http://bit.ly/1dsSOzY)