Navigation
Search
Books

Dinosaurs Love Underpands

Claire Freedman, Ben Cort

Deep Sea Monsters

Igloo

Dinosaurs Love Underpands

Claire Freedman, Ben Cort

Deep Sea Monsters

Igloo
We regret that due to the technical limitations of our site, we are unable to offer eBooks or Audio Downloads to customers outside of the UK.
For further details please read our eBooks help.
Blog
"My hair won't talk to my moustache" - Ron Burgundy
Today being Burgundy Wednesday, Ron Burgundy is here to share his thoughts on jazz flutes and children, as well as to debunk a few myths about his hair.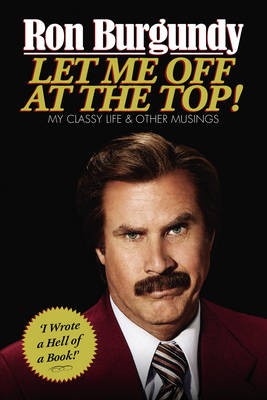 RON ON… HIS JAZZ FLUTES
I made my first flute out of a length of steel pipe my brother Winston tried to beat me with. Winston was my least-favourite brother, and that's saying a lot. He would beat you while you slept – clearly against the rules, but he didn't care. He was a union strike buster for many years before he was brained by a rock. Now he sells pencils in a little wooden stall in downtown Omaha. I buy twenty every Christmas. They say hatred and love are two sides of the same golden coin.
RON ON… RAISING CHILDREN
If you can instill a little confidence in a child, then you've gone a long way to being a great parent. A ten-year-old will feel on top of the world if you can teach them to drive on a freeway. From what I understand the Chinese allow their children to operate heavy machinery making garments and fabricating car parts at a very young age. This must do gang-busters for their confidence.
RON ON… HIS HAIR MYTHS
1. My hair is called Andros Papanakas. It is not. I have no name for my hair.
2. My hair was bestowed upon me by the gods. This one is hard to dispel. It would have been just like Zeus to make such a gift, or Hermes, but even though I have called on these two gods many times I have never been told specifically by either one that I was given my hair, so I have to say no to the gift-from-the-gods theory.
3. My hair is insured by Lloyd's of London for $1,000. Nope! It's fifteen hundred, thank you.
4. My hair won't talk to my moustache. This is basically true but I would hardly call that a myth.
5. My hair starred in the movie Logan's Run. It was definitely up for the part of Logan but that eventually went to Michael York. He did an excellent job in the film and to this day it's still considered the best film of all time.
6. My hair on my head is the exact same as the hair on my crotch. Don't I wish!
7. My hair was the principal cause of the overthrow of the Chilean government in '73. This one is true. Look it up.
8. Each strand of my hair carries the DNA for not only a complete Ron Burgundy clone but also a duck-billed platypus. This is incorrect. Scientists at Georgetown University studying my hair strands have detected the DNA from eight different semi-aquatic mammals. The platypus is nowhere in sight.
9. I wear a toupee. Sure, I wear a toupee, and women don't have vaginas and cats don't have dongs! Seriously, this is not a myth, just an insult. Stop it. This is my hair. You can't have it. You can't buy it. You can't burgle it, but you can enjoy it on top of my leathery oversized head.
You can Reserve & Collect LET ME OFF AT THE TOP!: My Classy Life & Other Musings from your local Waterstones bookshop (http://bit.ly/1hM8vsY), buy it online at Waterstones.com (http://bit.ly/1hM8sNE) or download it in ePub format (http://bit.ly/1hM8u8f)