We regret that due to the technical limitations of our site, we are unable to offer eBooks or Audio Downloads to customers outside of the UK.
For further details please read our eBooks help.
Blog
My 2013: Donal Ryan
Donal Ryan - author of The Spinning Heart and the new novel The Thing About December - tells us about his eventful 2013, which took him from début novelist to Man Booker nominee...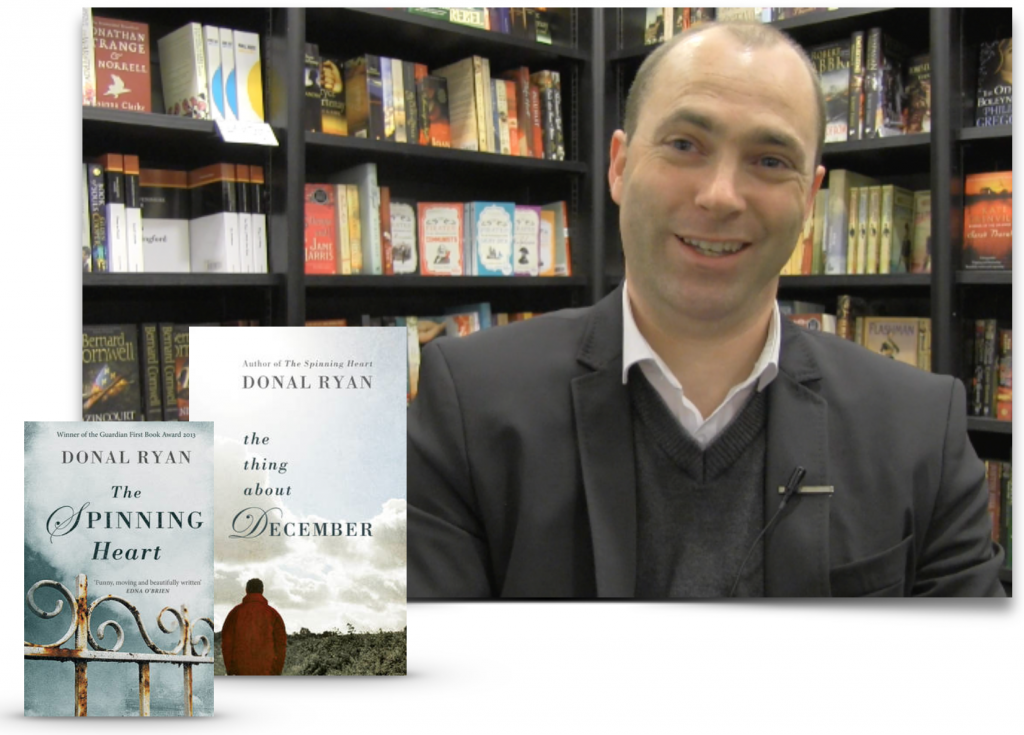 The year started well, The Spinning Heart having been named Irish Book of the Year just before Christmas. Then in January life dipped back to its pleasant, uneventful level, until Eoin McHugh phoned to say The Spinning Heart had been chosen for the Waterstones Eleven. Joy of joys! I'd been worried about how the book would be received in Britain, thinking it could really go either way; vernacular language, by definition, isn't universal. I thought maybe something would be lost in the demotic. This seemed like the best kind of endorsement, and my heart soared.
The Waterstones Eleven announcement was my first taste of literary London. My fellow first-timers were lovely. Michel Rostain put his hands on my shoulders and said: Tell me, slowly, your name, my friend; my hearing is not so good. He was being kind – he'd obviously overheard me speaking in my million-mile-an-hour Tipperary accent. I read his beautiful book, The Son, around a week later and my heart broke.
I developed an intermittent stammer at the beginning of February, just before I gave my first proper talk, an hour at Limerick's Kate O'Brien Festival. Anne Marie and I laughed about it. The same thing happened before I got married. As on my wedding day, thank God, the stammer disappeared about a half minute in to my speech.
Good things happening make me nervous. All my celebrations are tinged with dread. Am I building up some huge karmic imbalance? Am I good enough of a person to deserve such good fortune? The thought of people spending their money on my books sometimes makes me want to run away and hide. Positive comments on Twitter, Goodreads, Amazon and all those wild places far outnumber the negative, but I home in on the bad words, the disappointed readers, the caustic, the dismissive, the unfavourable comparisons. I want to apologise, or argue, or tell them they're wrong, but I can't. No opinion is wrong, as much as it might hurt. People feel what they feel. I, of all people, must admit that. Please, please, stop looking, Anne Marie begs. But I can't.
Good things happening make me happy, too, I swear. Nothing will ever top my wedding day or the days my children were born, but the news about the Booker longlist had me dancing around the living room, whooping and jumping and crying tears of joy. I'd often fantasised about what it would be like to tell my parents I've been nominated for the Man Booker Prize. Being able to do it for real was a privilege, and a shining, perfect moment in my life. I could hear the pride in my father's voice, the emotion in my mother's. My sister Mary felt vindicated: she'd predicted this from the start. All joy is hollow that can't be shared. Anne Marie was in work. She had to keep the news to herself for an hour before the announcement. That must have been hard.
I felt gutted for exactly half an hour after learning I hadn't made the shortlist, and then started again to count my blessings. I was working late, the office was empty, I was able to sit in silence and think clearly. My name is associated now with the Man Booker, that's prize enough. My second novel, The Thing about December, was due to be released, and the nod for The Spinning Heart was going to give it a huge boost. We had the launch in October in The Nenagh Bookshop in my hometown, hosted by John and Catherine Ryan, true-blue booksellers. I've spent a lot of time this year at festivals and in bookshops, meeting the most important people in the book world: readers.
The Spinning Heart made the longlist for the IMPAC Dublin Literary Award, an amazing honour. Then it was longlisted for the Guardian First Book Award. Then it made the shortlist. Then it won. I still can hardly believe that. The night in the Tate Modern felt like a dream. It was fantastic to be able to meet and talk to the members of the Waterstones reading groups and to thank them for their endorsements. We drank champagne afterwards at the Savoy and I kept expecting to wake up and realise I was late for work.
I started falteringly to write short stories this year. I can't sustain a narrative voice just writing in short, intermittent bursts, so have put aside the novels I was working on until I can afford to take some time off work. I try to write the first draft of each story in three short sittings. There's no free time now, at all. My children have started to tell people that Daddy is a book-writer. I'm starting to believe it myself.
Donal Ryan, for Waterstones.com/blog
Find out more about The Spinning Heart.
You can Reserve & Collect Donal Ryan's second novel The Thing about December from your local Waterstones bookshop (http://bit.ly/1cOZ7CV), buy it online at Waterstones.com (http://bit.ly/1cOYXLV) or download it in ePub format (http://bit.ly/1cOZaPa)