Blog
Mark Haddon in conversation with Will Rycroft
Mark Haddon's new collection of short stories The Pier Falls is a departure from his usual style. Vintage Community Manager and literary vlogger Will Rycroft interviews Mark on his move both to the short story form and to much darker subject matter.
Image: Rory Carnegie


You can listen to Mark read from his debut collection plus hear the whole interview via the link to Penguin's Soundcloud at the bottom of the page.
WR: Mark I wanted to ask first of all, The Pier Falls is your debut story collection and many people will know you as an author of novels and children's fiction, have you always written short stories or is this something that has only happened recently?
MH: I always tried to write short stories. I was driven initially by the conviction that like poetry, like plays, they are just a combination of words, and if you can get the words right they are going to work. They didn't seem to me to be fundamentally different from from a novel, for example. It took me a long time to work out why it wasn't working and I think that was partly due to the utter superficiality of my motives and partly because I was not enjoying the great majority of short stories I was reading, even the ones which were quite obviously small masterpieces. Most of what I was reading were stories in the Joyce Mansfield Chekhov Carver tradition, quite minimal, quite melancholic, often about absences and things not happening, stories which ended on a dying fall, stories which were often not quite stories but part of some larger narrative that was happening elsewhere. And I think I found those unsatisfying an it took me a long time to stumble on the right kind of stories that showed me a way round that impasse.



Two in particular were very important for me - one was the title story of Wells Tower's Everything Ravaged Everything Burned which I recommend to everyone to read rather than me telling you the story now. It is about two middle-aged Vikings and it's as funny as it sounds but unexpectedly sad and moving. It has a voracious scope, it has horror, it has humour, it has pathos - there is no sense of it being a short story. It is a story which is quite compacted. The other story which really affected and influenced me turned out not to be a story at all but it was so compelling, I assumed it was fiction when I first read it. It was by Jo Ann Beard and it was called Werner. It is about a young man in his New York apartment, which catches fire and he has to save himself by jumping from the window of his building in through the window of an adjacent building. It is absolutely thrilling. It was the first essay in Best American Essays 2007, when David Foster Wallace edited the collection. And despite the fact there was 'Essay' on the cover and it was a book of essays, I assumed it had to be made up because, strangely enough, there was so much vivid detail there, I believed it couldn't be real life - and yet it was. Reading that made me think, if a short story is not as exciting as real life why don't you just go out the front door and find some real life? Why don't you read the newspaper? Why don't you talk to your family? There has got to be a reason for sitting down in a chair and writing and then reading a short story. It's got to be as exciting as life.
WR: That is very interesting. I have read the Wells tales collection that you mentioned, and as you say it contains a lot of humour, it is a really funny collection, but also a lot of horror, there is a lot of darkness there, and I think that is true, as well, in your collection,The Pier Falls, and that people might be surprised by the darker tinge to your writing. Was that something that the short form gave you a chance to express more than a larger novel?
MH: I think it comes from two places: one, as it were, honourable, one less honourable. The honourable one is that without death you don't get fiction, basically. Without suffering, without finitude, stories just don't happen. Nothing is at stake. Nothing really matters. It is the fact that life comes to an end that gives it piquancy and voltage. For me, to make a story work, we need that darkness, we need bad things to happen especially if, in that short format, you are going to get a whole story down, you are going to get a whole arc - you end up killing quite a few people.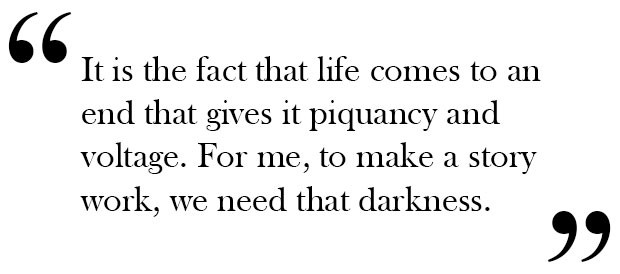 The less honourable motive is that I am known to quite a lot of readers as, to quote someone who once said this to me, 'the nice man who wrote that book about the boy and the dog' and while I will be forever grateful to that novel, there is a little bit of me which would rather not be known as 'that nice man who wrote the novel about the boy and dog'. So there is a perverse joy in writing stories which have some quite unpleasant content.
WR: Yes and I think, as well, when I read short stories, often I can feel as though I am watching a writer flexing their writing muscles, they are trying things out, they will experiment with form and content and style - and I just wondered whether, again, with The Pier Falls, if it gave you a chance to break away from not just that novel, the book that everyone knows you for, but also from all the novels that you write; if with the short form, you have got a chance, with that blank page, to go somewhere very different?
MH: That is absolutely true. But that is completely contrary to what a lot of writers say, and I think that grows out of that minimal, melancholy, Chekhov-Carver-esque tradition. You will hear a lot of writers say 'Short stories are a very fine, fine format.' 'You have to get everything absolutely right - it is so easy to write a bad short story' - 'It is like a violin solo you can hear everything'. And they give the impression that it very fragile and very frail and very delicate. For me it is completely opposite.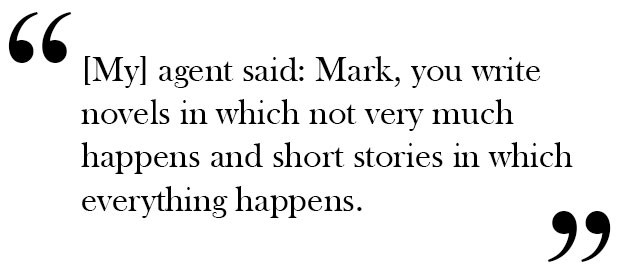 Partly because it is easier to throw away a failed short story, you can take more risks. It is a lot more painful to throw away a novel that doesn't work. I must've written 30 short stories that I have thrown away. And if the stories in the collection are good it is partly because of throwing so many others away. To quote Claire Alexander, my agent, she put it very well, she said: 'Mark, you write novels in which not very much happens and short stories in which everything happens.' It enables me to write a story on the planet Mars. It enables me to set a story in ancient Greece or the jungle in Brazil. And I don't think I would risk that if I would risk that if I knew I was going to write 100,000 words.


Listen to the full conversation on Penguin's Soundcloud channel:
×
Download the Waterstones App
Would you like to proceed to the App store to download the Waterstones App?
Reserve online, pay on collection


Thank you for your reservation
Your order is now being processed and we have sent a confirmation email to you at
When will my order be ready to collect?
Following the initial email, you will be contacted by the shop to confirm that your item is available for collection.
Call us on or send us an email at
Unfortunately there has been a problem with your order
Please try again or alternatively you can contact your chosen shop on or send us an email at