We regret that due to the technical limitations of our site, we are unable to offer eBooks or Audio Downloads to customers outside of the UK.
For further details please read our eBooks help.
Blog
Love letters? Love Nina
Nina Stibbe - author of Love, Nina, which is shortlisted for this year's Waterstones Book of the Year, tells us about the experience of compiling this hilarious and touching collection of family letters...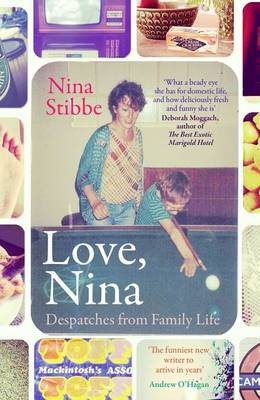 I started writing letters in earnest when I was 19 and I'd gone to France supposedly to be an au pair but ended up housesitting. People still wrote letters in those days and if you took the trouble of writing one you'd very likely get one back which was especially nice if you were a bit lonely.
The letters in Love, Nina began just after this, and were written during my first five years in London (between 1982 and 1987) starting when I became a nanny for Mary-Kay Wilmers and her two boys, Sam and Will… so, 25 to 30 years ago. I'd settled into 55 Gloucester Crescent quickly and was very happy but missed daily chats with my sister Victoria. She'd started living-in at her job in a nursing home and since there wasn't an appropriate phone, I began writing to her instead.
Discovering the letters years later, in 1999, was wonderful. Victoria had moved house and had collected up bits of furniture and junk she'd stored with our parents. I arrived for a visit and Vic told me about this box of letters she'd found and we sat and read them for hours and laughed. I loved reading my early impressions of Sam and Will and Mary-Kay.
The letters contain what I'd have talked about to my sister. I didn't bore her with the impressive accomplishments of the people living in the street or visitors to the house - even though this included film makers like Stephen Frears, playwrights, novelists such as Deborah Moggach, opera directors and artists such as Anne Rothenstein and David Gentleman. Instead I told her what hairstyle or dog a newsreader up the road had or what Jonathan Miller said when I wanted to borrow his saw to trim the Xmas tree. How Alan Bennett's car was tinny and had poor vision at the back and that Russell Harty wouldn't take his coat off.
One of the funniest things to recall was my ambivalent attitude towards cooking. I think I'd exaggerated my skill and fondness for it at the interview and my letters frequently describe mistakes and frustrations as well as revealing a competitive streak (usually with Alan Bennett who often came for dinner and would sometimes appear with a small contribution to the meal). I was encountering and struggling with new and exotic ingredients such as garlic and fresh herbs and was mightily irritated by Alan Bennett seeming to take all this in his stride and arriving with nice simple bits of salad which made my coleslaw seem naff. Victoria seems to have included recipes and advice in her letters to me and I refer to these often ('Thanks for cuttings, "Five Ways with Cabbage" was best').
I was annoyed with Mary-Kay for discovering the 'wonderfully versatile' turkey mince and even more so that no one liked the turkey burgers I made with it. But as time passes I seem to become more relaxed and in one letter I'm quite evangelical about Balsamic vinegar, describing it as "nicer than Sarson's."
People ask me about Victoria's replies to me and I have to admit that I didn't keep them. It's a shame - and I'm very sorry now of course as her letters would have been marvellous to read now - but since she was the one of us who stayed where we grew up, her life and pretty much everything in it was known to me and though I loved receiving the letters, I didn't hang on to them through my many house moves.
Reading (and giggling) aloud...
Making the audio recording for Penguin was fun (and a bit of an ordeal). The best part of three days in a soundproof booth and apart from the voice of Roy the audio man coming through the cans, only an angle poise lamp for company. My tummy rumbled on and off whether or not I was hungry - sometimes loudly enough to be picked up by the mic. And because I'm a fidget, my shoe kept hitting the table leg with a thud and my necklace clanked against my buttons. Also, I kept forgetting to turn the page at the right time and frequently got the giggles. To be fair, Roy was almost as bad, giggling-wise, and a few times I could hear him chuckling through the apparently soundproof door. Anyway, between Roy and me we got the book read and recorded and it's done and Penguin didn't have to get Su Pollard in to do it all over again.
Nina Stibbe, for Waterstones.com/blog
You can Reserve & Collect Love, Nina: Dispatches from Family Life from your local Waterstones bookshop (http://bit.ly/1bIER04), buy it online at Waterstones.com (http://bit.ly/1bIENND) or download it in ePub format (http://bit.ly/1bIF0jW)
Discover the full shortlist for this year's Waterstones Book of the Year here