Navigation
Search
Books

Dinosaurs Love Underpands

Claire Freedman, Ben Cort

Deep Sea Monsters

Igloo

Dinosaurs Love Underpands

Claire Freedman, Ben Cort

Deep Sea Monsters

Igloo
We regret that due to the technical limitations of our site, we are unable to offer eBooks or Audio Downloads to customers outside of the UK.
For further details please read our eBooks help.
Blog
Listening to whispers... Stuart MacBride
Bestselling crime writer Stuart MacBride may have taken a risk ditching his best known characters for his latest book A Song for the Dying, but, as he explains, it was a chance to explore an even darker story...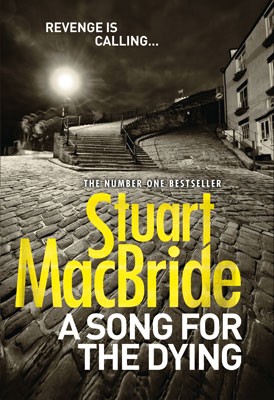 A lot of people are obsessed with Logan McRae and DI Steel, so it would be madness to upset those people by writing about someone else, right? Not good business sense at all. But I did it anyway – Birthdays for the Dead was my chance to take a break from Logan and his team for a bit. A chance to try something new. And, of course, a chance for Logan to have a bit of a holiday where nothing horrible happened to him.
So off I went and wrote my version of a Shakespearian tragedy. All nasty and dark and quite different from the Logan books. Where Logan's all upbeat and positive, Ash is dark and brooding. Where Logan's a team player, Ash plays by his own rules and if you don't play along, you're in for a smack. Where Logan's world is populated by quirky descriptions and little funny bits, Ash lives in a much murkier place.
In short, Ash was the exact opposite of Logan, and he was meant to be disposable. There would never be a part two to Birthdays, because you don't get part twos to tragedies. Everybody's so traumatised and messed up by the end (assuming they've survived) there's nowhere to go with them.
Nope, there was never going to be another Ash Henderson story. I had tortured him as much as I possibly could, it was time for him to get his unjust reward, free from my poking.
And then … I started to miss him. Which is odd – I'd much rather go for a pint with Logan than Ash. Ash would be scary. Even if he is tee-total.
Perhaps it's because I write him in first-person, rather than third? I have to inhabit his socks and his shoes, see the world through his eyes in a very intimate way. Does that make a difference?
Then there's the joy of writing his accidental sidekick, the "delightfully quirky" Dr Alice McDonald. All those run-on sentences with their non-sequitur slipperiness, what's not to love about dipping into that again? Add in the fun of making up a city to play in, and the whole 'Never again, we must maintain the integrity of the Shakespearian tragedy' thing was getting a bit wobbly. Especially once the emails started to come in from readers demanding to know what happened next.
I resisted for a bit. Maybe three or four months. Then I started waking up in the middle of the night with little snippets of dialogue going around in my head. Not dialogue for the Logan book I was writing – nope, this wasn't Logan and Steel talking, this was Ash and Alice. I'd shove them to the side and get on with Close to the Bone. But the very next night, there they'd be. Whispering in my ear in the wee small hours before dawn. Wanting out to play again.
This was obviously never going to work. I mean, how could I possibly write another Ash Henderson book? After everything I'd done to him in Birthdays he was a wreck. Wrung out and ruined. His life in irredeemable tatters.
Or was he?
The whispers wouldn't stop.
So I started doodling down a few ideas. Just a technical exercise really. It was never going to come to anything… Until it did. And there I was with a nugget of a plan. A way to get Ash out of the pit he was in and a chance for him to get back at the person who'd put him in there. Revenge. That's what the book would be about. Revenge in all its cold, nasty glory.
So we jump back in time eight years – to a time before the Birthday Boy came into Ash's life and ruined it by abducting and murdering his daughter. Back to a time when a very different serial killer was preying on Oldcastle.
The Inside Man stalked the corridors of Castle Hill Infirmary, taking nurses and slashing them open in a home-made operating theatre. Stitching a My First Baby plastic doll inside their abdomens, before dumping them at the side of the road and calling the emergency services. Doing it again, and again, and again. And then… he just disappeared.
The one that got away.
Ash was one of the lead investigators on that case, and now he has the chance to get out of prison and help track the Inside Man down. Well, someone like Ash was never going to pass up an opportunity like that. Not if it also meant he could plan a very grisly end for Mrs Kerrigan.
She's another fun character to write. Not fun in a "jolly-ha-ha" kind of way, it's more of a full-on visceral "how-horrible-can-one-person-be" thing. Someone completely convinced of their ultimate power, and that they have the right to do whatever they want to.
Throw in a religious psychopath who owns a junkyard and a meat cleaver, a set of retired forensic specialists, a handful of thugs, and one of the nastiest people I've ever put in a book, and we were all set to go.
The book I swore I'd never write had just bumped itself to the top of the pile.
And who knows, maybe – in a couple of months – the whispers might start all over again…
Related books
A heart-stopping crime thriller and the fourth consecutive No. 1 Bestseller from the author of the Logan McRae series and Birthdays for the Dead.