We regret that due to the technical limitations of our site, we are unable to offer eBooks or Audio Downloads to customers outside of the UK.
For further details please read our eBooks help.
Blog
Linwood Barclay's top 10 thrillers
Linwood Barclay knows a thing or two about thrillers, so to mark the publication of A Tap on the Window in paperback this week here are his top ten thriller movies of all time.
10: Capricorn One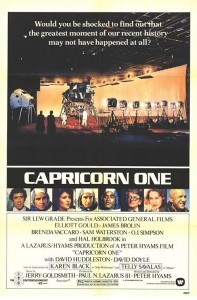 Yeah, that's right. This over-the-top, high-concept, 1977 thriller about a faked Mars landing, and the pursuit across the desert of the NASA astronauts who refuse to go along with the scheme, is pure entertainment joy. A little crazy at times, but great performances throughout (it even stars O.J. Simpson before his troubles) and a rousing score by Jerry Goldsmith, one of the all-time great film composers.
9. Dirty Harry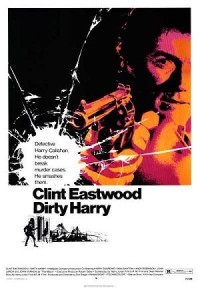 The first, and the only great, film in this Clint Eastwood franchise, although some of the others are quite entertaining (Magnum Force has its moments). A polarizing flick that grew out of a feeling that the rights of criminals superseded those of victims. But even if the politics trouble you, there's no denying the film's visceral pleasure and Eastwood's steely gaze. That iconic image of him standing on the railway bridge near the end is etched into my brain.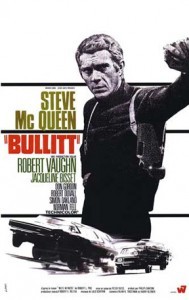 It's got Steve McQueen. It has the best car chase ever made (up to that time) with one of the coolest cars Detroit ever built. It's got a terrific Lalo Schifrin soundrack. Jacqueline Bisset. Tautly directed by Peter Yates. Did I mention the car chase?
7. Psycho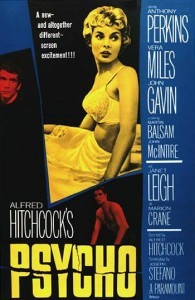 The first, but not the last, Alfred Hitchcock movie on this list. What can I say that you don't already know? This may be, in most people's minds, the director's greatest film. His best known, sure, and easily the scariest. And Anthony Perkins turns in one of the best performances ever in a Hitchcock flick. A magnificent thriller, but Hitch had already done his best work by this time.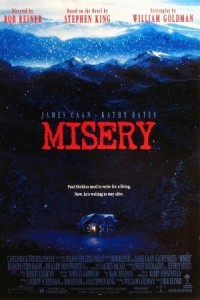 The horror is firmly grounded in reality, without a hint of the supernatural, in this Rob Reiner adaptation of the Stephen King novel. It's one of the best book-to-film transitions for King, thanks to great source material, terrific William Goldman screenplay, and Kathy Bates' star turn as Annie Wilkes, who deserves to be listed as one of filmdom's great monsters, right up there with Dracula and Frankenstein.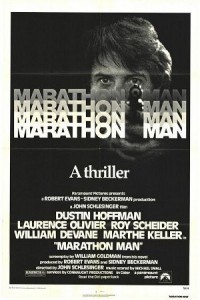 And while we're on the topic of William Goldman, he wrote the screenplay based on his own novel, which, when I read it as a teenager, blew me away with its cross-cutting scenes that seemed to have no relation to each other. Dustin Hoffman, as the marathon runner who's drawn into a conspiracy involving Nazis and diamonds, and Roy Scheider as his brother, give the movie heart. Plenty of great twists and unrelenting tension.
4. Se7en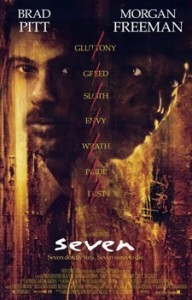 David Fincher's 1995 serial killer tale was unlike anything we'd seen up to that point. As much a horror film as a crime thriller, this nightmarish tale about a killer's take on the Seven Deadly Sins is suspenseful, elegantly acted, and profoundly disturbing.
3. Vertigo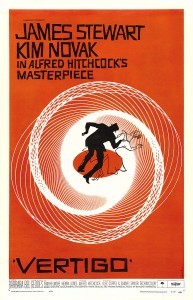 It wasn't well received when it first came out, but this thriller about sexual obsession is Alfred Hitchcock darkest, most psychologically twisted film. Once you've seen this, check out Brian De Palma's 1976 aptly named homage to Vertigo, Obsession.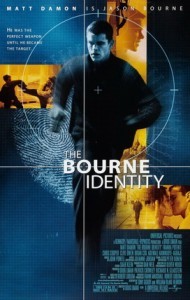 (And not The Bourne Legacy, although it's better than you think it will be)
I'll count the three Matt Damon flicks as one movie. Whenever I'm flipping the dial and come across one of these, I have to stop. The most-consistently watchable trilogy ever made. Never a dull moment in any of them; pure kinetic action, understated acting, always credible. Influential, too. The new Bond movies with Daniel Craig owe much to the Bourne trilogy.
1. Rear Window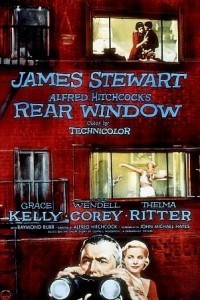 Hitchcock, for a third time, and in the top spot. Injured photographer James Stewart, recovering in a wheelchair, thinks he sees a murder in an apartment across the courtyard. The master of suspense's greatest film for so many reasons, not least of which is that the viewer's point-of-view is exactly the same as Stewart's. We're solving the puzzle with him, craning our necks, struggling for a better glimpse into that other apartment. And the banter with Grace Kelly is full of sexual tension. (If you read my novel Trust Your Eyes closely, you just might find a line in it from this movie.)
Honourable mentions
The Conversation, Casino Royale (the Daniel Craig one), The French Connection, From Russia with Love, The Silence of the Lambs, North by Northwest, Michael Clayton, The Manchurian Candidate (the Frank Sinatra one), Ronin, The Sixth Sense.
Related books
On a rainy night, a man gives a teenage girl a lift home, but the girl he picks up isn't the same one he drops off ... Bestseller Linwood Barclay hooks the reader from page one with this suspense masterpiece.