Navigation
Search
Books

Dinosaurs Love Underpands

Claire Freedman, Ben Cort

Deep Sea Monsters

Igloo

Dinosaurs Love Underpands

Claire Freedman, Ben Cort

Deep Sea Monsters

Igloo
We regret that due to the technical limitations of our site, we are unable to offer eBooks or Audio Downloads to customers outside of the UK.
For further details please read our eBooks help.
Blog
LEGO literature
To celebrate the launch of The LEGO Movie tomorrow, we're playing with plastic bricks. It's work, honest.
We'll take any opportunity to play with LEGO - especially when we can find a way to involve books and therefore make it a legitimate part of our working day...
So, with The LEGO Movie out this week, we decided to have  a bit of fun by building brick versions of some of our favourite moments from all sorts of books...
The Red Wedding, from A Storm of Swords (A Song of Ice and Fire book 3) by George R.R. Martin
Apologies for the spoiler - in case you're not up to speed with the books or TV series - but we were particularly proud of the use of red bricks for blood here. Being booksellers, we like things to look neat.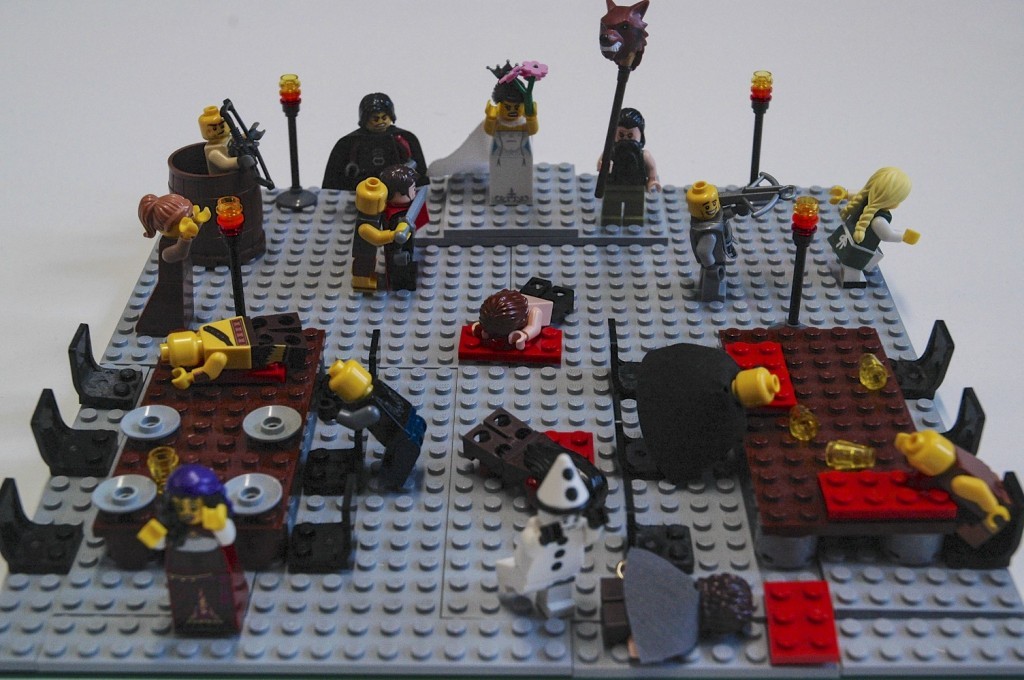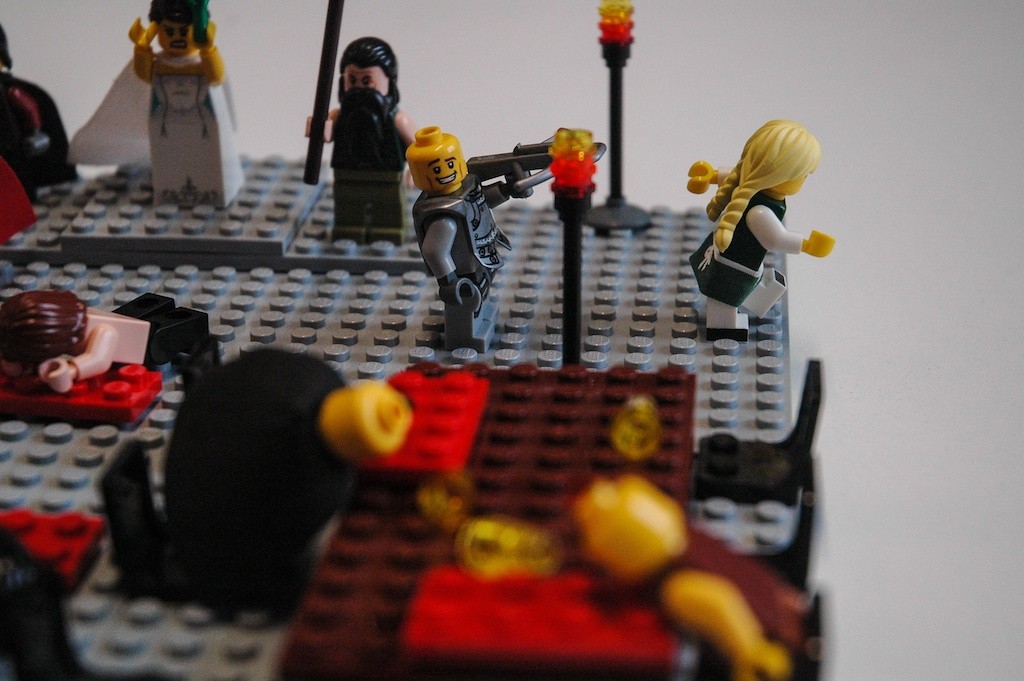 Dracula's bedchamber, from Dracula by Bram Stoker
For want of a LEGO bat, we've included Batman... He'd actually make a pretty effective Van Helsing too though.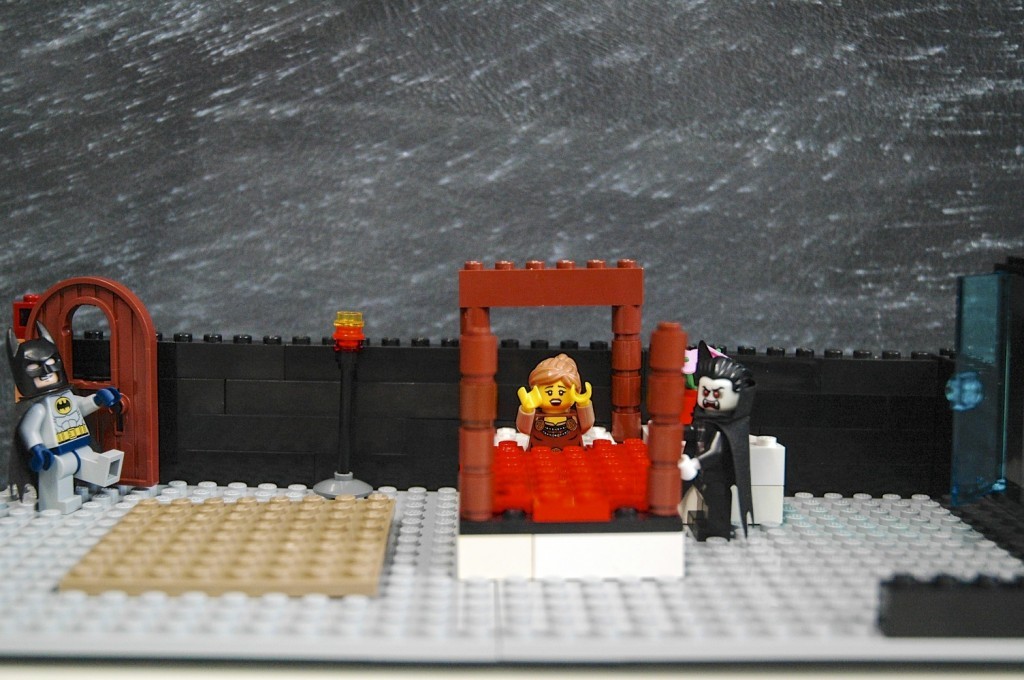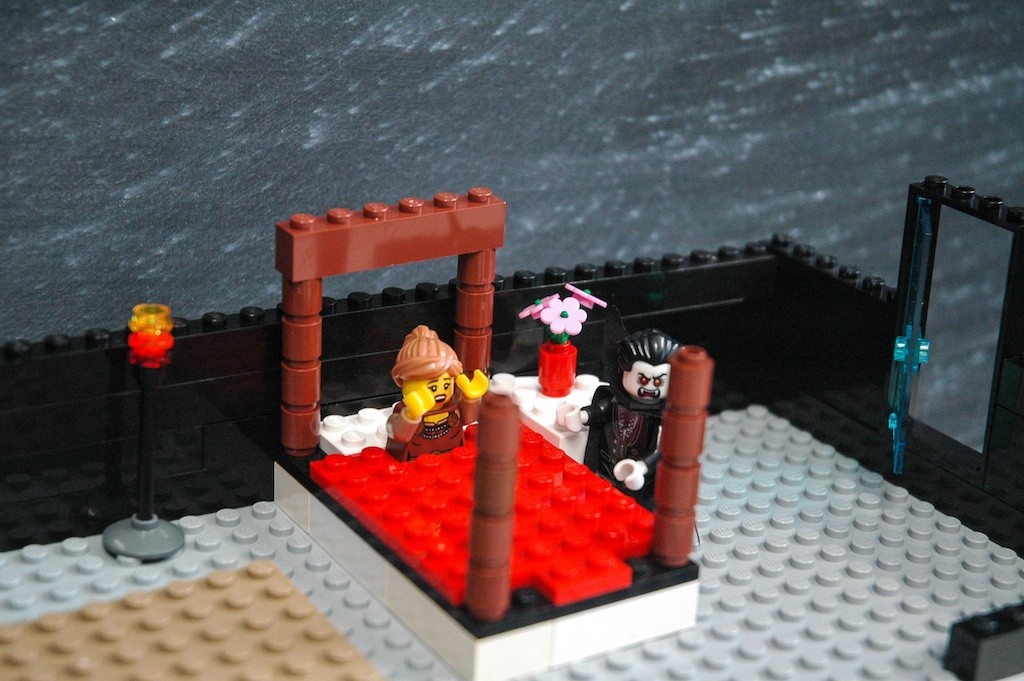 Mr Darcy leaving the lake, NOT from Pride and Prejudice by Jane Austen
OK, so this iconic scene from the BBC's Colin Firth-fest is most certainly not in the book, but we couldn't help ourselves.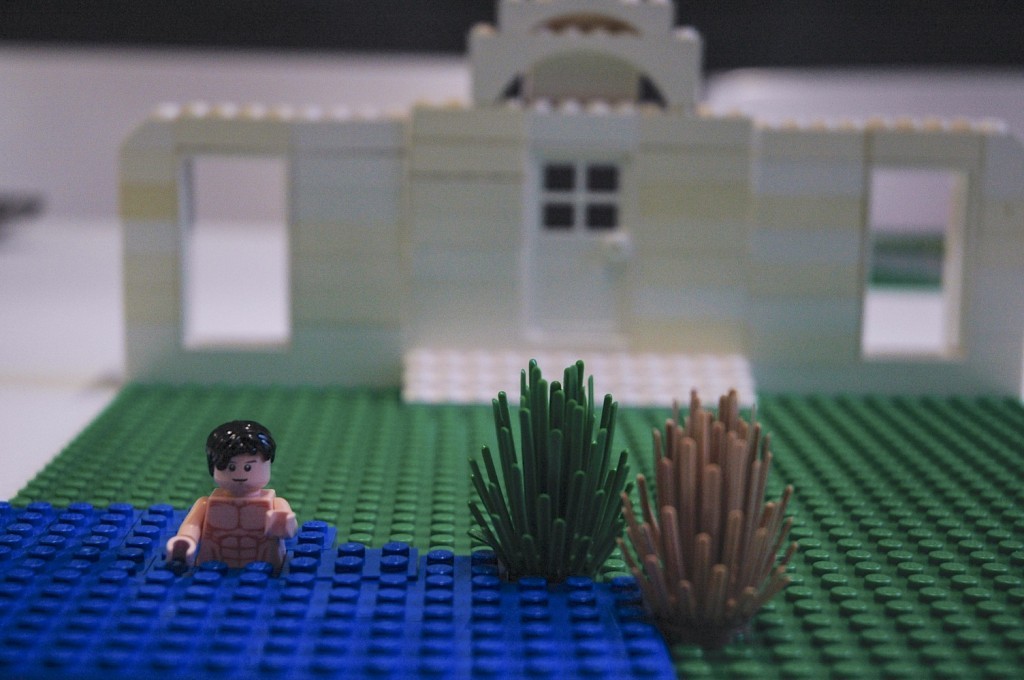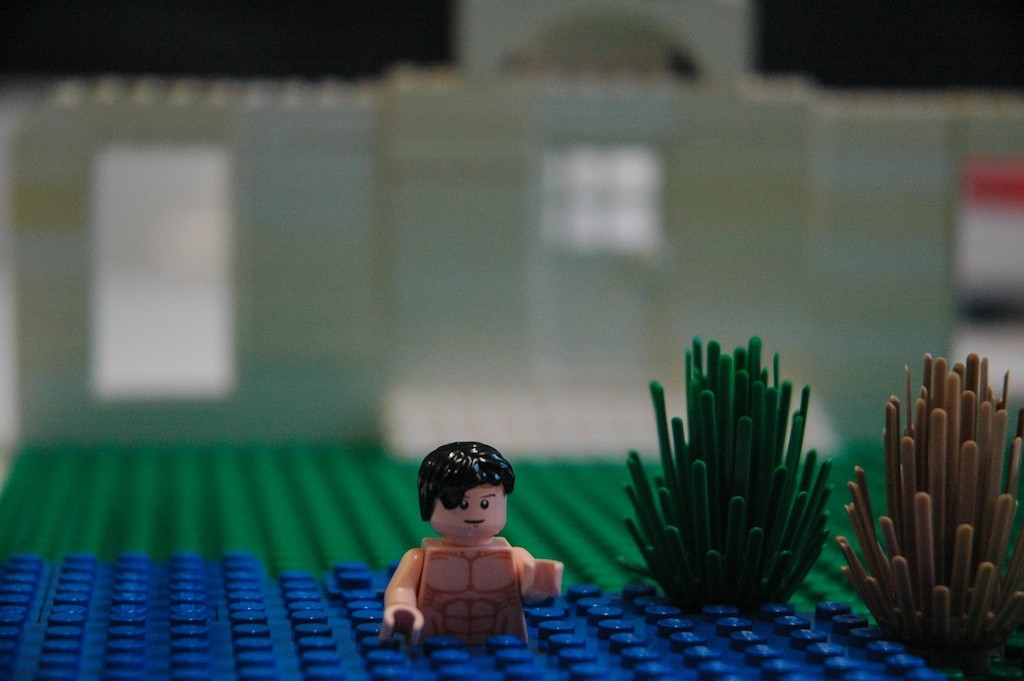 Arthur vs Mordred, from Le Morte d'Arthur by Sir Thomas Malory
Short of showing the bit where Mordred, impaled on Arthur's spear, pushes it further into himself in order to get close enough to strike Arthur, we've gone for a bit of valiant swordplay on a battlefield strewn with body parts. That felt graphic enough...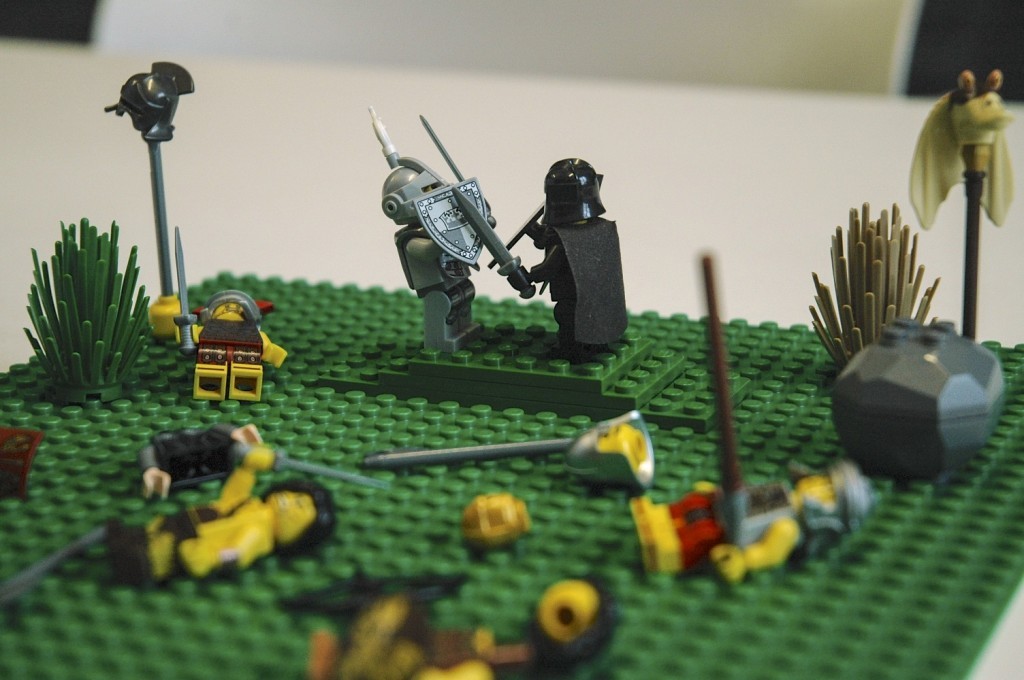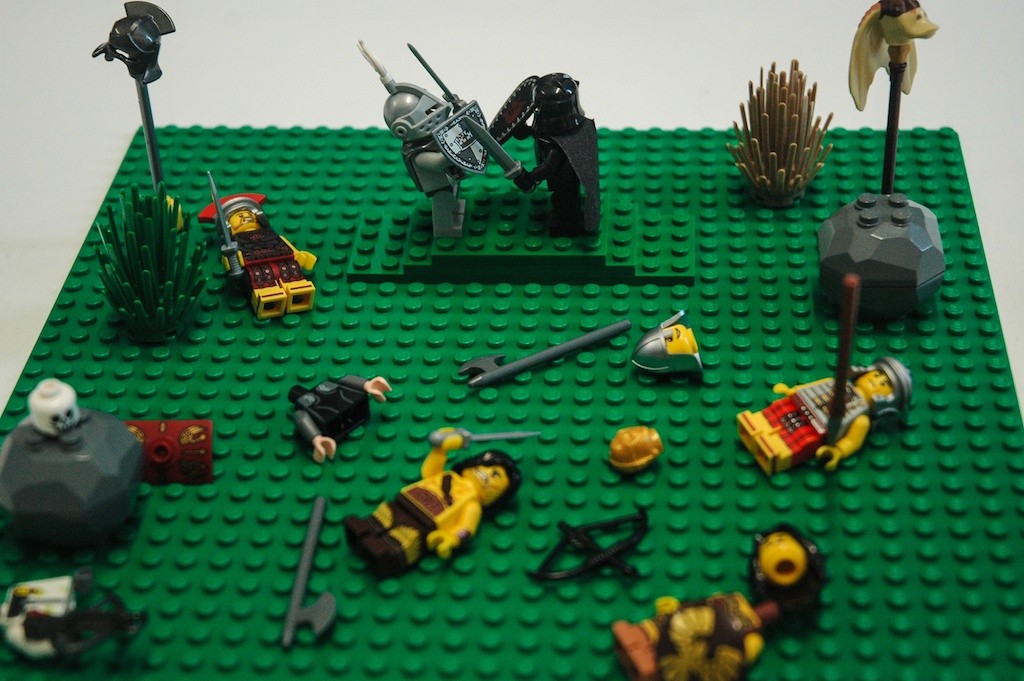 Romeo reaches Juliet's tomb, from Romeo and Juliet, by William Shakespeare
Romeo's face is what sells the moment here - you can almost hear him saying "Whoops! I shouldn't have taken the scenic route to get here..."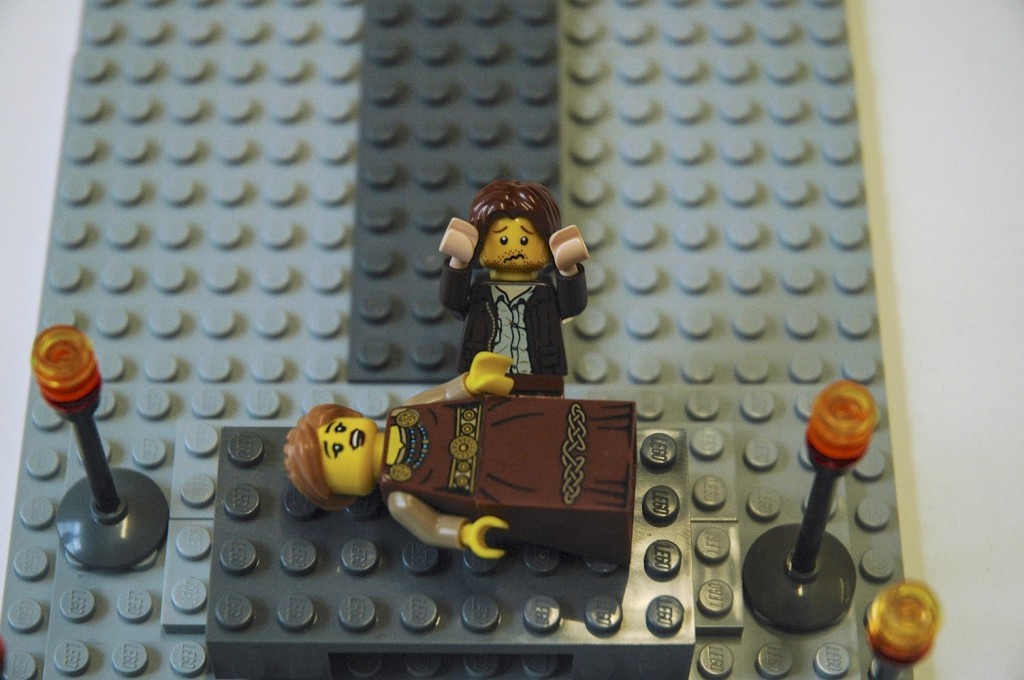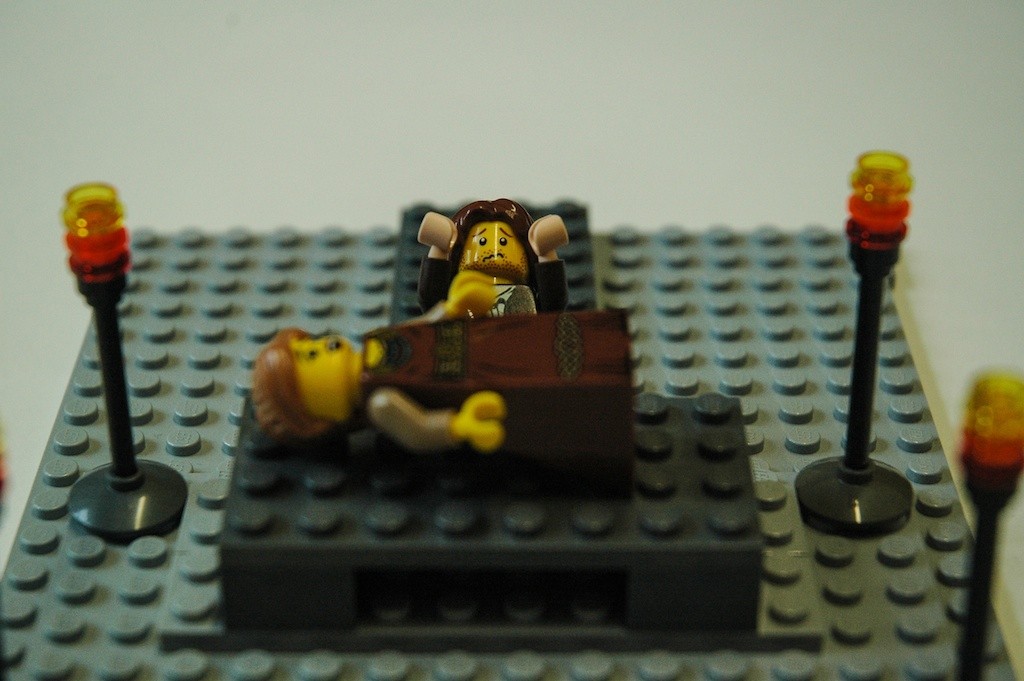 This all does beg the question - why do we have so much LEGO lying around our office? We'd respond with another question - why doesn't your office have more LEGO lying around?
Competition: Share your #LEGOLit scenes
Our #LEGOLit competetion is now closed. We'll be announcing our winners in due course. Thanks for entering.
What you could win... 
1st prize: 

LEGO Movie Super Cycle Chase, LEGO Movie MetalBeard's Duel, LEGO Movie Cloud Cuckoo Palace.
2nd prize:

LEGO Movie Castle Cavalry and LEGO Movie Trash Chomper
3rd prize: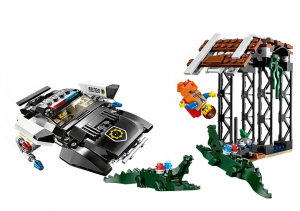 Happy reading - and happy building!
Competition terms and conditions
1. No purchase necessary. Please enter your name and email address. Only one entry per person allowed. Proof of entering is not proof of receipt of entry. Valid entries must be posted on Twitter, Vine or Facebook and including a tag to @Waterstones and the hastag #LEGOLit.
2. To be eligible, entries must be received on or before the closing date of 13/03/14 at 11:59 PM. All entries shall become the property of Waterstones.com, and their directors, officers, representatives, advertising and promotional agencies are not responsible for contacting or forwarding prizes to entrants who provide unclear or incomplete information or for entries lost, misdirected, delayed or destroyed.
3. Entrants must be over 16 years old and residents of the UK or Ireland.
4. There will be 3 winners who will receive LEGO set prizes as follows: 1st place - LEGO Movie Super Cycle Chase, LEGO Movie MetalBeard's Duel, LEGO Movie Cloud Cuckoo Palace.; 2nd place - LEGO Movie Castle Cavalry and LEGO Movie Trash Chomper; 3rd place - LEGO Movie Bad Cop's Pursuit.
5. The promoter reserves the right to amend the specification of the prize or offer an alternative prize of equal or greater value.
6. Subject to availability.
7. No cash alternative will be offered. Travel and other expenses are not included. The prize is non-transferable.
8. A winner will be selected on the morning of 17/03/14. The prize winner will be notified by email and their entry posted on Waterstones blog. They will need to respond by midnight 20/03/14 as to whether they are willing to accept the prize. If a selected entrant does not meet all of the contract conditions, another entrant will be selected from the remaining eligible entries.
9. This competition is not open to employees of Waterstones, the publisher or their immediate families.
10. By entering the contest, entrants, consent to the use of their names, city of residence, photograph and/or image for publicity purposes in all media carried out by Waterstones, without payment or compensation.
11. The decisions of the contest judges are final. The prize must be accepted as awarded.
12. The right is reserved to terminate or withdraw this contest at any time.
13. a) All entries become the property of Waterstones, who assume no responsibility for lost, stolen, delayed, damaged or misdirected entries or for any failure of the website during the promotional period, for any problems or technical malfunction of any telephone network or lines, computer online systems, servers, access providers, computer equipment, software, failure of any email or entry to be received by Waterstones on account of technical problems or traffic congestion on the internet or any website, or any combination thereof including any injury or damage to an entrant's or any other person's computer related to or resulting from playing or downloading any material in the promotion. Waterstones reserve the right, in its sole discretion to cancel or suspend the email portion of this contest should a virus or bug or other cause beyond the reasonable control of Waterstones corrupt the security or proper administration of the contest. Any attempt to deliberately damage any website or undermine the legitimate operation of this promotion is a violation of criminal and civil laws, and should such an attempt be made, Waterstones reserve the right to seek remedies and damages to the fullest extent permitted by law, including criminal prosecution. Entries are subject to verification and will be declared invalid if they are illegible, mechanically MV reproduced, mutilated, forged, falsified, altered or tampered with in any way. Entrants agree to abide by the contest rules and the decisions of the independent judging panel, which are final.
13. b) Entries must be submitted by the named entrant and will be invalid if found to come from a third party. Multiple entries from a single source (eg 'competition entry' website/company) will be disqualified. Only one entry will be accepted per email address used.
14. For name/county of prize winner, please send a stamped addressed envelope marked LEGOLit competition to Waterstones Blog, Waterstones Booksellers, 203-106 Piccadilly, W1J 9HD after 17/03/14. No entries should be sent to this address.
15. Entry to the competition is conditional on acceptance of these terms and conditions. By entering your comment, you are deemed to have read and accepted these terms.
16. The email address you provide to enter the competition will be used by us to contact you if necessary, and will not be shared with other companies. Waterstones will only use your email address in compliance with the provisions of the Data Protection Act 1998 and in accordance with our privacy policy.
17. Waterstones and the publisher have organised this prize draw in good faith and do not accept liability relating to the prize.