Blog
Laura Barnett: The 10 Songs that Have Shaped My Life
Laura Barnett's
The Versions of Us
– 'three love stories seamlessly intertwined,' as the
Guardian
had it – was the pitch-perfect debut that went on to be a massive Waterstones bestseller.
Greatest Hits
is where Barnett takes us next and, as she explains, music and the novel are fundamentally intertwined. Introducing
Greatest Hits
, the author presents a very personal musical playlist.
In one of my very earliest memories I am sitting on the lid of an upright piano, swinging my legs as my father's hands move over the keys below. He was a librettist and musician, while my mother was a librarian and voracious reader – so it's no surprise, I guess, that music and books should have gone on to play such major roles in my life, and in my writing.
These twin passions come together in my new novel, Greatest Hits. The book follows a fictional singer-songwriter, Cass Williams, as she spends a day in her home studio, choosing sixteen songs from her back catalogue for a very personal best-of album. Through the songs, we trace the arc of Cass's life – from birth, to troubled adolescence, to fame, and on to the tragedy that eventually led her to retreat from the world.
In what I believe to be the first full-scale collaboration of its kind, I've worked with the real-life singer-songwriter Kathryn Williams to create an album of these songs, to be released on her label One Little Indian. The record offers, I hope, a unique opportunity for readers and listeners to explore Cass's experiences and memories through music, just as the character herself does in the course of the novel.
In the same spirit, then, I'd like to share with you a selection of the music that has shaped my own memories and experiences. I've agonised over this list, and it would no doubt look different if I compiled it tomorrow, or next week. But this is how it looks today.
1. 'Graceland' by Paul Simon
I've no idea when I first heard this song – my parents are both huge Paul Simon fans, so it must have always been in the ether. To me, it's the sound of long car journeys: my dad coming to collect me from university one Saturday when I was distraught over a row with a boyfriend; my husband and I driving the Mississippi Delta many years later. For me, there's no better musical storyteller than Paul Simon: every track is a novel in miniature.
2. 'Uptown Girl' by Billy Joel
My maternal grandmother died when I was ten, after suffering from Alzheimer's for many years. Most weekends, my mum and I would drive from our flat in south London to visit her at her nursing home in Kent. Mum did her best to make these outings fun for me – we'd always stop on Blackheath for a donkey-ride, and she'd play upbeat cassettes in the car. So this song, for all its brash, strutting optimism, is, for me, shot through with sadness, too.
3. 'And I Love Her' by The Beatles
At about the age of twelve, I caught the Beatles bug in a major way. I devoured every album and, as adolescence dawned, developed a major crush on Paul McCartney (as he'd been in the sixties, I hasten to add). It's almost impossible to single out one song, but I have a special affection for this one, which I once spent an entire New Year's Eve with two friends trying to reproduce on guitar and recorder. Yes, I was that cool.
4. 'Pink Moon' by Nick Drake
The first time I heard this song is indelibly etched on my memory. I was fourteen, now totally obsessed with music, and raiding my mum's record collection for gems from the sixties and seventies. Intrigued by its strange, surrealist cover, I put this LP on the turntable, and promptly burst into tears: its emotional power was just overwhelming. Now that I know more about Drake's struggles with the 'black-eyed dog' of depression, it makes an even more powerful listen.
5. 'Basket Case' by Green Day
One day in around 1995, some friends and I stumbled across hidden treasure: a drum kit and a cache of electric guitars, gathering spiders in a school shed. We promptly dusted them off and formed an all-girl band. That shed became our practice room: the focus of our entire lives, really, for the next five years or so. This Green Day song – ubiquitous in the mid-nineties – was one of our first cover versions. I still know all the harmonies.
6. 'River' by Joni Mitchell
Throughout my teens, I nursed a love of folk and acoustic music alongside our band's rougher-edged punk rock. But I only really got into Joni Mitchell when I went off to university. Like Paul Simon, she manages to capture so much in just three or four minutes: a whole life, a whole relationship. This tale of love gone wrong has always haunted me.
7. 'My Baby Just Cares For Me' by Nina Simone
From minor to major: this gorgeous, shimmering song always cheers me up, no matter how low my mood. It particularly reminds me of some very happy years in my early twenties, living in my first shared flat in north London. Every Sunday evening, my flatmates and I would make soup together, listening to Nina or Ella. There's happiness woven into every chord – though, as always with Nina, danger and disappointment are always close behind.
8. 'Serious' by Richard Hawley
I was introduced to Richard Hawley by my husband, Andy, and we've been to see him live together several times. Hawley's music is so intimately woven into the fabric of our relationship that we had lyrics from this song engraved on our wedding rings – and chose it for our first dance. We've actually had to ration how often we listen to Hawley's albums for fear of over-exposure.
9. 'Palaces of Gold' by Martin Simpson
My love of folk music has grown and evolved over the years, and I particularly love Martin Simpson for his virtuoso guitar playing and his ability to tell stories about real working people, living out real lives, without ever verging on the patronising or fey. This isn't actually Simpson's song, but I saw him play it live a couple of years ago, and was incredibly moved by its urgent, unflinching examination of the inequality in our education system, and what it does to the generations of children left behind.
10. 'Gethsemane' by Kathryn Williams
[no Spotify link until album out – here's a link to the song on Soundcloud]
This song, from the Greatest Hits album, comes close to summing up just how much my collaboration with Kathryn has meant to me. In the novel, this is a key track, in which my character, Cass Williams, is beginning to come to terms with the tragedies and mistakes of her past.
It's also the first song Kathryn and I wrote together, sitting in my attic writing-room. I handed her my embryonic lyrics, and she began to play; the song seemed to appear from nowhere, and yet was just as I'd imagined it. It felt like a little bit of magic was happening – and that, ultimately, I suppose, is the power of both music and fiction. To distil a feeling, an emotion, a moment; to bring that little bit of magic to our lives.


Greatest Hits by Laura Barnett is published in HB on 15th June 2017 and available to buy now from Waterstones.

Image Credit: Alan Levine/https://www.flickr.com/photos/cogdog/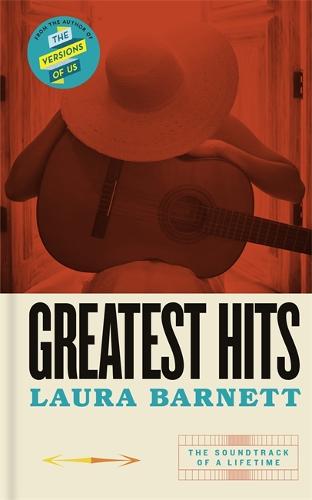 Hardback
From the author of Waterstones Book of the Month The Versions of Us comes a story about music and the memories that make up a life. One day. Sixteen songs. The soundtrack of a lifetime...In the course of this one day, both ordinary and extraordinary, the story of Cass's life emerges - a story of highs and lows, of music, friendship and ambition, of great love and great loss.
×
Download the Waterstones App
Would you like to proceed to the App store to download the Waterstones App?
Reserve online, pay on collection


Thank you for your reservation
Your order is now being processed and we have sent a confirmation email to you at
When will my order be ready to collect?
Following the initial email, you will be contacted by the shop to confirm that your item is available for collection.
Call us on or send us an email at
Unfortunately there has been a problem with your order
Please try again or alternatively you can contact your chosen shop on or send us an email at