Blog
Landmarks by Robert Macfarlane
Waterstones bookseller and keen bird-watcher Greg Eden on Robert Macfarlane's latest book, Landmarks, and the connection between language and nature.
--
The current resurgence of interest in writing about nature and the natural world, evidenced by the critical and commercial success of Helen Macdonald's H is for Hawk, for example, and encompassing writers such as Patrick Barkham (Coastlines); William Atkins (The Moor) and Mark Cocker (Birds and People), undoubtedly has Robert MacFarlane as its leading light.

Macfarlane is a Cambridge Fellow, adventurer, polymath, and naturalist, and of course a writer of steadily increasing international stature – whose previous books have variously explored the philosophy and joy of mountaineering, the last wilderness areas of Great Britain, and the ancient pathways of Britain and beyond.
Landmarks, his latest book, is not only a word-hoard of terms for aspects of nature and the natural world gleaned from every corner of the British Isles, but a manifesto for our reconnection with the countryside, and a celebration of the unsung heroes of nature writing and conservation, who have, in various ways, celebrated, revered, catalogued and fought to protect the natural world.
A hoarder of language, MacFarlane has gathered together a huge number of place words and regional idioms for weather, nature and parts of the landscape, sifted from dozens of dialects and languages around Britain and presented in themed glossaries; "Hills, Fells and Peaks", "Ice and Snow", "Shores and Strands" – which is a treasure trove for the armchair word lover and the etymologist alike.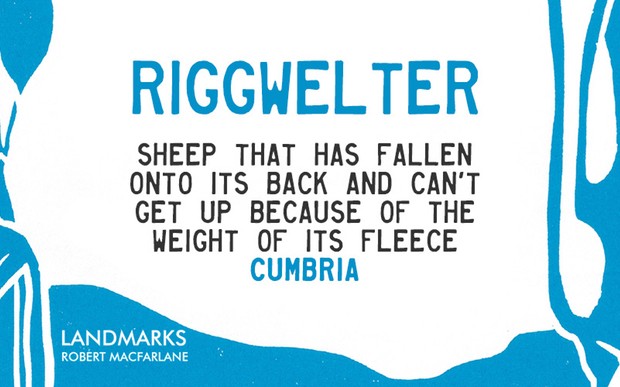 We learn that "blatter" can either mean a puddle in Yorkshire, or "to rain heavily and noisily" in the Scottish Borders – An "aquabob" is Kentish dialect for an icicle, and a dark, persistent rain cloud in the Shetland Islands is a "thunder-lump".
This is a kind of linguistic archaeology - peeling away the layers of language to take us back to a time when we were closer to the earth, more in touch with the elements, and more in tune with the natural world around us. In a world (certainly in a British or European context) where far fewer people are living and working in rural areas, and where we live our lives increasingly filtered through digital technology, he argues that our connection with the land is dying, along with our understanding of it, and, arguably, of ourselves.
Bemoaning a twenty-first century, digital existence where the natural world is obscured and distorted by constant aural and visual distractions, MacFarlane yearns, in a sense, for a time when we were much more in touch with the landscape – without the sensory overload and the unnoticed cacophony that modern life is characterised by - and presents a plea for our re-engagement with the natural world.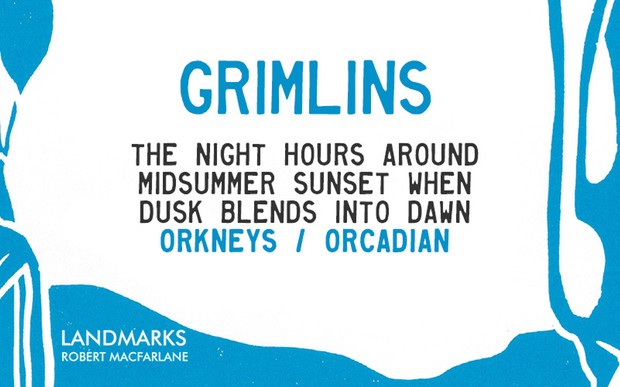 Referring to the places and terms listed in the glossaries he says; "Once they go unnamed they go to some degree unseen" and quotes the writer and naturalist, Tim Dee, who reiterates this by saying that "without a name made in our mouths, an animal or place struggles to find purchase in our minds and hearts".
Underlying all of this is an implicit argument that that to allow ourselves to lose our connections to the nature and the landscape – would be to miss out on something hugely important – something fundamental and enriching that would be difficult to retrieve.
The fascinating word-hoard contained in this book would make a book in itself, and be enough to justify publication, one could argue, but there is yet more to it. Interspersed with the glossaries are mini-biographies of the writers on nature and landscape who have inspired the author - the forefathers, if you like, of the current crop.
He writes intimately and movingly of the likes of John Muir, the Scots-American father of the American National Parks, his friend Roger Deakin, the author of the inspirational wild swimming travelogue, Waterlog, and J.A. Baker, whose sublime book, The Peregrine, remains one of the greatest natural history books in the canon. Henry Williamson, Richard Jefferies, Gerard Manley Hopkins, John Clare and T.H. White also figure.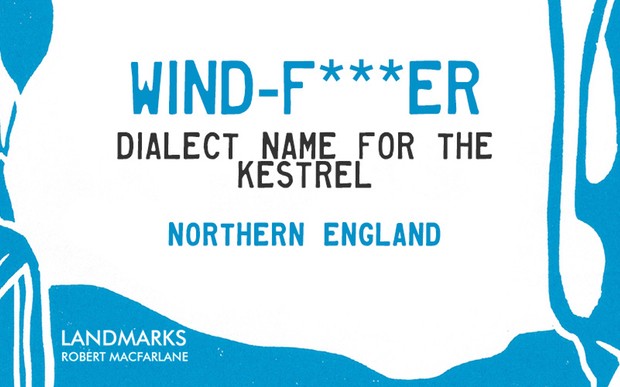 It's in these monographs of this motley gathering of unsung heroes in the world of nature writing and conservation that his writing really comes into its own. Each of his subjects like a precious stone held up to the light, seen in fine detail – its essence more clearly revealed through thoughtful analysis, vivid prose and deep understanding of his subject
If our connection with the natural world is indeed under threat, in part due to the gradual disappearance of our vocabulary of the natural world, and a dwindling sense of what Will Self calls our "psychogeography", then it can have no greater or more eloquent defender than Robert MacFarlane, in this deeply thought-provoking and important book.
×
Download the Waterstones App
Would you like to proceed to the App store to download the Waterstones App?
Reserve online, pay on collection


Thank you for your reservation
Your order is now being processed and we have sent a confirmation email to you at
When will my order be ready to collect?
Following the initial email, you will be contacted by the shop to confirm that your item is available for collection.
Call us on or send us an email at
Unfortunately there has been a problem with your order
Please try again or alternatively you can contact your chosen shop on or send us an email at