Blog
Kevin Jon Davies on the Wildly Improbable Ideas of Douglas Adams
Douglas Adams' tragic passing in 2001 at the age of 49 robbed the world of a unique comic imagination. His brilliantly skewed take on speculative writing gave us such literary classics as The Hitchhiker's Guide to the Galaxy and Dirk Gently series but there was plenty of other, earlier work which laid dormant in boxes at Cambridge University after his death and which the public had never seen. In this exclusive piece, Adams' former colleague and friend Kevin Jon Davies recalls rifling through these boxes and unearthing the unseen gems from the archives that eventually became the book 42: The Wildly Improbable Ideas of Douglas Adams.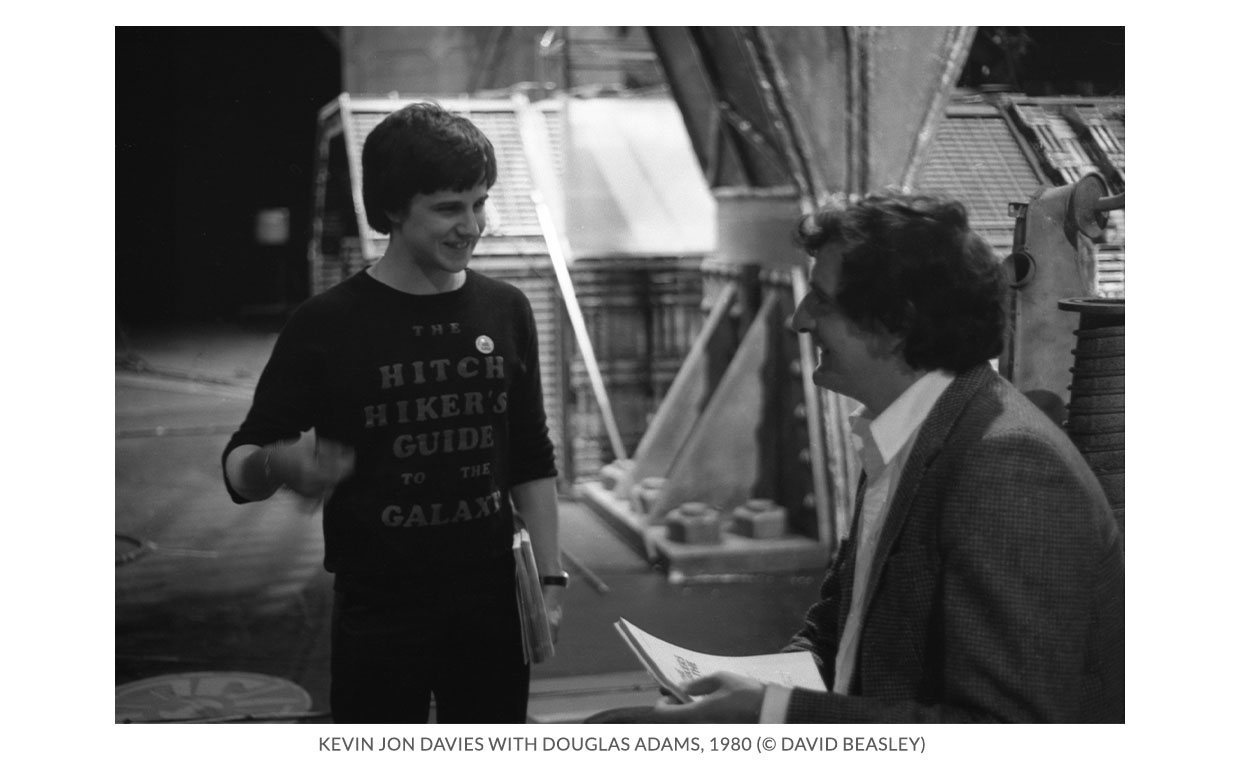 Douglas Adams talked the way he wrote – and wrote as he spoke – but took much longer about it. There was considerable procrastination, fiddling with early word processors and Hi- Fi gear or strumming on his left-handed guitars. It was a struggle. He famously claimed to like the 'whooshing sounds' as deadlines went by. One publisher had to lock him up in a fancy hotel suite and stand guard for weeks, whilst Douglas finally banged out his fourth novel in the 'increasingly inaccurately named trilogy' of The Hitchhiker's Guide to the Galaxy. There were five in all – and a brace of Dirk Gently's (a third, unfinished, was published posthumously). His only factual book, co-written with naturalist Mark Carwardine, Last Chance to See, about their travels looking at endangered species around the world, was his personal favourite and possibly his funniest.
Rifling through Douglas' archives felt like sacrilege, as someone who'd known him on and off for about twenty of your Earth years. We first met in 1978 when he'd just taken a day job at the BBC, nurturing the plots of other writers as script editor on Doctor Who. He'd chain-smoked his way through our fanzine interview, stopping my tape recorder to answer calls, setting up dates with three different women.
His official biographer Nick Webb once described Douglas as 'randy' and that was evident from his papers too. Lovelorn student verse, letters exchanged with an older, married fling at university, and a vaguely pornographic page wondering how to write a love scene with which to render his readership 'jittery with sex'!
Sadly, Douglas died of a heart attack aged 49 in May 2001 and his widow a decade later. His bereft family lodged his papers in the care of St. John's College, Cambridge, where he'd studied in the early 1970s. He claimed to have done little academic work there, preferring to enjoy debates at the Union, or writing and performing at dramatic societies like Footlights. But his comprehensive files undermine that flip assertion, with pages of adept essays and dissertations.
Dr. Adam Crothers and his fellow curators at St. John's library have catalogued the 67 boxes which cover Douglas' life from cradle to grave. The chronology remains puzzling, as few things aside from his diaries were properly dated. Each of his notebooks began in fresh flushes of enthusiasm, rapidly dwindling to pages left blank, as his butterfly mind moved on. There are scripts from long-forgotten revues, abandoned projects, speech notes, jottings and one-liners, plus non sequiturs – or 'middles of thoughts', as he called them.
During my earliest six visits in 2016, Kathryn McKee, the senior Special Collections librarian, brought out files one at a time for me to scour. I was on official business for audio drama maestro Dirk Maggs, on the hunt for any scraps of unused Hitchhiker's drafts, with which he could pepper the sixth and final radio series, based on an official sequel by Eoin Colfer. Some of Douglas' material had been raided already, either for novelisations of his Doctor Who scripts, or as appendices in other books, but my mission was to seek out further throwaway passages those previous authors might have missed. I got lucky, spotting some tasty morsels.
It became obvious how tough Douglas found the business of writing. He'd break off mid- flow, scolding himself on the page for forgetting a plot he'd only thought up the day before. Sometimes he'd clearly not been in the mood, declaring all his characters to be 'burks – they do not interest me.' In mid-stride he typed, 'by the way, Douglas, it may interest you to know that you are writing garbage'. On a good day he reflected better upon the writing process, admitting, 'You can get pleasure out of it. You can certainly do very well for yourself with it…!'
'This should be a book,' I thought, 'Something like: How Douglas Adams wrote.' I didn't seriously think I might be the one to put it together. However, in October 2020, I was approached by Mathew Clayton at Unbound (via the agent for Douglas' estate, who'd kindly recommended me), to ask if I'd like to delve into the archives again for such a book. I hadn't previously heard of them, or so I thought. Facebook recently reminded me that a decade ago a friend had suggested that very company, should I ever consider penning my old war stories from the frontline of filmmaking.
I'd been a SFX animator for TV (The Hitchhiker's Guide and Terrahawks), movies (Who Framed Roger Rabbit and Space Jam) and for commercials. I'd directed film drama and dabbled in comedy, but primarily I now made archive documentaries. At Douglas Adams' personal request I had designed digital photomontages for The Illustrated Hitchhiker's Guide, but I'd never actually written a book.
This new project was prepared virtually, by email, phone and Zoom. In March 2021, we launched a crowdfunding campaign via Kickstarter for a month, which continued on Unbound's own website. Such is the power of the name 'Douglas Adams' that the media took an interest and we hit the initial target of £65k easily on the first day. Pre-orders continued throughout the project and eventually tipped well over 600%.
At first I couldn't access St. John's library, due to their strict lockdown rules, meaning only their live-in students could attend in person. When guidance was relaxed that autumn, it coincided with a serious illness for myself and then my wife, so the first year of the project was unfortunately a write-off. During the first half of 2022, I drove the fifty-odd miles up the M11 to Cambridge from my home in London, seventeen times. The first trip coincided with the fearsome Storm Eunice and I saw trucks fishtailing along the motorway. The second visit was on the day news broke that Russia had invaded Ukraine. I dreaded what might happen next!
The remaining Covid restrictions (2 hours per session, room always thoroughly ventilated) meant I had to work in a very cold reading room, briskly and efficiently. They closed for lunch, so I used the same local cafés and pubs frequented long ago by student Douglas. I was trusted with multiple boxes this time, rapidly photographing everything on my iPhone, then spending weeks reading, cross-referencing and meticulously labelling it all at home. I eventually had 9,399 images from which to choose the very best to have properly scanned by the librarians for inclusion in the book. I was burning the candle at both ends to meet the necessary production deadlines.
Last summer, I fell mysteriously ill again and was eventually unable to continue work. I'd already met freelancer Judy Barratt, who undertook the technical business of sub-editing my accompanying text and planning the layout with a designer. By October I was in hospital, diagnosed with Hodgkin Lymphoma, a type of blood cancer. The medical team promised they could fix me with six months of regular chemotherapy. Unbound were marvellous and waited for me. Earlier this year I finally felt able to complete the last few chapters, even though the treatment sometimes took a toll. But I was lucky. The wonderful NHS staff were true to their word and I was given the all-clear this Easter. Even so, I'll always associate proofreading parts of this project on my phone, with a drip-feed canula stuck in my arm!
The book is now a solid 320-page treasury of exciting material gleaned from across Douglas' life, mostly in his own scribbly handwriting and Tippex-blobbed typing. Fortunately, his most popular works hail from the days before he became computer literate, so we have these gloriously textured papers, ripped and torn, with coffee-ring stains and splodges. There are a few early dot-matrix folding printouts (remember those?) and endless loose pages from American-style yellow legal pads. There are later printouts from his battery of Apple Macs, and some hard drives still yet to be properly explored. Another time, maybe…?
42 is loaded with exclusives – school reports and pictures, university mementos, comedy sketches and novel manuscripts, drafts for Doctor Who, newly discovered bits of Hitchhiker's Guide, and other treasures from the man who should have lived much longer to create more of his elegantly-crafted and witty prose.
One school essay concerns the story of 'Christopher Turquoise', a fictional international playboy and novelist who somewhat wasted his talent and succumbed to an early death. It bears prescient and uncanny parallels to the author's later life. His 'O-Level' Art displays ability, but in Douglas' school report the teacher labelled him something of a 'dilettante' in that regard. At uni he was a dab-hand with Letraset and old-fashioned photomontage, making flyers for his group's comedy revues.
I found unique pictures of Douglas and his friends, holiday snaps and formal portraits previously unpublished. Tracking down the photographers for permission to use them involved some detective work worthy of Dirk Gently. I met up with one, Mike Penhaligon, during a lunchbreak at Cambridge and he regaled me with memories of those glory days at Footlights, 50 years ago. Another was literati photographer Mark Gerson, now aged 101! I'm delighted we included his letter enclosing a contact sheet of images from October 1979, when the first Hitchhiker's novel was newly published.
Douglas' many friends were helpful, like his former flatmates Jon Canter and John Lloyd. Famous as producer of Blackadder, Spitting Image and Q.I., Lloyd approved our use of their joint material, including an unmade monologue for Rowan Atkinson as an irascible lecturer in an attempt to bring their hilarious book The Meaning of Liff to television. Sue Limb, now an author herself, directed Douglas in student theatre and supplied me with stories, photos and a letter of apology from Douglas when he'd ducked out of rehearsals to interview his hero John Cleese for the student rag Varsity. That assignment led to Douglas working on a business film for the Python, where he witnessed discussions about selecting the plainest, most boring number: 42. This was some years before he used it as the answer to Life, the Universe and Everything, and I found the actual amendment in Douglas' copy of that script!
From former classmate Griff Rhys Jones we have his caricature of Douglas in the Sheridan play The Rivals, which we just managed to squeeze into the book. Other late additions include a letter from Douglas to his friend the guitarist David Gilmour, suggesting the title Pink Floyd would eventually adopt for their next album in 1994. Stephen Fry and Neil Gaiman have written new pieces for the book, reflecting on their dearly departed friend.
Incidentally, among Douglas' student-era artefacts not included was a bookmark from Heffers (the famous Cambridge bookshop, now owned by Waterstones) and a note in his 1981 diary says he returned there famous, to sign copies of The Restaurant at the End of the Universe.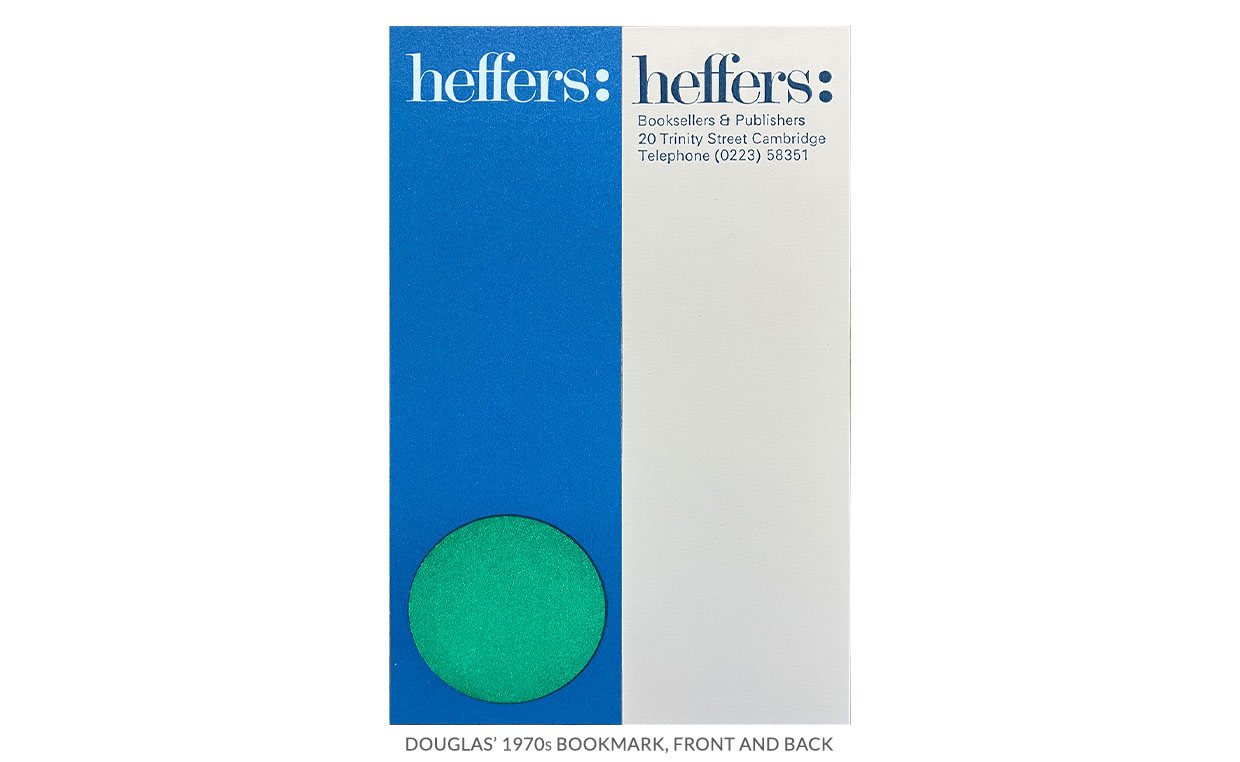 There's a piece by Douglas about the many fans who queued for his autograph, describing them as 'mostly friendly and cheerful people'. Readers who admire his writing feel they knew him, even if they never met him. It's sometimes hard to remember this literary hero was a real man, with genuine close pals and a family who still miss him terribly. His daughter Polly and siblings Sue, Jane and James gather with fans to champion Douglas' memory at special events. Douglas' favourite charity as founder patron was Save the Rhino International and every year they host a memorial science lecture and comedy evening in his name. The 25th of May is 'Towel Day', when fans around the globe celebrate by carrying a towel in his honour, as per true Galactic Hitchhikers.
I hope readers of 42: The Wildly Improbable Ideas of Douglas Adams will get some idea of what it feels like to pore through the boxes in the ancient library at St. John's. His work and belongings are in good company there, sharing shelf space with those of John Couch Adams (who discovered Neptune), material from Sir Cecil Beaton, Sir Fred Hoyle, and that of two famous Williams: Wordsworth and Wilberforce. It's poignant that alongside priceless historic items like Thomas Cromwell's Bible, Napoleonic war letters and a 1,000 year-old Irish book of Psalms sits Douglas Adams' files – and his scruffy little teddy bear.

.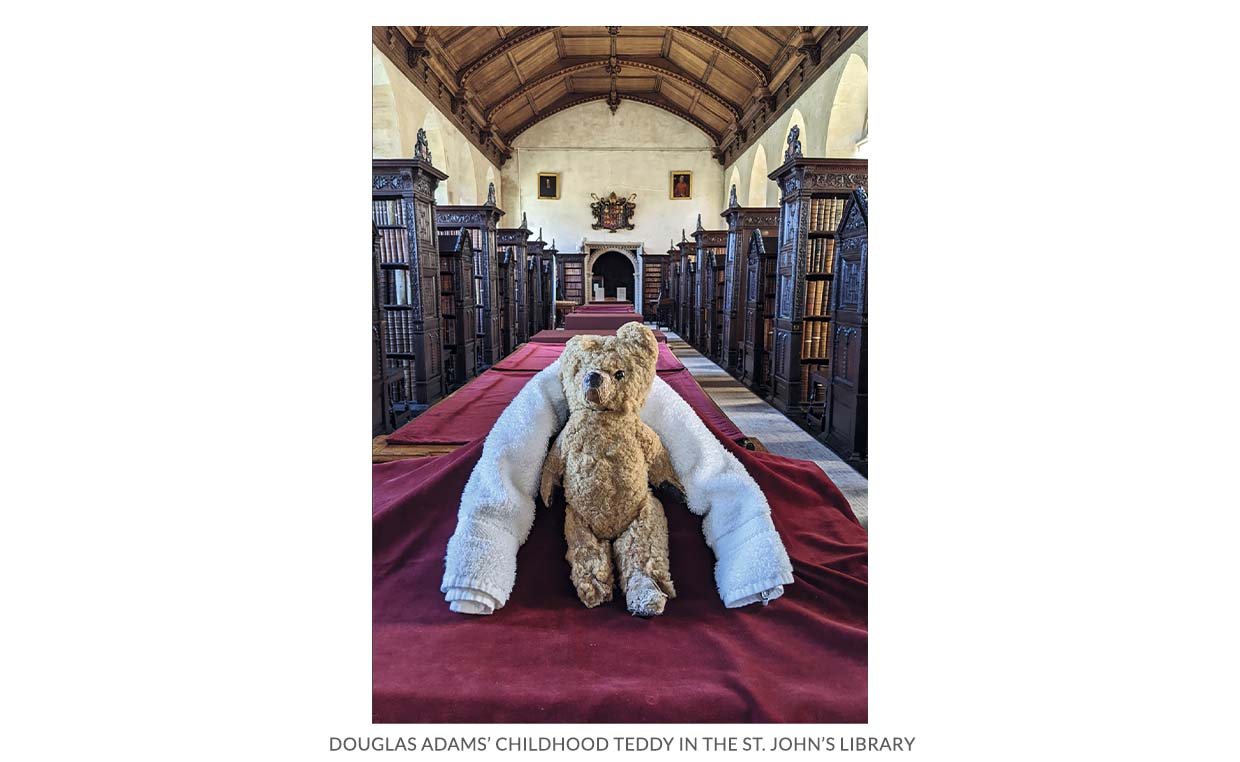 ×
Download the Waterstones App
Would you like to proceed to the App store to download the Waterstones App?
Reserve online, pay on collection


Thank you for your reservation
Your order is now being processed and we have sent a confirmation email to you at
When will my order be ready to collect?
Following the initial email, you will be contacted by the shop to confirm that your item is available for collection.
Call us on or send us an email at
Unfortunately there has been a problem with your order
Please try again or alternatively you can contact your chosen shop on or send us an email at