Blog
Kazuo Ishiguro answers your questions
Early in March we were honoured to have Kazuo Ishiguro visit our Piccadilly store to launch his latest novel, The Buried Giant. As part of the event, we asked our customers what they'd like to ask the author. Below, Kazuo Ishiguro answers a selection.
To what extent does your degree in philosophy influence your literary work?
Plato's Socratic dialogues made an impact on me at a formative stage. Not so much The Republic: more things like Euthyphro and Gorgias, in which Socrates takes apart various self-satisfied types who feel sure they know what 'a good life' is, but whose beliefs are based on nonsense and contradiction.
--
Which books did you read as a child?
I read all the Sherlock Holmes stories when I was around 10. I tried to read Ian Fleming's Bond books, but didn't really understand them. House at Pooh Corner made me cry - but I think I was much older then.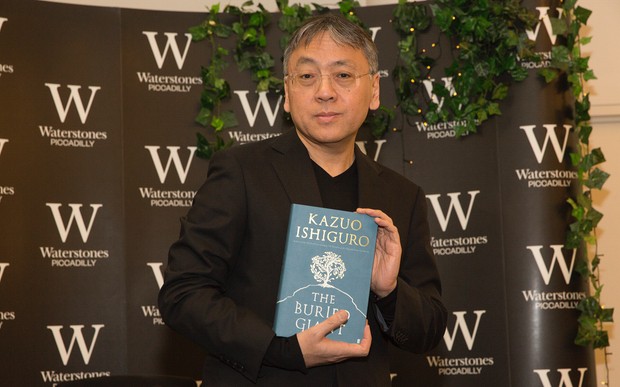 The protagonists are an elderly couple. How did you imagine their life and thinking when you are so far from their age?
Are you kidding? I'm 60! Back in the era The Buried Giant is set, people in their 40s would have been 'elderly'. In any case, you probably don't have to be elderly to be conscious of mortality - or to wonder about the significance of shared memories in long relationships.
--
Remains of the Day and Never Let Me Go made me cry, will The Buried Giant?
Maybe. I'd even say 'I hope so'. But I'd only want you to cry if the emotions are properly earned, when it's about something real. I'm not fond of cute children or animals dying in stories as a kind of special effect.
--
How has your Japanese heritage and culture influenced your writing?
The samurai stories I grew up on as a Japanese kid (and the samurai movies by people like Kurosawa and Kobayashi which I loved in my 20s) had quite a lot to do with The Buried Giant. When I was starting out, Yasujiro Ozu, the greatest of all Japanese film-makers, was a profound influence on me.
--
What font do you write in? Or do you write on pen and paper?
I use V5 pens and unlined A4 paper for all notes and earlier drafts. I use Garamond on the computer as things get more finished.
--
Would you like to see The Buried Giant made into a film? Who would you cast?
The Buried Giant has been optioned by Scott Rudin, film producer extraordinaire. I'm not able to tell you my ideal line-up - or I may end up having to do a lot of explaining if and when it's really cast! But I can do it more safely with actors from the past.
So: Gary Cooper as Axl, Bette Davis as Beatrice and James Stewart as Sir Gawain.
--
I heard that you interview your characters before you allow them to tell your story. Is there a critical question or answer to help you decide if they get the job?
I don't interview them, I audition them. If it's going to be a first person, the choice of narrator is a make or break decision. So I do a few pages, very rough, narrated by my shortlisted candidates. They each get a turn, and I observe how they do.
--
What do you set out to achieve when you write?
Ultimately, I want to move readers. But it has to be about the right things.
--
You said that you were influenced by Harry Caul from 'The Conversation'. Have you been influenced by any other film characters?
James Coburn's haunted, haggard, but still formidable Pat Garrett, the ageing outlaw turned lawman, in 'Pat Garrett and Billy The Kid' had something to do with my Sir Gawain in The Buried Giant.
×
Download the Waterstones App
Would you like to proceed to the App store to download the Waterstones App?
Reserve online, pay on collection


Thank you for your reservation
Your order is now being processed and we have sent a confirmation email to you at
When will my order be ready to collect?
Following the initial email, you will be contacted by the shop to confirm that your item is available for collection.
Call us on or send us an email at
Unfortunately there has been a problem with your order
Please try again or alternatively you can contact your chosen shop on or send us an email at