We regret that due to the technical limitations of our site, we are unable to offer eBooks or Audio Downloads to customers outside of the UK.
For further details please read our eBooks help.
Blog
Book of the Month - Life After Life
Kate Atkinson discusses her Costa Novel of the Year winning book Life After Life, our Fiction Book of the Month for February...
Why did you choose to write about the Second World War, and the Blitz in particular, in this novel?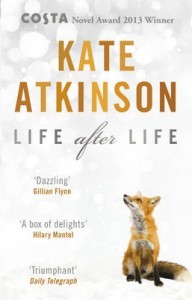 The war has always held a fascination for me, as it still does for so many people.  In Behind the Scenes at the Museum I touched briefly on it but knew at the time that I would return to it one day. It's just taken me longer than I expected! In this book I wanted to focus on the Blitz partly because it's quite a high-concept novel and to have tackled the whole war would have worked against the structure of the book and the idea that drove it. However, if I could choose one period in history to return to, it would be London during that time. I can see that some people might consider that an odd choice but think what an extraordinary experience it would be – I'm presuming in this time-travel fantasy  that I don't die, of course. It was a unique moment, not only in British history but also in the nation's psyche, and the attraction of that remains very strong to this day.
We were in great and constant peril during the war and there was a time when we not only stood alone but were days from defeat, and as a nation we had never had to endure that previously. Before the era of mass communications it wasn't possible for the whole country to be aware of what was happening, as it happened. The threat of danger from the Norman invaders wasn't broadcast on the radio, it rolled out slowly.
The First World War was dreadful beyond belief, but we never really felt that it might wreak violence on the home front. The Second World War, on the other hand, was the first conflict in the mechanical age where civilians on both sides were legitimized as targets. The war came to us at home in a brutal fashion (and we took it to Germany in the same ruthless way) and that's a very different thing from waving off young men in uniform and then giving hardly a second thought to what's happening to them, as we did in 1914 and as we are doing now.
The Blitz was a short but extraordinarily intense period – although I am sure if you had been bombed for fifty-seven consecutive days, as London was, you wouldn't have considered it short. Life was serious then and everyone knew they had moral duties, to themselves and others. Nowadays we are bombarded by trivia and people have become increasingly egocentric, so that the duller virtues, like stoicism, are no longer very attractive. I know that the Romans probably sat around complaining how everything had gone to the dogs since the Greeks but I don't think I'm necessarily looking backwards through rose-tinted glasses – a bit of a strangled image. I think I tend to agree with something that Jackson says in One Good Turn – that things improve but they don't get better.
Certainly there was a barrage of propaganda and a great deal of concealment to protect the people's morale during the Second World War but I think part of me would rather be subjected to an endless diet of Ministry of Information films about what to do with food scraps or how to keep chickens than one of X-Factor or Big Brother. I think I'm showing my age…
How did you go about researching Ursula's experiences of the Blitz?
For Ursula I drew on written accounts and war diaries and the Mass Observation diaries, which were kept by ordinary people. Juliet Gardiner's The Blitz was an excellent starting point, the bibliography in that particular book led me off in many fascinating directions. I read intensively for a year, particularly those personal records, then I put it all to one side so that I wouldn't parrot what other people had thought and written and experienced and instead tried to address the essence of it. As Ursula is an air-raid warden I did draw heavily on both fictional and non-fictional accounts. (John Strachey's 'lightly fictionalized' Post D is an astonishingly vivid account of what it was like.)
Novelists, by their very definition, write about what they haven't experienced themselves and it's their peculiar privilege to imagine. There has to be a certain point at which you leave fact behind while trying to remain inherently faithful to authenticity and honesty. In writing historical fiction you render one truth into a different kind of truth, which is a secular kind of transubstantiation, I suppose. Occasionally I wonder if I haven't invented too much, but then sometimes that's what you have to do to bring something to life. Ursula, for example, has a particularly busy – and grisly – war compared to some air-raid wardens. Just as the Blitz itself was a very concentrated period in time so Ursula's experience of it is, in some ways, the condensation of that of many people.
Something that struck me was the matter-of-factness with which many eyewitnesses approached and recounted particularly gory incidents, as though the practical nature of the job took over from the emotions. I tried to convey that through the character of Ursula and her mentor, Miss Woolf.
Historical fiction is a case of embedding reality within fiction. It can be difficult to recreate the atmosphere of the past but I think in the end it comes down to character. No matter how much plot and structure you have, no matter how many Gradgrind-like facts you espouse, if there is no character, a writer will never engage the reader. Or herself for that matter.
How did you come up with the character of Ursula?
I've no idea where Ursula came from. She is not based on anybody. I never know where characters come from – it's one of the great mysteries. She's certainly a product of her time and milieu. I had Fox Corner before I had Ursula. Sylvie and Hugh existed for me before Ursula. I began at the beginning, as Lewis Carroll would have it, so the characters who precede Ursula's birth were in place and they provided her context. Nearly all of the novel is seen from Ursula's viewpoint but in the early chapters it is her mother, Sylvie, who shows us the way. Developing Ursula's perspective was then really just a matter of transition. When Ursula has what I think of as her 'final reprise' at the end of the book – although, of course, it's not final, nothing is 'final' in this book – we no longer see the early years through Sylvie's eyes.
There will be, if I'm spared, a companion novel called 'God in Ruins' (a wonderful quote from Emerson – 'Man is a god in ruins') in which I hope I can explore more fully those characters who get rather short-changed in Life After Life. Ostensibly it will be Teddy's story but I think it might spread its net far and wide.
How do you feel when you finish a novel?
Happy. Relieved. Tired. I love writing the final sentence, there's such a sense of completeness, not something we experience a lot in life.
What is a 'good' writing day for you?
A sentence. A good one.
How do you feel about being put into a genre – crime fiction, historical fiction, and so on?
People seem to have such a strong need to categorize writing. I resist it, but if really pushed, I suppose I'd say I write 'comedies of manners'. That's vague enough, I think! I became rather stuck with the 'crime writer' label, but that's not how I view myself at all. I have written crime books but it's always about character. Not Jackson necessarily, but Tracy and Reggie and Gloria and Amelia and Julia, who were more interesting and whom you can freight with ideas. I'm also immensely fond of minor characters, I'd quite like to construct an entire novel based on minor characters. I think some people probably already do…
Tell me something about the intriguing structure of Life After Life...
The structure of Life After Life was very straightforward for me as the writer of it. I can see that for the reader it might appear complex, and I'm not at all sure how it will read as an e-book. I always knew that Ursula was going to be born again and again and that there would be many lives and realities and I had a pretty good idea as to what I wanted those to be. I say 'straightforward' but it does contain a certain degree of ambiguity. At the beginning it's a case of her being reborn again and again but in the later parts of the novel time – and where Ursula is in time – becomes a little more indeterminate. The trick, I think, is to make the reader feel comfortable even when they're not entirely sure where – or when – they are.
I enjoy playing around with time in fiction. In life we are effectively in a linear prison – we are born, we live, we die – so I've always enjoyed the freedom to play with the dislocation of it in my writing. And only in fiction can the dead come back to life.
Ursula says to Dr Kellet that time is like a palimpsest and I think that's how I would like the reader to feel. And also, of course, that it never ends. Teddy might be alive in one life and dead in another, and the same might hold true for Hitler. The only thing that seems certain is that it will snow, a baby will be born and Mrs Haddock will be nursing that third tot of rum in the Blue Lion.
By the end of the book Ursula has gone through so much, through Berlin, through the Blitz, Teddy's death and in the 1960s is living a rather tedious life as a spinster civil servant, and then suddenly we find ourselves back at the beginning, renewing our acquaintance with Fox Corner. I felt a great sense of emotional satisfaction in rediscovering Hugh and Sylvie, Bridget and Mrs Glover in their prime. There was something immensely cheering about being able to go right back to the beginning and do it all again one more time.
Who is your favourite character in this book?
Well, I'm enormously fond of Miss Woolf but I suppose I would have to say Teddy. He spends less time on the page than most of the other characters but he is the emotional heart of the book because he is at the centre of Ursula's own heart. For Ursula, her brother is the absolute embodiment of love, a template for her love of the world, a love for which she is prepared to sacrifice herself.
Read an extract from Life After Life
What our Booksellers thought...
"Atkinson is a phenomenal talent, and this stand-alone novel is a great way to discover her. This is a 'must read', for sure! A unique plot by a great writer – my favourite combination!" - Leilah Skelton, Waterstones Doncaster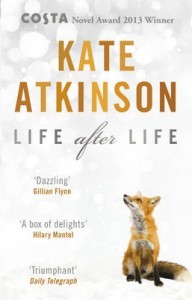 You can Reserve & Collect Life After Life from your local Waterstones bookshop (http://bit.ly/1ljS6yJ), buy it online at Waterstones.com (http://bit.ly/1ljS3Tl) or download it in ePub format (http://bit.ly/1fSnzSj)